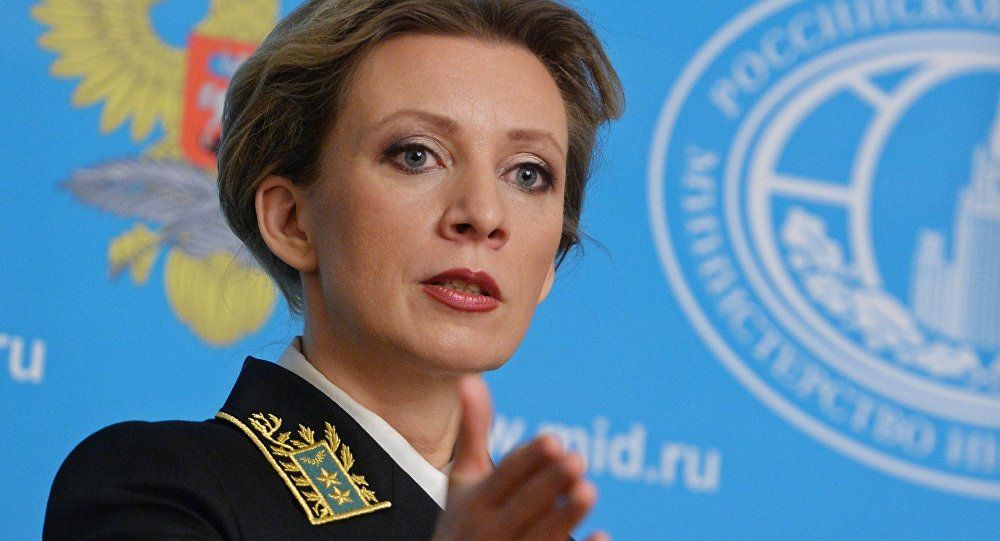 Russia Has Many Questions About US Activities in Outer Space
Tass News Agency (Russia)                           April 17, 2020                            (tass.com)
• (On April 15th, General John "Jay" Raymond, the head of U.S. Space Command and chief of space operations for the U.S. Space Force publicly announced that Russia had conducted a direct ascent anti-satellite missile test. In a statement, Raymond declared that the Russian test provided "yet another example that the threats to U.S. and allied space systems are real, serious and growing." Raymond added, "The United States is ready and committed to deterring aggression and defending the Nation, our allies, and U.S. interests from hostile acts in space." (see article here))
• Commenting on recent statements by General Raymond about Russia's test launch of an anti-satellite missile, Russian Foreign Ministry spokesperson Maria Zakharova (pictured above) said on Friday, "We also have a lot of questions (about the U.S. activities in outer space). We asked them quite a long time ago and want to have an answer." Apparently, Moscow has been asking the U.S. for a meaningful Russian-U.S. dialogue on a wide spectrum of issues of space activities. Senior Russian and US diplomats agreed on January 16th to resolve mutual concerns.

• Zakharova says that Raymond's statements are part of a deliberate campaign to discredit Russia's peace initiatives in space, to avoid another Cold War. She said that US Assistant Secretary of State Christopher Ford had made similarly provocative claims about Russian space activities. Zakharova believes these verbal attacks are "nothing but the United States' attempt to divert public attention from real threats in space, and to justify its moves to deploy weapons in outer space and obtain extra financing for such causes."
• The Russian Foreign Ministry spokesperson branded U.S. alarm about Russian space activities as "fake". "[S]erious concerns… cannot be resolved by means of such statements," said Zakharova. "It is necessary to use the existing channels for expert and political dialogue… We do have such channels and it is necessary simply to use them. Unwillingness to do so is rather an evidence of [the] insufficiently grounded position of our American colleagues."
• [Editor's Note]  In February, General Raymond publicly called Russia out about a pair of Russian satellites deployed to pursue a US satellite last November, sometimes coming within 100 miles of it. "This is unusual and disturbing behavior …[that] has the potential to create a dangerous situation in space," said Raymond. "The United States finds these recent activities to be concerning and do not reflect the behavior of a responsible spacefaring nation." (see previous ExoArticle here)
MOSCOW – Moscow is waiting for Washington to answer its questions about the US activities in outer
space, Russian Foreign Ministry Spokeswoman Maria Zakharova said on Friday, commenting on the statements by Gen. John Raymond, the first chief of space operations for the U.S. Space Force, about Russia's alleged test launch of an anti-satellite missile.
"We also have a lot of questions. We asked them quite a long time ago and want to have an answer after all. A full-fledged meaningful Russian-US dialogue on a wide spectrum of issues of space activities security Russian and US senior diplomats agreed on on January 16 will help resolve mutual concerns," she said.
Zakharova described Raymond's statements as "Washington's deliberate campaign to discredit Russia's space activities and peace initiatives to prevent an arms race in outer space." She recalled that it was not the first such allegation voiced by the US side. "Previously, such claims were voiced by US Assistant Secretary of State Christopher Ford. We have commented on each and every such anti-Russian attack which are all nothing but the United States' attempt to divert public attention from real threats in space and to justify its moves to deploy weapons in outer space and obtain extra financing for such causes," Zakharova stressed.
FAIR USE NOTICE: This page contains copyrighted material the use of which has not been specifically authorized by the copyright owner. ExoNews.org distributes this material for the purpose of news reporting, educational research, comment and criticism, constituting Fair Use under 17 U.S.C § 107. Please contact the Editor at ExoNews with any copyright issue.
Christopher Ford, Cold War, General John Raymond, Maria Zakharova, Russia, U.S. Space Command, U.S. Space Force
---
ExoNews Editor
Duke Brickhouse is a former trial lawyer and entertainment attorney who has refocused his life's work to exposing the truth of our subjugated planet and to help raise humanity's collective consciousness at this crucial moment in our planet's history, in order to break out of the dark and negative false reality that is preventing the natural development of our species, to put our planet on a path of love, light and harmony in preparation for our species' ascension to a fourth density, and to ultimately take our rightful place in the galactic community.
---