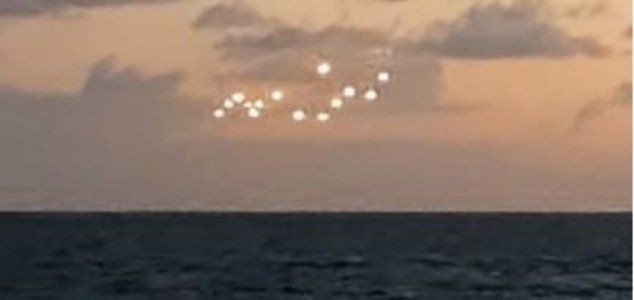 Article by Katy Gill                     October 3, 2019                      (dailystar.co.uk)
• William Guy was travelling on a ferry across the Pamlico Sound on the Outer Banks of North Carolina when he spotted a "fleet" of fourteen luminous objects in a cluster in the western sky as the Sun was setting. Guy immediately began recording and the sight. (see 3:16 minute video below)

• The video begins with the sight of the sky at sunset. Guy pans the camera across the horizon to see the cluster of UFOs floating aimlessly. Guy asks, "Can anybody tell me what that is?" "We're in the middle of the ocean, on a ferry." Guys later said that the objects disappeared from sight before coming back some two minutes later.

• YouTubers commented, "Earth is under heavy observation" and "[T]he Earth is swarming with alien advanced craft." One YouTuber skeptically claimed, "It's not a UFO, they're training targets for military aircraft."
A "fleet" of bizarre objects has been captured hovering off the coast of North Carolina.
William Guy was travelling on a ferry across the Pimlico Sound lagoon when he spotted 14 bizarre objects in the sky.
He immediately started recording and the footage has left the conspiracy world in shock.
The video begins with the sight of the sky, seemingly showing the sun setting.
William pans the camera across the horizon showing nothing in sight.
"Look, nothing in the sky, at all," he said.
As he cuts across the sky the lit up cluster is seen floating aimlessly.
"Can anybody tell me what that is?" William asks.
He adds: "We're in the middle of the ocean, on a ferry.
"There's nothing around, no land, no nothing."
3:16 minute video of UFO fleet over the Atlantic Ocean off of NC ('Only Real UFOs' YouTube)
FAIR USE NOTICE: This page contains copyrighted material the use of which has not been specifically authorized by the copyright owner. ExoNews.org distributes this material for the purpose of news reporting, educational research, comment and criticism, constituting Fair Use under 17 U.S.C § 107. Please contact the Editor at ExoNews with any copyright issue.