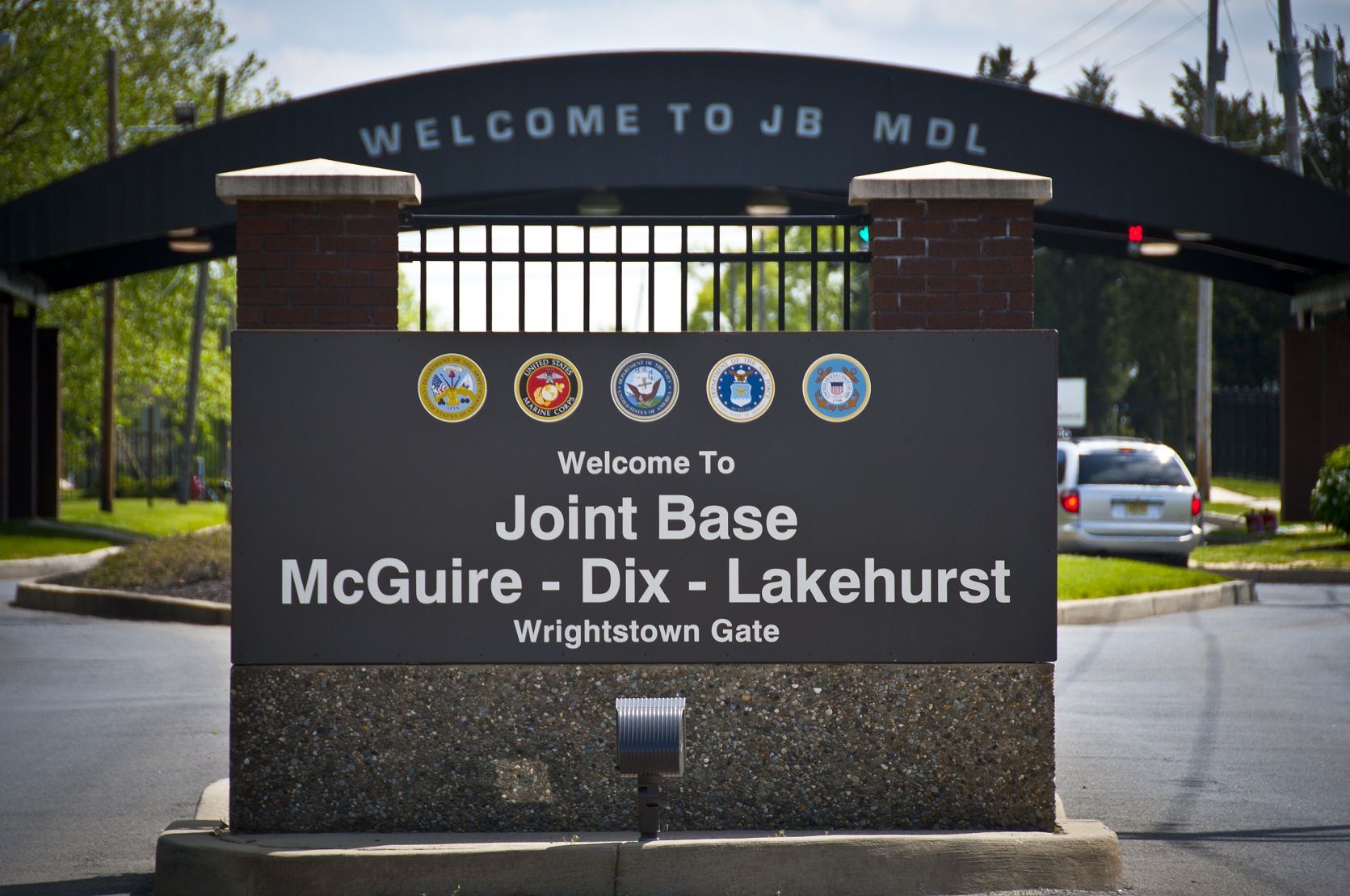 Retired Air Force Major Claims Alien Was Killed at Joint Base McGuire-Dix-Lakehurst
Listen to "E96 9-15-19 Retired Air Force Major Claims Alien Was Killed at Joint Base McGuire-Dix-Lakehurst" on Spreaker.
Article by Erik Larsen                    September 3, 2019                       (app.com)
• John L. Guerra has published a book entitled, "Strange Craft: The True Story of an Air Force Intelligence Officer's Life with UFOs", wherein Guerra claims that a military police officer shot an extraterrestrial being at Fort Dix in the early morning hours of Jan. 18, 1978. Former Air Force intelligence officer Major George Filer III, now 84 and living in living in Medford, New Jersey with his wife Janet, wrote a top-secret memo about the incident.

• On a cold dark night in January 1978, a soldier was driving a military police vehicle through the woods on the Air Force side of Joint Base McGuire-Dix-Lakehurst in Burlington County, NJ, in pursuit of a strange, low-flying aircraft that had been observed passing through the military installation's airspace at about 2 am. Suddenly the soldier realized that an oval-shaped craft radiating a blue-green glow was hovering directly over his vehicle. Then a greyish-brown creature with a big head, long arms and slender body walked out of the nearby shadows and showed itself by stepping into the vehicle's headlights. The soldier drew his .45 caliber pistol and shot the creature five times, killing it. Its remains gave off a foul-smelling, ammonia-like stench. A cleanup crew from Wright-Patterson Air Force Base in Ohio flew in to retrieve the body. The retrieval crew acted as if this occurrence was not out of the ordinary.

• Major Filer arrived on base before dawn that day to prepare his daily intelligence briefing for his superior officers. Security at the base had been tightened and Filer personally observed the emergency response in the aftermath of the incident. Filer interviewed witnesses but was denied access to photos taken at the scene. The senior master sergeant on duty told Filer, "An alien has been shot at Fort Dix and they found it on the end of our (McGuire AFB) runway." Filer asked, "Was it an alien from another country?" "No," said the master sergeant. "[I]t was from outer space, a space alien. There are UFOs buzzing around the pattern like mad."

• The Air Force classified everything as top secret and silenced the witnesses through national security restrictions and good old-fashioned intimidation. Everyone, that is, except Filer who has spoken publicly of the incident ever since. The local newspaper, The Trentonian, first reported about the incident in July 2007. The Air Force has repeatedly denied the claim, however, telling the newspaper that "the case was discredited as a hoax years ago."

• The official explanation for the "misidentification" was that, in 1978, people were in a UFO frenzy with the US/USSR Space Race and the Apollo Moon missions still fresh in everyone's minds. Earlier that year, Steven Spielberg had released his blockbuster movie, "Close Encounters of the Third Kind", and the movie "Star Wars" had been in theaters the previous year. UFO sightings had greater credibility back then. There were 377 references to UFOs published in the press between 1977 and 1978, compared to 85 references between 2017 and 2018. Even President Jimmy Carter had acknowledged that he had seen a UFO and pledged to uncover whatever secrets about UFOs the government may have been hiding.

• Then there were the strange booms heard in the sky over the Jersey Shore and much of the East Coast between December 1977 and March 1978, which had the population on edge. One boom was so loud that it caused a tremor in southern Ocean County and the evacuation of the Oyster Creek nuclear power plant in Lacey, NJ. The booms were blamed on sonic booms from the supersonic British-French airliner, the Concorde, flying out of JFK Airport. However, subsequent booms did not conform to the Concorde's schedule.

• Whatever happened at McGuire Air Force Base on Jan. 18, 1978, it is now part of folklore. While Filer never actually saw the dead alien, he says that he knows for a fact that the story is true. Filer claims to have seen UFOs throughout his entire life, starting at age 5 outside his boyhood home in Illinois. He later served as the state director for MUFON in New Jersey. (See a 48 minute video of George Filer describing the Fort Dix incident below.)
Was an alien shot and killed in the Pine Barrens of New Jersey?
A new book, titled "Strange Craft: The True Story of an Air Force Intelligence Officer's Life with UFOs," claims that a military police officer shot an extraterrestrial being at Fort Dix in the early morning hours of Jan. 18, 1978.
In the book by author John L. Guerra and published by Bayshore Publishing Co. of Tampa, Florida, retired Air Force Major George Filer III — a decorated former intelligence officer for the 21st Air Force, Military Airlift Command at the adjacent McGuire Air Force Base — recounts the extraordinary tale from America's disco age.
Filer, now 84 and living in Medford with his wife, Janet, said what has been an urban legend first promulgated by UFO enthusiasts since the early 1980s is indeed true. That's because he was there and wrote a top-secret memo about it, he said.
In the freezing winter darkness of that day in January 1978, a bipedal creature, described as about 4 feet in height and grayish-brown in color, with a "fat head, long arms and slender body," was shot to death with five rounds fired from a service member's .45-caliber (military issue M1911A1) handgun.
As Guerra explains it in his book, the soldier had originally been in a police pickup truck, driving through the wilderness of the base in pursuit of a strange, low-flying aircraft that had been observed passing through the military installation's airspace about 2 a.m. that morning.
About an hour into the drive, the soldier became aware — in typical, horror movie fashion — that the craft, oval-shaped and radiating a blue-green glow, was hovering directly over his vehicle.
That's when the "creature" emerged from the shadows on foot, revealing itself to the soldier by stepping into the beams of the vehicle's headlights where the panicked MP drew his weapon, ordered the alien to freeze, and he fired.
According to the retired major as told in the book, the alleged alien succumbed to its gunshot wounds on the Air Force side of what is now Joint Base McGuire-Dix-Lakehurst in Burlington County; its remains giving off a foul-smelling, ammonia-like stench.
Later that morning, a cleanup crew from Wright-Patterson Air Force Base in Ohio — headquarters of the National Air and Space Intelligence Center — flew in to retrieve the body, behaving as if the creature was, well, not entirely alien to them.
The Asbury Park Press reached out to the Air Force at the Joint Base for comment about this story, but never heard back.
48 minute video of incident at Fort Dix with George Filer (Delinda Jeffry YouTube)
FAIR USE NOTICE: This page contains copyrighted material the use of which has not been specifically authorized by the copyright owner. ExoNews.org distributes this material for the purpose of news reporting, educational research, comment and criticism, constituting Fair Use under 17 U.S.C § 107. Please contact the Editor at ExoNews with any copyright issue.
Air Force, Apollo Moon missions, Burlington County NJ, Close Encounters of the Third Kind, Fort Dix, Jersey Shore, JFK Airport, Jimmy Carter, John L. Guerra, Lacey, Major George Filer III, MUFON, NJ, Oyster Creek nuclear power plant, podcast, Space Race, Star Wars, the Concorde, The Trentonian, Wright-Patterson AFB
---
ExoNews Editor
Duke Brickhouse is a former trial lawyer and entertainment attorney who has refocused his life's work to exposing the truth of our subjugated planet and to help raise humanity's collective consciousness at this crucial moment in our planet's history, in order to break out of the dark and negative false reality that is preventing the natural development of our species, to put our planet on a path of love, light and harmony in preparation for our species' ascension to a fourth density, and to ultimately take our rightful place in the galactic community.
---