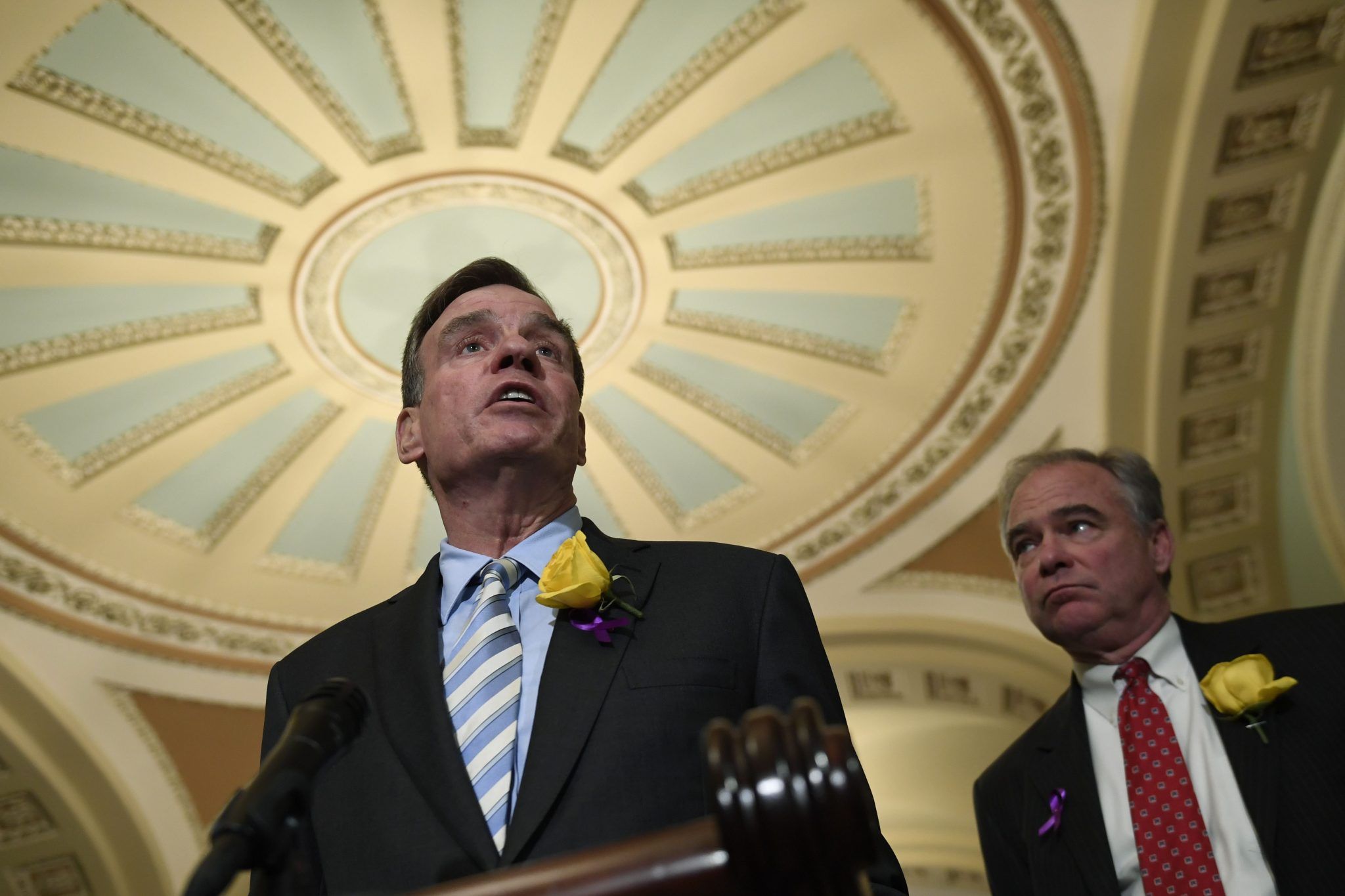 Lawmakers Are 'Coming Out of the Woodwork' to be Briefed on UFOs
by Matt Stieb                       June 20, 2019                          (nymag.com)
• The US Navy has been organizing UFO briefings for members of Congress, since Navy pilots' reported encounters with 'Tic Tac'-looking UFOs off of both US coasts. Briefings have been given to Defense Intelligence staff and Congressional oversight committee members.

• A spokesperson for the vice-chairman of the Senate Intelligence Committee, Senator Mark Warner (D-VA) (pictured above) said, "If naval pilots are running into unexplained interference in the air, that's a safety concern Senator Warner believes we need to get to the bottom of."

• Staffers on Intelligence, Armed Services, and Defense Appropriations panels are "coming out of the woodwork" to obtain the information. An active intelligence official confirmed that "more requests for briefings are coming in."

• Despite his interest in a Space Force, and even though President Trump theoretically has more access to unredacted information on UFOs than anyone, he told George Stephanopoulos that he doesn't 'particularly' believe in UFOs.

• On the other hand, former Nevada Senator Harry Reid, the godfather of the recent push to normalize the discussion of UFOs within government, said that he would encourage lawmakers to hold public hearings on the matter. "They would be surprised how the American public would accept it," said Reid.

• When Reid was Senate majority leader in 2007, he allocated $22 million to a Pentagon study of military sightings of UFOs. "That money was spent developing page after page of information," says Reid. "There's been a lot of activity since that."

• The Navy has taken major steps in cutting the stigma around the reporting of UFO sightings. In April, the Navy announced it is "updating and formalizing the process" of UFO reports by its pilots in an attempt to analyze the phenomenon from a more scientific approach. Luis Elizondo, a former Pentagon senior intelligence officer, claimed that this was "the single greatest decision the Navy has made in decades."
According to congressional officials who spoke to Politico, three senators received a classified briefing from the Pentagon on Wednesday regarding Navy encounters with unidentified aircraft. The briefing is one of a number of recent requests from oversight committee members following a report in May of Navy pilots who frequently saw Tic Tac-looking UFOs flying off the southeast coast of the United States between 2014 and 2015.
"If naval pilots are running into unexplained interference in the air, that's a safety concern Senator Warner believes we need to get to the bottom of," said a spokesperson for Virginia Democrat Mark Warner, the vice-chairman of the Senate Intelligence Committee. An active intelligence official confirmed to Politico that "more requests for briefings are coming in." And a former government official, who has been present for some of the meetings with lawmakers, added that representatives and support staff on the Intelligence, Armed Services, and Defense Appropriations panels are "coming out of the woodwork" to obtain the information. The briefings have reportedly been organized by the Navy, and have included staff from the under secretary of Defense for Intelligence.
Despite his interest in a Space Force — even if it's only a fundraising tool — Trump doesn't seem engaged by the fact that he has more access to unredacted information on UFOs than, presumably, any other terrestrial being. "I did have one very brief meeting on it," Trump told George Stephanopoulos on Sunday. "But people are saying they're seeing UFOs. Do I believe it? Not particularly."
But former Nevada senator Harry Reid, the godfather of the recent push to normalize the discussion of UFOs within government, remains quite invested. In an interview with Nevada's KNPR last week, Reid said that he would encourage lawmakers to hold public hearings on the matter: "They would be surprised how the American public would accept it. People from their individual states would accept it."
FAIR USE NOTICE: This page contains copyrighted material the use of which has not been specifically authorized by the copyright owner. ExoNews.org distributes this material for the purpose of news reporting, educational research, comment and criticism, constituting Fair Use under 17 U.S.C § 107. Please contact the Editor at ExoNews with any copyright issue.
Armed Services, Congress, Congressional oversight committee, Defense Appropriations, George Stephanopoulos, Harry Reid, Luis Elizondo, Navy pilots, President Trump, Senate Intelligence Committee, Senator Mark Warner, space force, US Navy
---
ExoNews Editor
Duke Brickhouse is a former trial lawyer and entertainment attorney who has refocused his life's work to exposing the truth of our subjugated planet and to help raise humanity's collective consciousness at this crucial moment in our planet's history, in order to break out of the dark and negative false reality that is preventing the natural development of our species, to put our planet on a path of love, light and harmony in preparation for our species' ascension to a fourth density, and to ultimately take our rightful place in the galactic community.
---