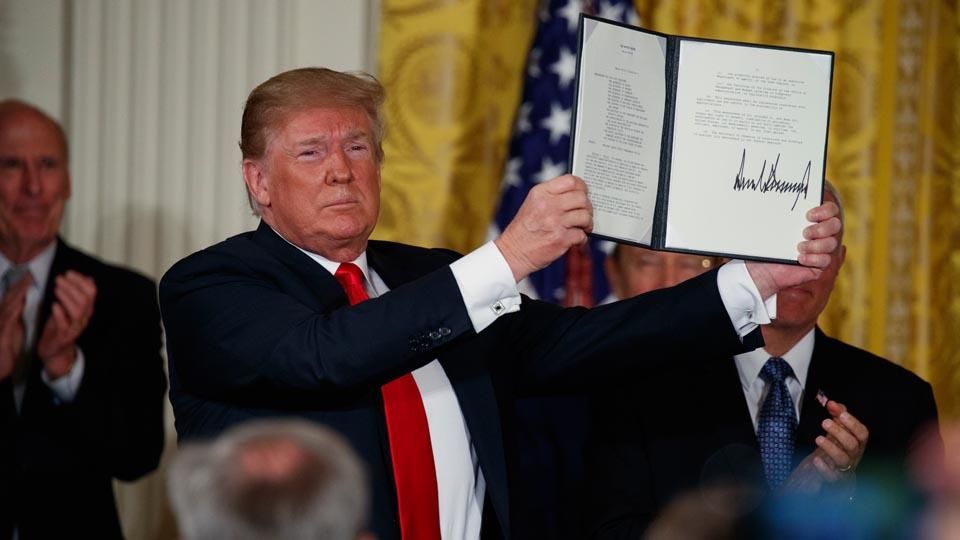 Trump Directs DOD to Establish a Space Force in a Surprise Announcement
by Rachel Becker                 Jun 18, 2018                 (theverge.com)
• On June 18th, President Trump hijacked the scheduled signing of a Space Policy Directive on the subject of space traffic management and space debris at a meeting of the National Space Council to again call for a Space Force as a sixth branch of the US military. "We are going to have the Air Force and we're going to have the Space Force, separate but equal. It is going to be something so important," President Trump announced.
• Trump first proposed the idea of a Space Force in March 2018, in opposition to Defense Secretary Jim Mattis' who favors a 'Space Corps' as an arm of the U.S. Air Force. Mattis argues that it will create more overhead and bureaucracy. The Air Force Space Command currently controls our military interests in space. The National Defense Authorization Act for Fiscal Year 2018 has already directed the DoD to prepare a report on establishing a USAF 'Space Corps' that is due in August.
• What Trump didn't mention was what the Space Force would do and how it would be funded. Point in fact, Congress would have to pass legislation to both to create a new branch of the military and to fund it.
• Then there is the 1967 United Nations' "Treaty on Principles Governing the Activities of States in the Exploration and Use of Outer Space, including the Moon and Other Celestial Bodies", ratified by 104 nations including Russia, China and the U.S., which prohibits nuclear weapons, war exercises, or even military installations in space. (see Article IV)
• [Editor's Note] This seems to illustrate the current struggle between the Pentagon/Trump Alliance forces and the historically and predominantly 'Deep State' controlled Air Force for official control over space, and therefore disclosure of such secret space programs and technology. Recall that in discussing the USAF space program that shot down the Deep State guided missile over Hawaii in January of this year, Dr Michael Salla distinguishes this hero USAF faction as a "USAF run Secret Space Program that has broken away from Deep State control".
President Donald Trump directed the Department of Defense and the Pentagon to establish a Space Force as the sixth branch of the Armed Forces in a meeting with the National Space Council today.
"We are going to have the Air Force and we're going to have the Space Force, separate but equal. It is going to be something so important," President Trump said.
"Separate but equal" is an appalling turn of phrase given that it's derived from Plessy v. Ferguson, the now-overturned Supreme Court precedent for segregation.
The announcement came as a surprise in a meeting where the newly revived National Space Council was set to unveil the first comprehensive policy on space traffic management. "The whole point of today's meeting was not about this at all, it was about the space traffic management policy decision," says Brian Weeden, director of program planning for the Secure World Foundation — an NGO that focuses on space policy.
Still, this isn't the first time we've heard about Trump's hopes for a Space Force; he first proposed the idea of a Space Force in March 2018 — contradicting Defense Secretary Jim Mattis' opposition to creating a new military service. In a letter to the Committee on Armed Services, Mattis argued that it would just create more overhead and bureaucracy.
As it stands, the Air Force is largely in charge of controlling national security in space under the umbrella of the Air Force Space Command. Its responsibilities include supervising launches and controlling DoD satellites — including ones involved in missile early warnings, communication, and navigation.
FAIR USE NOTICE: This page contains copyrighted material the use of which has not been specifically authorized by the copyright owner. ExoNews.org distributes this material for the purpose of news reporting, educational research, comment and criticism, constituting Fair Use under 17 U.S.C § 107. Please contact the Editor at ExoNews with any copyright issue.
Air Force Space Command, Deep State, Donald Trump, Jim Mattis, National Space Council, Space Corps, space force, Space Policy Directive, U.S. Air Force, United Nations
---
ExoNews Editor
Duke Brickhouse is a former trial lawyer and entertainment attorney who has refocused his life's work to exposing the truth of our subjugated planet and to help raise humanity's collective consciousness at this crucial moment in our planet's history, in order to break out of the dark and negative false reality that is preventing the natural development of our species, to put our planet on a path of love, light and harmony in preparation for our species' ascension to a fourth density, and to ultimately take our rightful place in the galactic community.
---