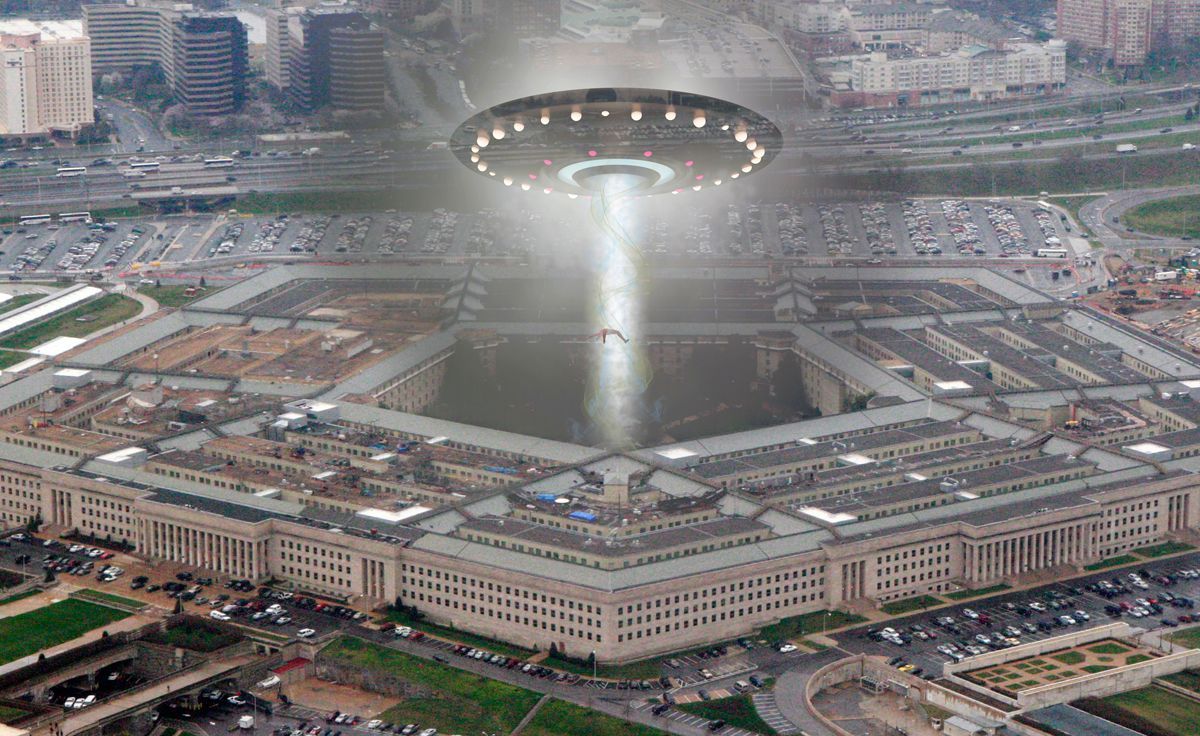 The Pentagon Finally Admits It Investigates UFOs
by Steven Greenstreet                 May 22, 2019                 (nypost.com)
• In an 'about face', US Department of Defense (DoD) spokesman, Christopher Sherwood, was uncharacteristically open and honest with the NY Post about the fact that the Pentagon's $22M 'Advanced Aerospace Threat Identification Program' which ran from 2007 to 2012 was intended to study UFOs – or "unidentified aerial phenomena" (UAPs) as they call them now – and continues to investigate extraterrestrial UFO reports. (see 4:22 minute video about the NY Post interview below)

• "The department will continue to investigate, through normal procedures, reports of unidentified aircraft encountered by US military aviators in order to ensure defense of the homeland and protection against strategic surprise by our nation's adversaries," said Sherwood.

• Former UFO investigator for the UK's Ministry of Defence, Nick Pope, called the DoD's comments a "bombshell revelation." "Previous official statements were ambiguous and left the door open to the possibility that AATIP was simply concerned with next-generation aviation threats from aircraft, missiles and drones — as skeptics claimed,' said Pope. "This new admission makes it clear that they really did study what the public would call 'UFOs.' "

• John Greenewald Jr., of 'The Black Vault' government document archival website, called the Pentagon's use of the term "unidentified aerial phenomena" unprecedented in its frankness. "I'm shocked," said Greenwald "… they've seemingly worked very hard not to say that." "[N]ow we have actual evidence — official evidence — that said, 'Yes, AATIP did deal with UAP cases, phenomena, videos, photos, whatever.'" "[A]t least we're one step closer to the truth."
The Pentagon has finally uttered the words it always avoided when discussing the possible existence of UFOs — "unidentified aerial phenomena" — and admits that it still investigates reports of them.
In a statement provided exclusively to The Post, a Department of Defense spokesman said a secret government initiative called the Advanced Aerospace Threat Identification Program "did pursue research and investigation into unidentified aerial phenomena."
And while the DOD says it shut down the AATIP in 2012, spokesman Christopher Sherwood acknowledged that the department still investigates claimed sightings of alien spacecraft.
"The Department of Defense is always concerned about maintaining positive identification of all aircraft in our operating environment, as well as identifying any foreign capability that may be a threat to the homeland," Sherwood said.
"The department will continue to investigate, through normal procedures, reports of unidentified aircraft encountered by US military aviators in order to ensure defense of the homeland and protection against strategic surprise by our nation's adversaries."
Nick Pope, who secretly investigated UFOs for the British government during the 1990s, called the DOD's comments a "bombshell revelation."
4:22 minute New York Post video with Steven Greenstreet discussing DoD UFO disclosure
FAIR USE NOTICE: This page contains copyrighted material the use of which has not been specifically authorized by the copyright owner. ExoNews.org distributes this material for the purpose of news reporting, educational research, comment and criticism, constituting Fair Use under 17 U.S.C § 107. Please contact the Editor at ExoNews with any copyright issue.
Advanced Aerospace Threat Identification Program, Christopher Sherwood, Department of Defense, John Greenewald Jr., New York Post, Nick Pope, Unidentified Aerial Phenomena
---
ExoNews Editor
Duke Brickhouse is a former trial lawyer and entertainment attorney who has refocused his life's work to exposing the truth of our subjugated planet and to help raise humanity's collective consciousness at this crucial moment in our planet's history, in order to break out of the dark and negative false reality that is preventing the natural development of our species, to put our planet on a path of love, light and harmony in preparation for our species' ascension to a fourth density, and to ultimately take our rightful place in the galactic community.
---