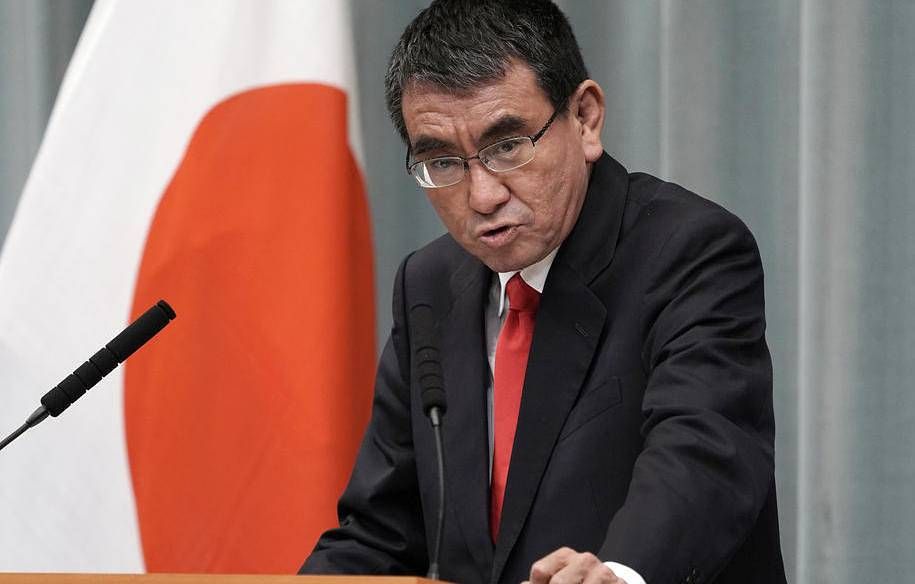 Planning Will Begin for Japan's Response to UFO Encounter
Article by Diazo Teramoto                          April 28, 2020                          (asahi.com)
• On April 28th, in response to the US Department of Defense re-releasing the Navy's UFO videos (including the 'Tic Tac' UFO off of San Diego), Japanese Defense Minister Taro Kono announced at a news conference the preparation of a Self-Defense Forces (SDF) plan in the event of contact with extraterrestrial UFOs. While Kono says that he still doesn't believe in alien UFOs, he stated, "We would like to establish procedures in the event an encounter is made with a UFO."
• In February 2018, the Japanese government issued its official position on UFOs saying, "no confirmation has been made of their existence." Now, Japanese ministry officials want to ask their Pentagon counterparts about the release of the UFO videos as well as any analysis they have conducted. While Kono said that Japan's SDF had not yet encountered a UFO, he stated, "If video can be taken (of a UFO encounter) and if a report is possible, then a report will be made. Discussions will be held with the Air SDF about just what can be done."
• In response to a lawmaker's question as to what response the SDF would take should it encounter a UFO, Kono stated, "The government has not considered in any specific manner what will be done should a UFO be sighted flying toward Japan."
• When asked at the news conference whether he believed in supernatural powers or psychic phenomenon, Kono only said, "That is a corporate secret."
Although Defense Minister Taro Kono doesn't believe in UFOs, he wants the Self-Defense Forces to have a plan in place for any encounter–just in case.
Kono made the comment at a news conference on April 28 after the U.S. Defense Department declassified and released videos shot by Navy pilots pointing to the possibility that UFOs exist.
"We would like to establish procedures in the event an encounter is made with a UFO," Kono said.
He indicated his ministry and the SDF would begin preparing for such an event.
While Kono said the SDF had not yet encountered a UFO, he added, "If video can be taken (of a UFO encounter) and if a report is possible, then a report will be made. Discussions will be held with the Air SDF about just what can be done."
He said ministry officials will ask their Pentagon counterparts about the release of the videos as well as any analysis they had conducted.
FAIR USE NOTICE: This page contains copyrighted material the use of which has not been specifically authorized by the copyright owner. ExoNews.org distributes this material for the purpose of news reporting, educational research, comment and criticism, constituting Fair Use under 17 U.S.C § 107. Please contact the Editor at ExoNews with any copyright issue.
Japan's Self-Defense Forces, Japanese Defense Minister Taro Kono, Navy's UFO videos
---
ExoNews Editor
Duke Brickhouse is a former trial lawyer and entertainment attorney who has refocused his life's work to exposing the truth of our subjugated planet and to help raise humanity's collective consciousness at this crucial moment in our planet's history, in order to break out of the dark and negative false reality that is preventing the natural development of our species, to put our planet on a path of love, light and harmony in preparation for our species' ascension to a fourth density, and to ultimately take our rightful place in the galactic community.
---