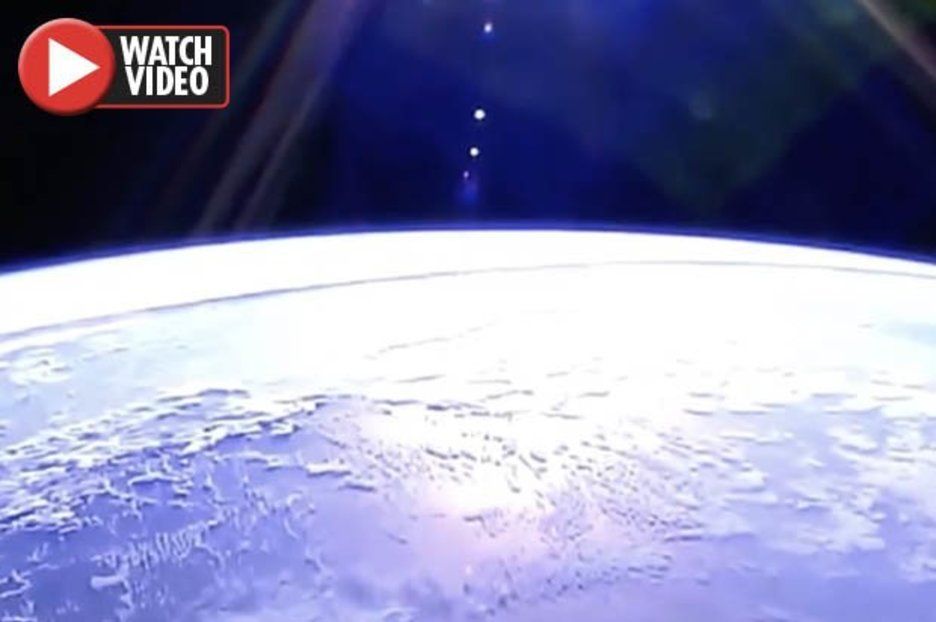 Mystery Line 'Spanning Thousands of Miles' Across Earth Spotted on ISS Feed
by Simon Green                 March 8, 2019                     (dailystar.co.uk)
• A Google Earth satellite image taken on the International Space Station has once again recorded an image of a gigantic atmospheric line, stretching for thousands of miles. A similar line appeared twice last year.

• The clip, which was posted by conspiracist MrMBB333, shows the massive "object" stretching across the surface of the planet. (see 1:11 minute video feed from the ISS below) "This is something in the sky above planet Earth," he said. "I've been an observer of Earth for years and I've never seen anything like this."
Conspiracy theorists were sent into a frenzy last year when a gigantic line was seen on Google Earth.
It then resurfaced several months later and some even claimed to have caught it from the ground.
And now, a satellite image taken on the ISS seems to show it has appeared once more.
The clip, which was posted by conspiracist MrMBB333, shows the massive "object" stretching across the surface of the planet.
"This is something in the sky above planet Earth," he said.
"That's not a continent – there's nothing over there that is perfectly linear.
"That tells me, more than likely that whatever this is was in the sky."
He then alters the contrast of the image to show the mystery sight in even more clarity.
"You can see there is definitely something there," he adds.
"What are these things?"
1:11 minute video of ISS feed of Earth with a line across it
FAIR USE NOTICE: This page contains copyrighted material the use of which has not been specifically authorized by the copyright owner. ExoNews.org distributes this material for the purpose of news reporting, educational research, comment and criticism, constituting Fair Use under 17 U.S.C § 107. Please contact the Editor at ExoNews with any copyright issue.
atmospheric line, Google Earth, International Space Station
---
ExoNews Editor
Duke Brickhouse is a former trial lawyer and entertainment attorney who has refocused his life's work to exposing the truth of our subjugated planet and to help raise humanity's collective consciousness at this crucial moment in our planet's history, in order to break out of the dark and negative false reality that is preventing the natural development of our species, to put our planet on a path of love, light and harmony in preparation for our species' ascension to a fourth density, and to ultimately take our rightful place in the galactic community.
---