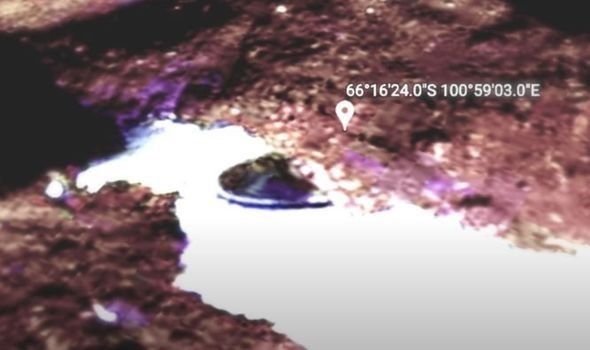 Article by Dave Basner                                   October 13, 2020                                 (kfiam640.iheart.com)
• The melting polar ice cap on Antarctica might have just uncovered proof of extraterrestrial life. The receding ice has revealed a flying saucer on Google Earth. (see 9:19 minute video below)
• YouTuber MrMBB333 was sent the coordinates of the craft by a follower and created a video showing the strange, seemingly perfect circular shape, partially obscured by a rocky overhang. He says, "This appears to be a 60-foot-wide disc sticking out of the ground apparently being recently revealed by the melting snow and ice. There is the object, it looks like it was intelligently designed."
• To support his theory, he alters the colors of the image and proposes that there is an "elevated circle" on the top of the structure. YouTube commenters say, "It doesn't look stuck in the ground, it looks like it's hovering," while another added, "The black area under it looks like a shadow and if you look to your left, you will see a light source which looks like it's coming from inside the cave or tunnel."
• One 'never UFOer' skeptic insists, "It is just a small pool of water. If you look around at the other features locally you will notice that the other bodies of water also have a similar hue." You be the judge.
The melting polar ice caps are causing many problems, from rising sea levels to extreme weather events to the extinction of certain species and the loss of fresh water for the world. However, they also might have just uncovered proof of extraterrestrial life. That's according to one conspiracy theorist who claims the receding ice has revealed a flying saucer on Google Earth.
YouTuber MrMBB333 was sent the coordinates of the craft by a follower and created a video showing the strange, seemingly perfect circular shape, which is partially obscured by rocks. He states, "This appears to be a 60-foot-wide disc sticking out of the ground apparently being recently revealed by the melting snow and ice. There is the object, it looks like it was intelligently designed."
To support his theory, he alters the colors of the image and proposes that there is an "elevated circle" on the top of the structure.
9:19 minute video showing GE images of saucer craft on Antarctica (MrMBB333′ YouTube)
FAIR USE NOTICE: This page contains copyrighted material the use of which has not been specifically authorized by the copyright owner. ExoNews.org distributes this material for the purpose of news reporting, educational research, comment and criticism, constituting Fair Use under 17 U.S.C § 107. Please contact the Editor at ExoNews with any copyright issue.