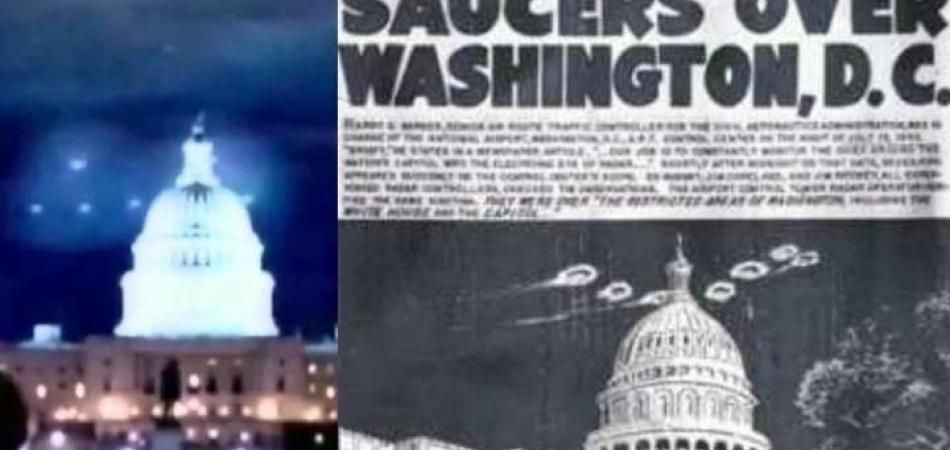 In 1952, 'Flying Saucers' Over Washington Sent the Press Into a Frenzy
by Missy Sullivan                     March 10, 2019                      (history.com)
• In July of 1952, as UFO fever spread across Cold War America, the "grandfather of all 'saucer' sightings" took place in the skies above the nation's capital. Over several weeks, up to a dozen unexplained objects repeatedly streaked across the skies over Washington, D.C. – spotted by radar operators, professional pilots and other highly credible witnesses. The 'saucers' outran Air Force fighter jets.

• When President Harry Truman called for answers, the Air Force's Project Blue Book hastily convened a press conference, blaming the whole thing on the weather.

• Nationwide, newspaper headlines blared the fantastic news. Local publications ran stories, many drawn from national wire services, often edited with different details to fit their space. Some added sidebars with local 'saucer' news or tidbits like what Albert Einstein thought when asked about UFOs. One reporter got the bright idea to ask the Soviets if they were somehow behind it all.

• Below are some original clippings from around the nation during that extraordinary historical moment. Click on the newspaper title to link to the original article.

• Monroe News-Star (Monroe, Louisiana), page 1, July 21, 1952 – 'The Air Force today investigated reports that several "flying saucers" had been spotted by radar virtually in its own backyard on the outskirts of the nation's capital. Not only were unidentified objects seen on radar—indicating actual substance instead of mere light—but two airline pilots and a newsman saw eerie lights fitting the general description of flying saucers the same night… Capt. S.C. Pierman piloting Capital Airlines Flight 807 said, "They couldn't have been aircraft. They were moving too fast for that."

• The Cedar Rapids Gazette (Cedar Rapids, Iowa), page 1, July 29, 1952 – 'Radar showed that the air over the nation's capital was full of flying objects early Tuesday…'

• The Daily Inter Lake (Kalispell, Montana), page 11, July 31, 1952 – "It looked like a sphere, so deeply orange colored that it appeared almost the shade of rust. It was silent as death. It was moving too fast and evenly to be a balloon… Most persistent rumor is that Boeing Airplane Co. in Seattle, Wash., is either making flying saucers or has been in charge of the engineering of the project. In the weirder category of rumors is the one that the saucers are either Russian-built or from another planet and that several of them have crashed and have been picked up by the Air Force. '

• Daily Independent-Journal (San Rafael, California), page 5, July 29, 1952 – 'Reports of "saucers" have kept police, air force and weather bureau telephones jangling for several days recently in widely scattered localities… At Key West, Fla., the Navy said it was investigating accounts by several sailors who said they saw a "saucer" while attending an outdoor movie.'

• Akron Beacon Journal (Akron, Ohio), page 2, July 30, 1952 – 'Mrs. Floyd Wetzel of 901 Sayder st., said, "I think the government knows what's back of it all and isn't revealing it." "I think they may be coming from another planet…," asserted Al Rose of 74 Eastgay Dr.'

• The Salt Lake Tribune (Salt Lake City, Utah), page 3, July 23, 1952 – 'The Soviet embassy Tuesday denied any connection with flying saucers seen in this area…'

• Standard-Sentinel (Hazleton, Pennsylvania), page 1, July 30, 1952 – 'It was the third time in 10 days that radar… picked up signs of something unknown packing through pre-dawn black skies… And the Air Force threw lots of cold water on any chilling speculation about men or missiles from Mars—or enemy nations.'

• The Paris News (Paris, Texas), page 1, July 30, 1952 – 'The Air Force says… it's certain of one thing: The saucers—whatever they are—don't seem to be a menace to the United States.'

• The Rhinelander Daily News (Rhinelander, Wisconsin), page 1, July 30, 1952 – 'The bulk of these, after cross-checking, have been reasonably well identified as the product of friendly aircraft, out-and-out hoaxes, or electrical or meteorological phenomena… Two generals added that… a temperature inversion—a layer of warm air over cool air—sometimes may be sufficient to deflect radar waves and cause a false response on a radar set.'
• [Editor's Note] Why would highly advanced "extraterrestrial" spacecraft target Washington D.C. several times during the summer of 1952?  It would seem to be politically motivated, but what extraterrestrial would know that D.C. is the capitol of the United States?  The explanation given by Corey Goode and William Tompkins makes a lot of sense.  At the end of WWII, the Nazi high command relocated to a base set up in a thermal pocket under the ice of Antarctica through the Nazi German's alliance with the Draco Reptilians.  The Nazi/Draco coveted American industrial might which had "won" the war.  By the 1950's, the American military industrial complex was being pressured to enter into a treaty to provide industrial support to the Nazi/Draco.  With the Draco's assistance, the Nazi's had built a fleet of spacecraft with electro-magnetic/anti-gravity propulsion technology.  This technology creates a "temporal bubble" around the craft itself basically creating its own self-contained environment, allowing it to accelerate and make sharp turns without being affected by gravitational g-forces.  To the observer on the ground, this temporal bubble appears as a bright light surrounding the craft.  In 1952, the Nazi's flew their craft over Washington D.C. to demonstrate their tactical superiority over American military technology.  So in order to avoid widespread panic and the public's revelation that the Nazi's had actually escaped defeat in WWII, the American military (US Air Force) and its private industrial complex capitulated and entered into a secret treaty with the Nazi/Draco faction, which continues to this day.  And as depicted in the History Channel's "Project Blue Book" episode 10, the Air Force generals were keen to cover up their alliance with the Nazi/Draco by blaming everything on the Russians, which also continues to this day.  (See 5:04 minute recap of History Channel's "Project Blue Book" S1-E10 below.)
If 1952 marked the year that UFO fever spread across Cold War America, events in late July of that year spiked that mania to critical levels. That's when the grandfather of all "saucer" sightings took place in the skies above the nation's capital, causing a coast-to-coast collective jaw drop.
Over several weeks, up to a dozen unexplained objects repeatedly streaked across the skies over Washington, D.C.—spotted not just by crackpots, but by radar operators, professional pilots and other highly credible witnesses. The Air Force scrambled fighter jets, but the 'saucers' outran them. Around the U.S., sci-fi-like headlines blared, rumors flew and sightings soared.
When President Harry Truman quietly called for answers, a representative from the Air Force's secret UFO-investigation team, Project Blue Book, was summoned to D.C. But before anyone could fully probe the incidents, the Air Force hastily convened a press conference to quell the panic, blaming the whole thing on the weather.
The incident didn't just get covered in big-city papers. In every corner of the country, local publications ran stories, many drawn from national wire services, often edited with different details to fit their space. Some added sidebars with local 'saucer' news or tidbits like what Albert Einstein thought when asked about UFOs. One reporter got the bright idea to ask the Soviets if they were somehow behind it all.
5:04 minute recap of History Channel's "Project Blue Book" S1-E10
FAIR USE NOTICE: This page contains copyrighted material the use of which has not been specifically authorized by the copyright owner. ExoNews.org distributes this material for the purpose of news reporting, educational research, comment and criticism, constituting Fair Use under 17 U.S.C § 107. Please contact the Editor at ExoNews with any copyright issue.
July 1952 UFOs over the Capitol, newspaper articles, President Harry Truman, Project Blue Book, U.S. Air Force, Washington D.C.
---
ExoNews Editor
Duke Brickhouse is a former trial lawyer and entertainment attorney who has refocused his life's work to exposing the truth of our subjugated planet and to help raise humanity's collective consciousness at this crucial moment in our planet's history, in order to break out of the dark and negative false reality that is preventing the natural development of our species, to put our planet on a path of love, light and harmony in preparation for our species' ascension to a fourth density, and to ultimately take our rightful place in the galactic community.
---