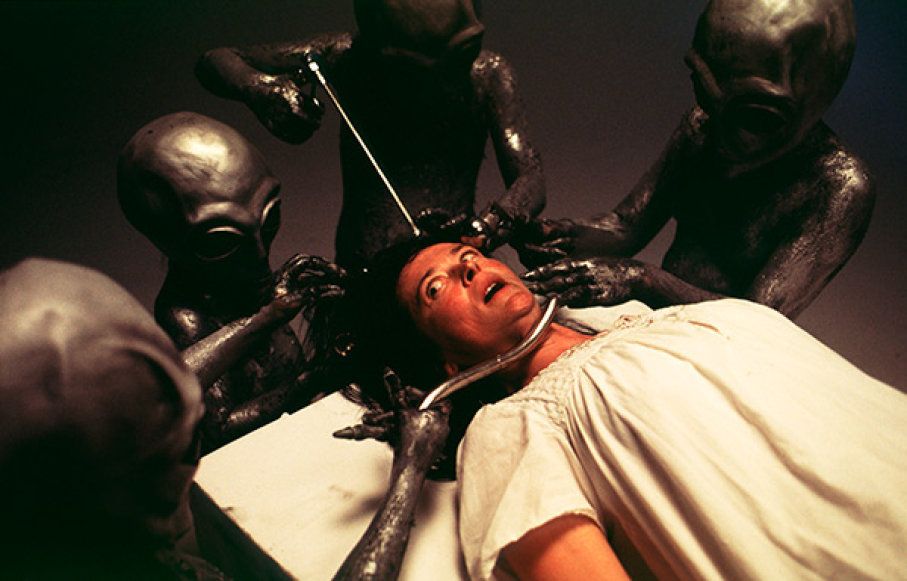 Top-Secret Government Investigation 'Probed Health Effects of UFO Encounters'
by Jasper Hamill                   April 8, 2019                     (metro.co.uk)
• The list of titles to the 38 declassified documents generated under the Advanced Aerospace Threat and Identification Program (AATIP) that were released last year show that investigators studied 'exotic technologies including wormholes, antigravity, invisibility cloaking, warp drives and high energy laser weapons'. Now it's claimed that AATIP also explored the health 'consequences' suffered by people who witnessed UFO incidents.

• One of the studies was called 'Field Effects on Biological Tissues'. Former head of the Ministry of Defence's UFO investigation desk, Nick Pope, says that this is likely to be the paper which explored the health effects of close encounters. Pope also points to a statement made by AATIP scientist Dr Hal Puthoff, speaking of a Brazilian Air Force investigation that included "…a lot of medical injuries when people encountered these (UFO) craft at close range." Pope says that this is confirmation that the Pentagon's AATIP program looked not only at UFOs but also at close encounters and alien abductions.

• Pope goes on to say, "I can't prove it, but from sources close to this I'm almost certain that part of this work involved getting blood and DNA samples from close encounter witnesses – including at least one and maybe two witnesses to the UK's infamous Rendlesham Forest incident." "I believe this was done in a way that disguised the fact that this was for a US intelligence program, with witnesses being told that they were participating in a scientific or academic study."
The classified study was called the Advanced Aerospace Threat and Identification Program (AATIP) and investigated mysterious aircraft or other unexplained phenomena. Official documents reveal that investigators studied 'exotic technologies' including wormholes, antigravity, invisibility cloaking, warp drives and high energy laser weapons. Now it's been claimed that AATIP explored the health 'consequences' suffered by people who witnessed UFO incidents.
Details of 38 papers published during the AATIP probe were released last year, although only a handful of the actual documents have been released to the public. One of the studies was called 'Field Effects on Biological Tissues'. Nick Pope, who was head of the Ministry of Defence's UFO investigation desk, said this is likely to be the paper which explored the health effects of close encounters. Pope pointed us to an article published on Las Vegas Now in which Dr Hal Puthoff, a scientist who worked on AATIP, said: 'We as part of this program looked at some cases that were really good from Brazil. 'In 1977, 78, it was like Close Encounters of the Third Kind, a thousand pages of documents all done by the Brazilian Air Force investigative team, 500 photographs, 15 hours of motion film, a lot of medical injuries when people encountered these craft at close range.' Pope told Metro the statement is 'confirmation that the Pentagon's AATIP program looked not only at UFOs but also at close encounters and alien abductions'. He said: 'I can't prove it, but from sources close to this I'm almost certain that part of this work involved getting blood and DNA samples from close encounter witnesses – including at least one and maybe two witnesses to the UK's infamous Rendlesham Forest incident.
FAIR USE NOTICE: This page contains copyrighted material the use of which has not been specifically authorized by the copyright owner. ExoNews.org distributes this material for the purpose of news reporting, educational research, comment and criticism, constituting Fair Use under 17 U.S.C § 107. Please contact the Editor at ExoNews with any copyright issue.
Advanced Aerospace Threat and Identification Program, Brazilian Air Force, Dr. Hal Puthoff, Nick Pope, Rendlesham Forest
---
ExoNews Editor
Duke Brickhouse is a former trial lawyer and entertainment attorney who has refocused his life's work to exposing the truth of our subjugated planet and to help raise humanity's collective consciousness at this crucial moment in our planet's history, in order to break out of the dark and negative false reality that is preventing the natural development of our species, to put our planet on a path of love, light and harmony in preparation for our species' ascension to a fourth density, and to ultimately take our rightful place in the galactic community.
---