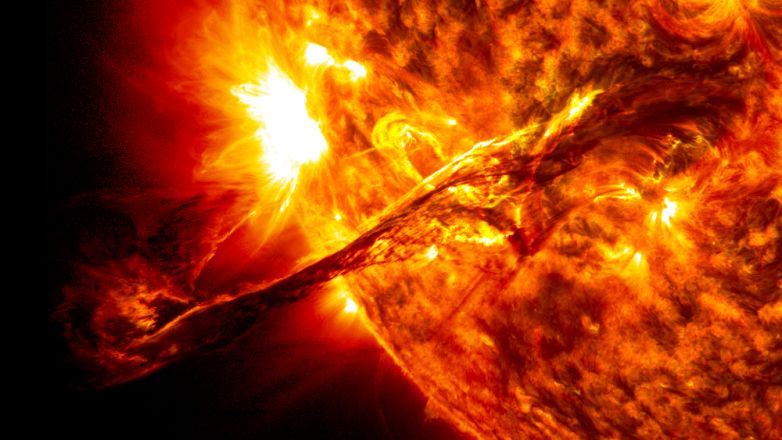 The Sun is Acting Pretty Strange Right Now
by Mike Wehner           September 8th, 2017              (BGR.com)
• Over the past few days, massive sunspots have erupted on the Sun bringing the possibility of solar flares and coronal mass ejections.
• Such sunspot activity is historically unlikely during the 'solar minimum', the Sun's current stage in its eleven-year cycle.
• In fact, on September 6th the largest solar flare since 2005 was recorded.
• Solar flares can seriously disrupt communications satellites and orbiting astronauts.
• [Editor's Note]  Could this be the start of a build-up leading to an Earth-changing solar event as depicted by David Wilcock, Corey Goode, and many other psychics, experiencers and researchers?
Regardless of what religion (if any) you practice, there's no denying that there's one thing responsible for the continued existence of life on Earth, and it rises and sets every single day. Without the sun, we'd be gone, but just because it allows us to exist doesn't mean it can't also cause a bit of trouble every now and again. At the moment, the sun is doing something that scientists didn't really expect, and some are struggling to find an explanation.
Over the past few days, massive sunspots on the sun's surface have made their presence felt here on Earth. The spots, which appear as dark regions on the star's surface, are areas where the sun's complex magnetic fields affect its outer layer, and signal the possibility of solar flares and coronal mass ejections, or CMEs. When those particles from the sun arrive at Earth, they can cause serious issues with communications satellites and even make life a bit more dangerous for astronauts living in orbit.
FAIR USE NOTICE: This page contains copyrighted material the use of which has not been specifically authorized by the copyright owner. ExoNews.org distributes this material for the purpose of news reporting, educational research, comment and criticism, constituting Fair Use under 17 U.S.C § 107. Please contact the Editor at ExoNews with any copyright issue.
Consciousness, Corey Goode, David Wilcock, earth changes, Solar Event, The Event
---
ExoNews Editor
Duke Brickhouse is a former trial lawyer and entertainment attorney who has refocused his life's work to exposing the truth of our subjugated planet and to help raise humanity's collective consciousness at this crucial moment in our planet's history, in order to break out of the dark and negative false reality that is preventing the natural development of our species, to put our planet on a path of love, light and harmony in preparation for our species' ascension to a fourth density, and to ultimately take our rightful place in the galactic community.
---