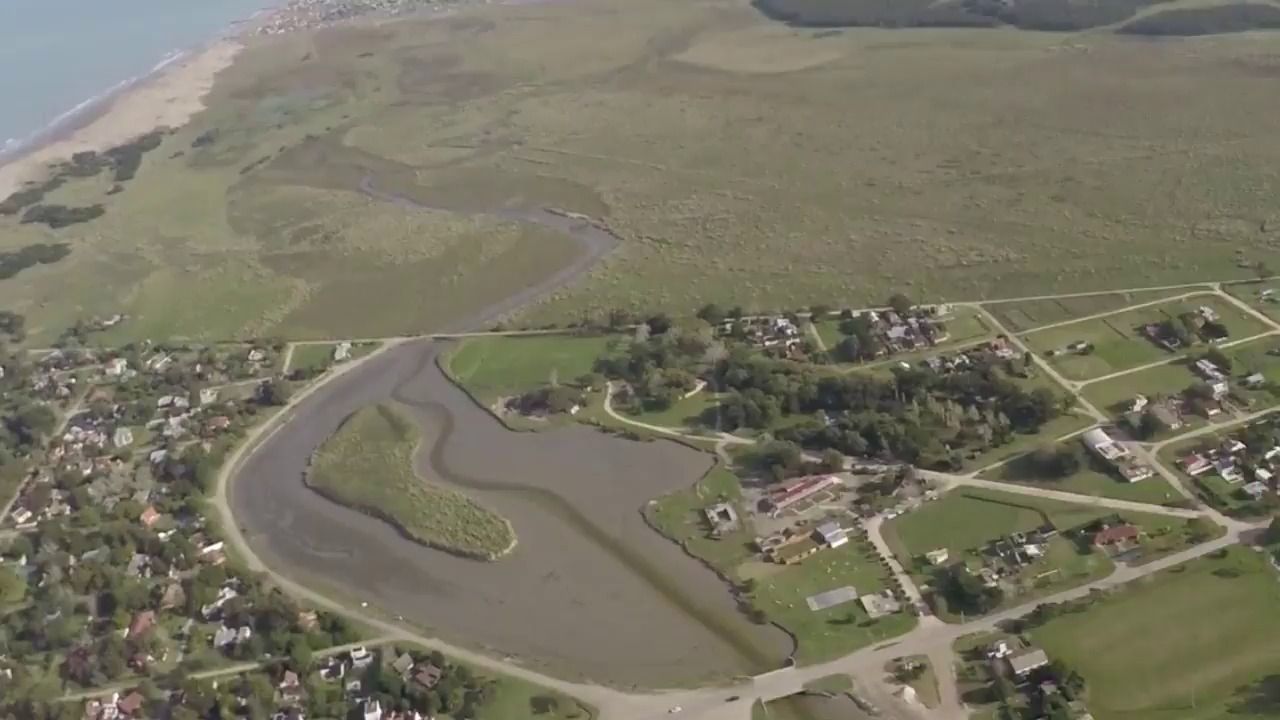 Mystery Object Soaring Through Air 'At 2,000mph' Baffles Internet
Article by Katy Gill                      October 24, 2019                         (dailystar.co.uk)
• In early September, Mariano López was operating a camera drone and talking video of the landscape in Buenos Aires, Argentina. López happened to capture an object flying by at a speed so fast that it is almost invisible to the naked eye. It was calculated that the object was traveling at 2,026mph.

• Upon zooming in and slowing down the video footage, a small white object is captured flying out towards the ocean. (see 2:22 minute video bleow) The object enters the scene almost vertically and appears to then turn horizontally.

• The high-speed object has left thousands scratching their heads at what it could be. One YouTuber commented: "I believe every day we have these objects in all parts of the world which are practically invisible to the human eye."
A strange object has been filmed silently speeding at 2,026mph in shocking drone footage, a conspiracy theorist has claimed.
Footage of the clip, uploaded to YouTube on September 14, recorded the object moving at speeds so fast the camera barely spotted it.
Mariano López, who was operating the drone, was flying his camera in the sky to capture video of the landscape in Buenos Aires, Argentina, when it appeared.
The UFO cuts past the camera at such a speed, the object is almost invisible to the naked eye.
Upon zooming in and slowing down the footage, a small white object is captured flying out towards the ocean.
The object enters the scene almost vertically before appearing to completely turn horizontally.
When YouTube owner Mariano calculated the speed of the object, he found the object took only two seconds to travel 2.11kilometres.
He then calculated the object was travelling at a whopping 2,026mph.
Since uploading the video to YouTube weeks ago, some 530,000 have viewed the clip.
2:22 minute video of fast little UFO zooming across landscape (Mariano Lopez YouTube)
FAIR USE NOTICE: This page contains copyrighted material the use of which has not been specifically authorized by the copyright owner. ExoNews.org distributes this material for the purpose of news reporting, educational research, comment and criticism, constituting Fair Use under 17 U.S.C § 107. Please contact the Editor at ExoNews with any copyright issue.
Buenos Aires Argentina, camera drone, Mariano López
---
ExoNews Editor
Duke Brickhouse is a former trial lawyer and entertainment attorney who has refocused his life's work to exposing the truth of our subjugated planet and to help raise humanity's collective consciousness at this crucial moment in our planet's history, in order to break out of the dark and negative false reality that is preventing the natural development of our species, to put our planet on a path of love, light and harmony in preparation for our species' ascension to a fourth density, and to ultimately take our rightful place in the galactic community.
---