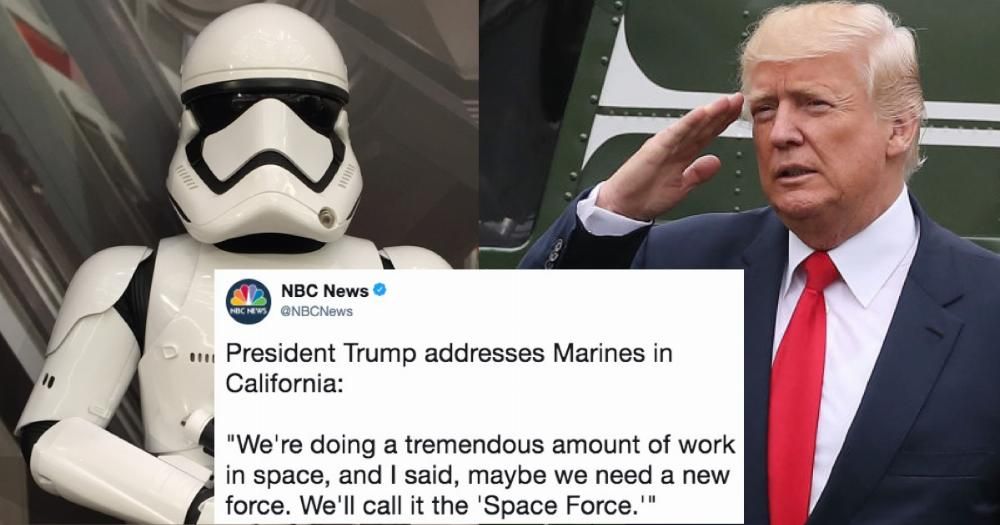 May The (Space) Force Be With You!
The Roller Coaster ride that is the Trump presidency has reached new heights with his efforts to implement another branch of the military he has labelled The Space Force.
Trump may be the most unique president in American history.  Much of what he says and does is worthy of the condemnation heaped upon him by the Main Stream Media, his many political opponents and even "independent" journalists such as Gordon Duff, Robert David Steele and yours truly…..even though I believe RussiaGate was a British intelligence operation designed to prevent his election and then undermine his presidency.
I find his close association with Bibi Netanyahu, Sheldon Adelson and Saudi Crown Prince Mohammed bin Salman which is facilitated by his son-in-law Jaren Kushner deeply troubling.
But, despite what I consider his war crimes in Syria, Yemen and elsewhere and his vulnerability to impeachment charges for the "high misdemeanor" of Maladministration after two years of chaotic leadership, this observer has to give him a begrudging vote of confidence for his boldness, tenacity and unflappable perseverance in the face of the most extreme assault on a presidency since Abe Lincoln.
The thing I find most interesting about his stewardship is his association with the Space Program. Although this area of public policy gets little attention compared to the glory days of the Apollo era, Trump is carving out his own legacy that might be comparable to JFK's.
As Richard Dolan, Joseph Farrell, Michael Salla, Richard Hoagland, Jim Marrs, Daniel Liszt,and  other researchers have documented, there is impressive evidence of a well-funded and well developed "Breakaway Civilization" or Secret Space Program.
As we know, Trump is all about the money and for those looking for the $21 Trillion missing from the Pentagon, Katherine Austin Fitts and Farrell make a strong case there is a thriving economy based off-planet secretly funded by stolen public funds and private financing.  With Adelson and Kushner involved in backing the recent Israeli Moon shot, that may help explain some of what is going on behind the scenes.
As I have written previously, almost all of the recent Deep State scandals can be explained as covering up the existence of the Secret Space Program/Breakaway Civilization and is the missing piece of contemporary history precisely as Dolan has described.
That includes RussiaGate which still roils the public dialogue even as I compose this article. Few observers have commented on how Mueller and Comey "colluded" to suppress cloaking technology by a private entrepreneur in an apparent attempt to keep the invisibility factor within the provenance of the existing power structure in charge of the UFO file.  This occurred after Comey's six years at Lockheed and time at HSBC!
As George Webb has explained in great detail, Mueller has deep family ties to the Military Industrial Complex that preceded both World Wars and then continued with the German Paper Clip scientists who helped create the US Space Program.
In the middle of this is Donald Trump with his Uncle John's ties to Nikola Tesla, his calls for a Space Force, the strange relationship of his mentor Roy Cohn to Senator Joe McCarthy'investigation of UFOs in the 1950s………and so much more.
The UFO community is lusting for an end of the Truth Embargo and Disclosure of the ET presence. It is grasping at every tidbit of evidence that might signal its onset.  This helps explain the To The Stars Academy phenomena despite what many see as a sophisticated psy-op/limited hang-out designed by well-connected former CIA operatives.
Tom deLonge, Louis Elizondo and their crew may prove to be the real deal as Steve Bassett and others claim.  But those of us who have our doubts see warning signs attached to names like Hillary Clinton, John Podesta and Harry Reid on top of the company's muddled links to the CIA.
Somehow, despite Syria, Venezuela, Iran, Yemen, North Korea, the immigration crisis, RussiaGate, health care, environmental issues, the economy and more, Trump has found a niche to arguably elevate the conversation into a whole other realm reminiscent, may I dare say, of JFK.
However reluctant I am to make the comparison, it was Kennedy's decision to go to the Moon that serves as a template upon which other presidents have forged their space policies. JFK then proposed working with the former Soviet Union.  Salla and others have posited that Trump and Putin may be revisiting that dialogue as part of their private talks that has outraged Hillary and others.
These are all curious developments that add confusion and complexity to understanding his behavior as well as possibly explaining Trump Derangement Syndrome which has dominated political debate for the last three years.
I am not a UFO scholar and have no answers to the questions I raise.  Some things might become clearer during the 2020 election if candidates interject the topic of Disclosure into the campaign as Hillary did meekly in 2016.  Ironically, if Trump is re-elected, he may become the long-desired "Disclosure President" with his Space Force leading the way
into a New Frontier and beyond!
Rich Scheck
Santa, Rosa, CA
May 6, 2019
References:
breakaway civilization, Donald Trump, Russiagate, space force