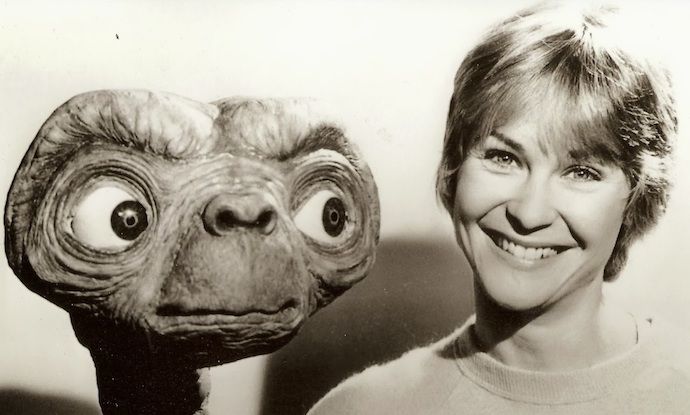 Dee Wallace Reveals Her Deep Belief in Aliens Insisting They Are 'Real and Walking Among Us'
Listen to "E94 9-14-19 Dee Wallace Reveals Her Deep Belief in Aliens Insisting They Are 'Real and Walking Among Us'" on Spreaker.
Article by Emma Parry                   September 2, 2019             (thesun.co.uk)
• Dee Wallace starred as the mother of young kids in the Steven Spielberg classic film "E.T. the Extra-Terrestrial". She recently told the Sun Online that she believes that we are not alone in the universe. The veteran movie star feels that "higher intellectual" beings roam the universe and walk among us here on Earth. "I think it is silly of us to think that there are not higher intellectual beings out there and among us at the same time," says Wallace, 70.

• Wallace has no doubt aliens exist because she is so often approached by sci-fi fans and others sharing their stories of extra-terrestrial meetings and abductions. When it comes to human "interconnections" with higher powers, Wallace does not "dispel any of it". "I know that the movie ET got it right," she says.

• Wallace believes that extraterrestrials are "here to encourage us to look at the higher vibrations of life, the higher choices of life, and really to talk about love, because I know that is what literally drives the world." But she also thinks that extraterrestrials "cannot and will not intercede to persuade us, to guide us, to harm us, (or) to control us in anyway".

• "I think nothing happens by mistake," said Wallace. "I think there is no mistake that I was brought together [with Spielberg] to play the mother in this film." "[T]his whole film was about a mother's love and an alien's love for the same children – which is kind of a miraculous idea… I just think ET had to be made." She told her agent at the time, "I think it's going to do a lot for the world and I want to be a part of this."

• The movie "E.T." has made almost $800 million from cinemas, plus several hundred million more from DVD sales, TV rights and digital issues. Wallace knew that the movie would not only become a hit, but would enlighten the world on aliens and love for the unknown. Wallace feels that the movie urges us to 'wake up and open our hearts'. "For me the greatness of that film is the lives it's changed and the lives that it's affected and I get stories about that everywhere I go." (see 2:05 minute trailer below)
The mum from ET reckons aliens are REAL and they walk among us.
Dee Wallace, who starred in the Steven Spielberg classic, told Sun Online she has no doubt we are not alone.
Dee Wallace reckons we are not alone in the universe. The veteran star, 70, feels that "higher intellectual" beings roam the universe.
The actress, who has enjoyed five decades in show business, has no doubt aliens exist because she is so often approached by sci-fi fans and others often sharing their stories of their so-called extra-terrestrial meetings and abductions.
Dee insists she does not "dispel any of it" when it comes to human "interconnections"
with higher powers.
She told Sun Online: "I know that the movie ET got it right.
"That of course there are extraterrestrials, of course they are probably among us, and what I know is they cannot and will not intercede to persuade us, to guide us, to harm us, to control us in anyway.
"They're here to encourage us to look at the higher vibrations of life, the higher choices of life, and really to talk about love, because I know that is what literally drives the world, or the lack of it.
"So I've had all kinds of stories, even 'They beamed me up, Scotty.' I don't discount any of that at all.
"I think it is silly of us to think that there are not higher intellectual beings out there and among us at the same time."
2:05 minute trailer for "E.T. The Extraterrestrial" (Movieclips Classic Trailers)
FAIR USE NOTICE: This page contains copyrighted material the use of which has not been specifically authorized by the copyright owner. ExoNews.org distributes this material for the purpose of news reporting, educational research, comment and criticism, constituting Fair Use under 17 U.S.C § 107. Please contact the Editor at ExoNews with any copyright issue.
Dee Wallace, E.T. the Extra-Terrestrial, podcast, sci fi, Steven Spielberg
---
ExoNews Editor
Duke Brickhouse is a former trial lawyer and entertainment attorney who has refocused his life's work to exposing the truth of our subjugated planet and to help raise humanity's collective consciousness at this crucial moment in our planet's history, in order to break out of the dark and negative false reality that is preventing the natural development of our species, to put our planet on a path of love, light and harmony in preparation for our species' ascension to a fourth density, and to ultimately take our rightful place in the galactic community.
---