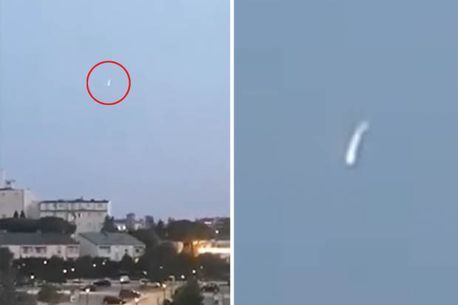 Wisbech Man Spotted a UFO 'Bigger Than a Truck' Falling From the Sky
Article by Abigail Rabbett                      September 9, 2019                      (cambridge-news.co.uk)
• Spencer Jackson, 52, from Wisbech (Fens of Cambridgeshire, England) was driving along the A142 in the early hours of Sunday morning September 8th when he saw an object falling from the sky. Spencer claims the space craft "was like nothing he's ever seen before".

• "When I got near Wimblington/Chatteris I saw something falling from the sky," said Jackson. "It was this bright white, almost silver color – brighter than anything I've ever seen." "It wasn't a plane or a meteor." "It was coming down at an angle." "It was bigger than a truck." "It was huge."

• Spencer says the object vanished before it hit the ground. "It looked as though it was breaking apart as it came down, but then it was nowhere to be seen." Spencer who works on a business park near Haverhill, said his colleague, who was coming from the opposite side of the county, also claimed to see "the long white thing fall [from the sky] and disintegrate".

• "My wife has been laughing at me, but I'm not mad."
A man got the shock of his life this weekend, when he spotted a UFO "bigger than a truck" on his way to work.
Spencer Jackson, 52, from Wisbech claims he saw the mysterious flying object falling from the sky while he was driving along the A142 in the early hours of Sunday morning (September 8).
Despite his wife's initial disbelief, Spencer claims the space craft "was like nothing he's ever seen before".
Speaking to CambridgeshireLive, Spencer said: "I can't explain what I saw – but it fell from the sky.
"It wasn't a plane or a meteor.
"It was coming down at an angle, (on a clock face from 10-4) it was huge.
"I've looked on Youtube and I can't find anything which looks the same.
"British Aersopace or the Ministry of Defence must know something – it was so big. "
Spencer also said he wished he'd had someone in the car with him to get a picture of the object.
"I was driving to work at about 5:25am, the sun was just coming up and I was driving from Wisbech along the A142.
"When I got near Wimblington/Chatteris I saw something falling from the sky.
"Now this is Fenland and it's a long, flat, wide open bit of road.
"It was this bright white, almost silver colour – brighter than anything I've ever seen.
"I can't even hazard a guess at what it was.
FAIR USE NOTICE: This page contains copyrighted material the use of which has not been specifically authorized by the copyright owner. ExoNews.org distributes this material for the purpose of news reporting, educational research, comment and criticism, constituting Fair Use under 17 U.S.C § 107. Please contact the Editor at ExoNews with any copyright issue.
Fens of Cambridgeshire, Spencer Jackson, Wisbech England
---
ExoNews Editor
Duke Brickhouse is a former trial lawyer and entertainment attorney who has refocused his life's work to exposing the truth of our subjugated planet and to help raise humanity's collective consciousness at this crucial moment in our planet's history, in order to break out of the dark and negative false reality that is preventing the natural development of our species, to put our planet on a path of love, light and harmony in preparation for our species' ascension to a fourth density, and to ultimately take our rightful place in the galactic community.
---