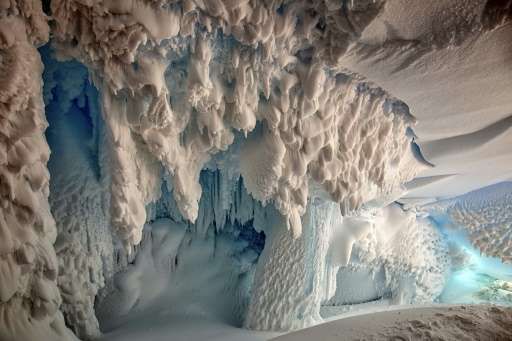 Warm Antarctic Caves Harbour Secret Life
September 8, 2017              (phys.org)
• Australian scientists concede that there may very well be warm caves underneath Antarctica's glaciers due to the volcanic activity.
• There is a possibility that entire ecosystems exist beneath the frozen surface, including new species of plants and animals.
• [Editor's Note]  This study supports the theory that Nazi's established a base under Antarctica during WWII, and that secret bases still exist there today.
A secret world of animals and plants—including unknown species—may live in warm caves under Antarctica's glaciers, scientists said Friday.
The caves, hollowed out by steam from active volcanoes, are light and could reach temperatures of 25 degrees Celsius (77 Fahrenheit), researchers said, raising the possibility of a whole ecosystem of flora and fauna deep beneath the frozen surface.
A study led by the Australian National University around Mount Erebus, an active volcano on Ross Island in Antarctica, showed extensive cave systems.
Lead researcher Ceridwen Fraser said forensic analyses of soil samples from the caves had revealed intriguing traces of DNA from algae, mosses and small animals.
While most of the DNA was similar to mosses, algae and invertebrates found elsewhere in Antarctica, not all sequences could be fully identified.
"The results from this study give us a tantalising glimpse of what might live beneath the ice in Antarctica -– there might even be new species of animals and plants," she said.
"The next step is to go and have a really good look and see if we can find communities living beneath the ice in Antarctica."
FAIR USE NOTICE: This page contains copyrighted material the use of which has not been specifically authorized by the copyright owner. ExoNews.org distributes this material for the purpose of news reporting, educational research, comment and criticism, constituting Fair Use under 17 U.S.C § 107. Please contact the Editor at ExoNews with any copyright issue.
Antarctica, Nazis, secret bases
---
ExoNews Editor
Duke Brickhouse is a former trial lawyer and entertainment attorney who has refocused his life's work to exposing the truth of our subjugated planet and to help raise humanity's collective consciousness at this crucial moment in our planet's history, in order to break out of the dark and negative false reality that is preventing the natural development of our species, to put our planet on a path of love, light and harmony in preparation for our species' ascension to a fourth density, and to ultimately take our rightful place in the galactic community.
---