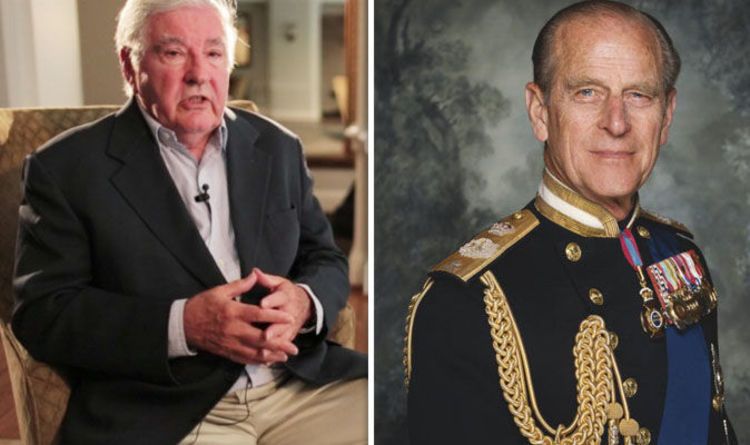 Prince Philip Embroiled in 'Close Encounter With UFO'
by Callum Hoare                      November 19, 2018                   (express.co.uk)
• Major George A. Filer (pictured above) was an Air Force intelligence officer for the USAF, who revealed to a panel audience at Dr. Steven Greer's 2001 Disclosure Project press conference that as an Air Force officer, he had encountered a UFO over England.

• The story goes, that Filer's jet was radioed by London Air Traffic Control about an aircraft that had failed to identify itself near Stonehenge, Salisbury. When Filer got to the location he saw a "floating cruise ship". "We dove down on it and eventually we got close and it looked like a cruise ship at sea with all the bright lights," said Filer. But when his jet reached a mile from the craft, it shot up into space. "London control just said 'you can continue with your mission' now."

• But then Filer received a call from England's Prince Phillip (also pictured above), consort (husband) of Queen Elizabeth, inviting him to dinner. The prince knew about the UFO encounter and wanted to hear about it from Filer. This convinced Filer that it was indeed an extraterrestrial spacecraft. Said Filer, "When someone of his stature indicates they are real and from another planet, it's very convincing."
• [Editor's Note]  It has long been known that Prince Phillip has been a UFO enthusiast since WWII. In an earlier instance, Prince Phillip had his close friend, RAF officer Sir Peter Horsley, meet with an American General who introduced him to an extraterrestrial named Janus. Therefore, Prince Phillip was aware of the extraterrestrial presence as well. Read about it in the ExoNews article, "An Alien, An Air Marshal and Atomic War".
Major George A. Giller (Filer actually) was an Air Force intelligence officer for the USAF, who claims to have encountered a UFO over England. He says his jet got a call from London Air Traffic Control about an aircraft that had failed to identify itself near Stonehenge, Salisbury. However, when George got there to inspect, the "floating cruise ship" darted from the scene.
"We dove down on it and eventually we got close and it looked like a cruise ship at sea with all the bright lights.
"We got about a mile from it and it went up into space.
"London control just said 'you can continue with your mission' now."
However, that was not the end of the story for George, as he recalls meeting with Prince Philip as a result of his close encounter.
He added: "Apparently Prince Philip thought it was very important and invited us to dinner.
"He knew all about the fact we had chased the UFO and made me a believer in it since.
"When someone of his stature indicates they are real and from another planet, it's very convincing."
George gave his testimony as part of the Disclosure Project, which claims UFOs and aliens have been covered up by government agencies for years.
FAIR USE NOTICE: This page contains copyrighted material the use of which has not been specifically authorized by the copyright owner. ExoNews.org distributes this material for the purpose of news reporting, educational research, comment and criticism, constituting Fair Use under 17 U.S.C § 107. Please contact the Editor at ExoNews with any copyright issue.
Dr. Steven Greer's Disclosure Project, George A. Filer, London Air Traffic Control, Prince Phillip, Queen Elizabeth
---
ExoNews Editor
Duke Brickhouse is a former trial lawyer and entertainment attorney who has refocused his life's work to exposing the truth of our subjugated planet and to help raise humanity's collective consciousness at this crucial moment in our planet's history, in order to break out of the dark and negative false reality that is preventing the natural development of our species, to put our planet on a path of love, light and harmony in preparation for our species' ascension to a fourth density, and to ultimately take our rightful place in the galactic community.
---