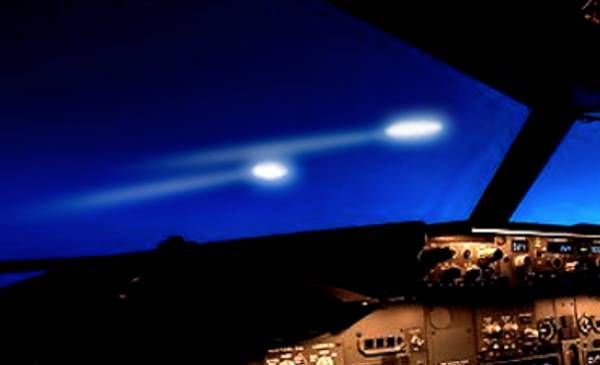 Pilots Report Seeing 'Very Fast' UFO Above Ireland
by Euan McKirdy                    November 13, 2018                      (cnn.com)
• On Friday, November 9th, at least four pilots in at least three separate planes flying over western Ireland sighted one or more "very bright" UFOs in the early morning skies of western Ireland. Air traffic control in Shannon, Ireland was in communication with the pilots and recorded the conversation (see 2:38 minute video below)

• The exchange began when one pilot asked Shannon air traffic control if there was nearby military activity. When the air traffic controller replied in the negative, the pilot said that she had seen something moving "so fast." "It came up on our left hand side (rapidly veered) to the north, we saw a bright light and it just disappeared at a very high speed … we were just wondering. We didn't think it was a likely collision course .. (just wondering) what it could be," the pilot said.

• A pilot on nearby Virgin Flight 76 added that his flight crew had seen "two bright lights at 11 o'clock (which) seemed to bank over to the right and then climb away at speed."

• Another pilot chimed in, saying the speed that the object — or objects — were traveling was "absolutely astronomical, like Mach 2 or something," – the speed of a modern fighter jet.

• "In all probability, they were meteorites," aviation journalist Gerry Byrne told the Irish Examiner. "It's not uncommon for meteorites to come in at a low angle, a low trajectory into the Earth's atmosphere."
The view from the airplane window just got a little bit weirder — or at least it did over Ireland.
Several airborne sightings of at least one "very bright" unidentified flying object were seen last Friday, according to air traffic control audio logs.
Chatter between airline pilots and Irish air traffic control focused briefly on the sightings, with at least four aviators confirming that they'd seen the phenomenon.
The exchange began when one pilot asked Shannon air traffic control if there was nearby military activity. When the air traffic controller replied in the negative, the pilot said that she had seen something moving "so fast."
"It came up on our left hand side (rapidly veered) to the north, we saw a bright light and it just disappeared at a very high speed … we were just wondering. We didn't think it was a likely collision course .. (just wondering) what it could be," she said.
A pilot on Virgin Flight 76 added that his flight crew had seen "two bright lights at 11 o'clock (which) seemed to bank over to the right and then climb away at speed."
Supersonic sighting
Another pilot chimed in, saying the speed that the object — or objects — were traveling was "absolutely astronomical, like Mach 2 or something."
Commercial jetliners travel at a cruising speed of around 430 knots, or Mach 0.64. The F-18, the mainstay fighter of the US Air Force, can travel at up to Mach 2.5 .
2:38 minute exchange between Shannon air traffic control
and pilots who witnessed UFOs over Ireland
FAIR USE NOTICE: This page contains copyrighted material the use of which has not been specifically authorized by the copyright owner. ExoNews.org distributes this material for the purpose of news reporting, educational research, comment and criticism, constituting Fair Use under 17 U.S.C § 107. Please contact the Editor at ExoNews with any copyright issue.
Gerry Byrne, Shannon Ireland, Virgin Flight 76
---
ExoNews Editor
Duke Brickhouse is a former trial lawyer and entertainment attorney who has refocused his life's work to exposing the truth of our subjugated planet and to help raise humanity's collective consciousness at this crucial moment in our planet's history, in order to break out of the dark and negative false reality that is preventing the natural development of our species, to put our planet on a path of love, light and harmony in preparation for our species' ascension to a fourth density, and to ultimately take our rightful place in the galactic community.
---