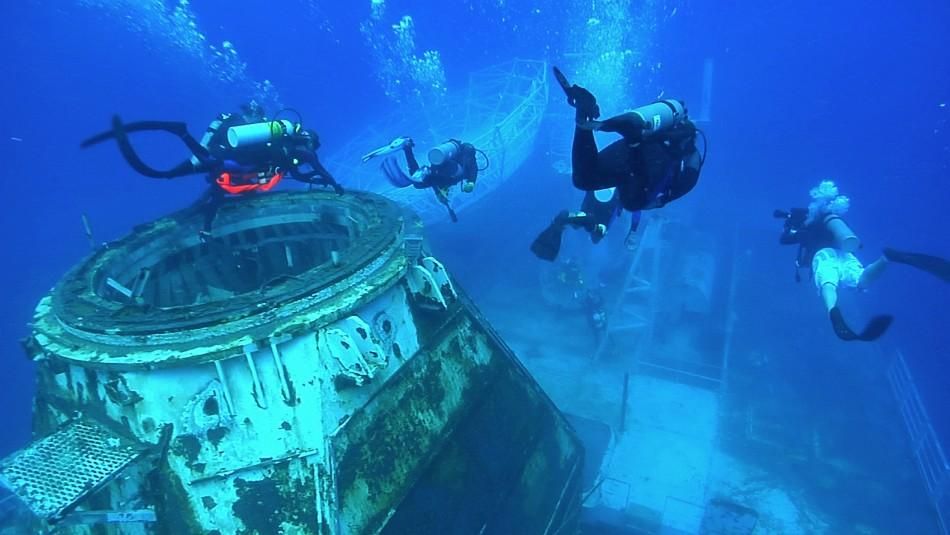 Nat Geo Photographer Admits to Encountering Alien Beings Underwater
by Inigo Monzon             June 21, 2019              (ibtimes.com)
• Luis Lamar, an underwater director of photography for National Geographic and OceanX, says that he has encountered alien beings during his underwater assignments. "[I]n the ocean, I have come across potentially beings from another heavenly body that are more highly advanced than humans," Lamar says in the OceanX video. (see 1:36 minute video below)

• Lamar apparently claims that these advanced beings in the ocean depths come in the form of enhanced sea creatures. Says Lamar, "I've seen giant deep sea arachnids, venomous sea snakes far offshore with, like bright-yellow heads… Some sort of you know, hyper-advanced aquatic alien creatures inhabiting the shallow waters, which almost look like stingrays."
A renowned photographer for National Geographic and OceanX claimed that he has encountered alien beings during his underwater assignments. According to the photographer, the beings resembled stingrays and appeared to be more advanced than humans.
The claims about the underwater aliens were made by Luis Lamar, an underwater director of photography for National Geographic and OceanX. He made the revelation through a recent video made by the latter company.
The clip, which is only about a minute and a half long, focuses on Lamar's profile and his remarkable experience working as an underwater photographer. At the beginning of the video, Lamar immediately confessed his encounters with alien lifeforms from other planets.
"I think, in the ocean, I have come across potentially beings from another heavenly body that are more highly advanced than humans," he said.
In another part of the video, Lamar discussed the various marine lifeforms he came across underwater. While talking about the strange marine organisms he encountered, Lamar also discussed the appearance of some of the underwater aliens that he saw.
"I've seen giant deep sea arachnids, venomous sea snakes far offshore with, like bright-yellow heads," he said.
"Sharks in a frenzy, Orcas swarming all around me," he continued. "Some sort of you know, hyper-advanced aquatic alien creatures inhabiting the shallow waters, which almost look like stingrays."
1:36 minute video of Lu Lamar talking about advanced underwater beings (OceanX YouTube)
FAIR USE NOTICE: This page contains copyrighted material the use of which has not been specifically authorized by the copyright owner. ExoNews.org distributes this material for the purpose of news reporting, educational research, comment and criticism, constituting Fair Use under 17 U.S.C § 107. Please contact the Editor at ExoNews with any copyright issue.
giant deep sea arachnids, Luis Lamar, National Geographic, OceanX, stingrays, venomous sea snakes
---
ExoNews Editor
Duke Brickhouse is a former trial lawyer and entertainment attorney who has refocused his life's work to exposing the truth of our subjugated planet and to help raise humanity's collective consciousness at this crucial moment in our planet's history, in order to break out of the dark and negative false reality that is preventing the natural development of our species, to put our planet on a path of love, light and harmony in preparation for our species' ascension to a fourth density, and to ultimately take our rightful place in the galactic community.
---