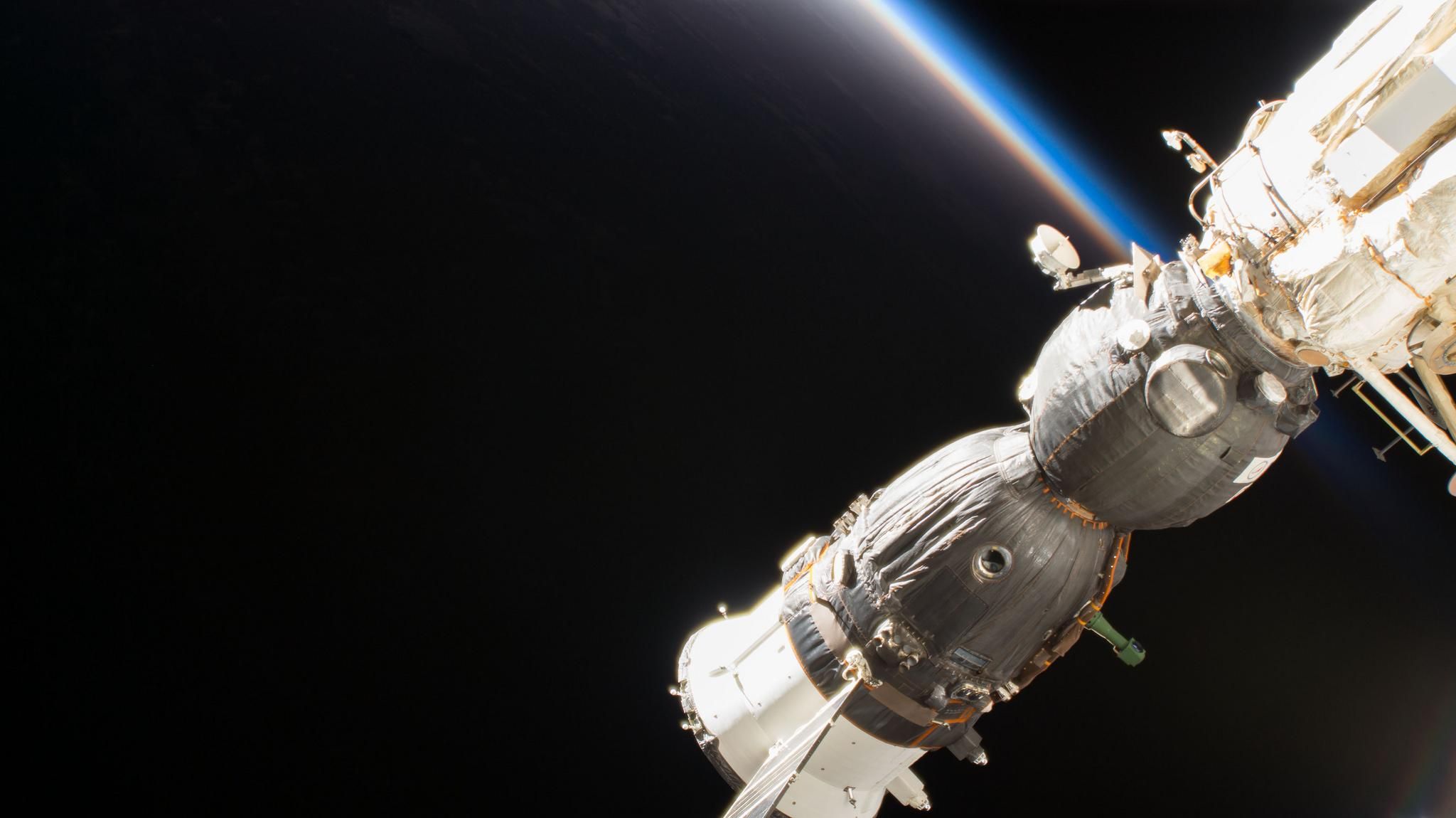 NASA Space Video Shows Swarms of UFOs Floating Near Soyuz Rocket
by Inigo Monzon                       June 26, 2019                       (ibtimes.com)
• A new International Space Station (ISS) video on YouTube has revealed a swarm of UFOs approaching a Russian Soyuz spacecraft as it prepares to dock with the ISS in December 2015. As sunlight hits the spacecraft and illuminates its surroundings, tiny orbs of light begin to appear in the background. Some of these, including a ring-shaped object, closely approach the spacecraft as if they're examining it. (see 10:14 minute video below)

• The 2015 event closely resembles the infamous UFO Tether Incident from the STS-75 Space Shuttle mission in 1996. The main objective of the Columbia shuttle mission was to deploy a tethered satellite in space, but the tether securing the satellite broke. The NASA cameras then picked up dozens of small ring-shaped orbs converging on NASA's satellite as it drifted in space. (see 2 minute video below)
A new video revealed a swarm of UFOs approaching a Soyuz spacecraft as it prepared to dock with NASA's International Space Station (ISS). The event closely resembled the infamous UFO Tether Incident from the STS-75 mission in 1996.
UFO enthusiast Scott Waring of ET Data Base recently shared a video made by a YouTube user about a strange incident that happened with the ISS. In the clip, a Soyuz spacecraft can be seen preparing its approach in order to dock with the station.
As sunlight hits the spacecraft and illuminates its surroundings, tiny orbs of light begin to appear in the background. Some of these, including a ring-shaped object, even closely approach the spacecraft as if they're examining it.
Due to the deliberate and non-uniformed movements of the objects, Waring speculated that the UFOsseen in the video could actually be living organisms. He even likened the objects to plankton found on Earth. Waring theorized that they approached the Soyuz spacecraft out of curiosity.
10:14 minute video of UFO's around a Russian Soyuz spacecraft near the ISS
on December 15, 2015 (Of Sound Mind and Body YouTube)



2 minute video of disc-shaped UFOs swarming around a broken tether
in a February 1996 NASA mission (AP Archive YouTube)
FAIR USE NOTICE: This page contains copyrighted material the use of which has not been specifically authorized by the copyright owner. ExoNews.org distributes this material for the purpose of news reporting, educational research, comment and criticism, constituting Fair Use under 17 U.S.C § 107. Please contact the Editor at ExoNews with any copyright issue.
International Space Station, NASA, Russian Soyuz, STS-75 Space Shuttle mission, UFO Tether Incident
---
ExoNews Editor
Duke Brickhouse is a former trial lawyer and entertainment attorney who has refocused his life's work to exposing the truth of our subjugated planet and to help raise humanity's collective consciousness at this crucial moment in our planet's history, in order to break out of the dark and negative false reality that is preventing the natural development of our species, to put our planet on a path of love, light and harmony in preparation for our species' ascension to a fourth density, and to ultimately take our rightful place in the galactic community.
---