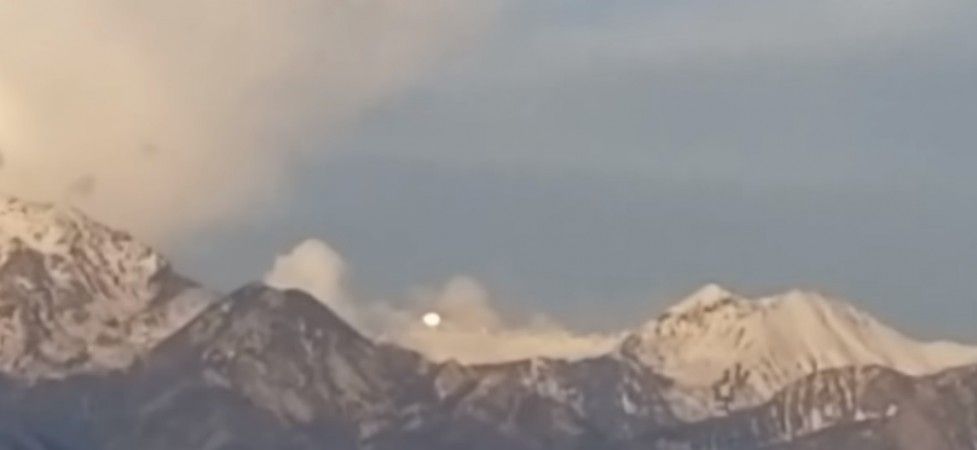 by Nirmal Narayanan                    June 10, 2019                     (ibtimes.co.in)
• The YouTuber, Mavixxx, uploaded a video from Pana Rican of two glowing UFOs hovering above the Wasatch Mountain range in Utah on June 04, 2019 in broad daylight.

• Conspiracy theorists claim that extraterrestrial visitors like to hide themselves, and build bases, near mountain ranges or underwater, and that this known to NASA and the US government. They argue that NASA is intentionally covering up the secrets regarding alien life fearing a public panic.
• I see a fighter jet In the upper right corner. Is there a base nearby?" commented Muttaxe444 on YouTube.

• [Editor's Note]    SSP insiders William Tompkins and Corey Goode have both claimed that the caverns underneath the Wasatch Mountains in Utah was the location where the US Navy built its Solar Warden fleet of eight over-sized submarines retro-fitted with anti-gravity and electromagnetic propulsion during the 1970's, and deployed in the 1980's. Electromagnetic propulsion reportedly renders the object as a glowing orb to the viewing bystander.
Conspiracy theorists have long been alleging that aliens from deep space used to visit earth regularly, and most of the time, they will be hiding near mountain ranges and underwater. Adding heat to their claims, an anonymous alien researcher known by the name 'Mavixxx' has released a mysterious video that shows two unidentified glowing objects hovering above the Wasatch Mountain ranges in Utah.
After uploading the video of the bizarre UFO sighting on YouTube, Mavixxx claimed that the clip was sent to him by a user named Pana Rican. The conspiracy theorist also revealed that the alleged sighting happened on June 04, 2019. In the video which was shot in broad daylight, two unidentified flying objects, one pretty large when compared to the other was seen hovering silently above the ranges.
In the same video, Mavixxx has also unveiled several other UFO sightings that happened in the past few months, and out of them, the most interesting one being a clip apparently captured from Edmonton, Canada. In the clip, a jet plane can be seen flying low, and in the meantime, a cylindrical UFO zipped past the flight at an amazing speed.
8 minute video of UFOs over the Wasatch Mountains, Utah June 4, 2019 (mavi xxx YouTube channel)
FAIR USE NOTICE: This page contains copyrighted material the use of which has not been specifically authorized by the copyright owner. ExoNews.org distributes this material for the purpose of news reporting, educational research, comment and criticism, constituting Fair Use under 17 U.S.C § 107. Please contact the Editor at ExoNews with any copyright issue.