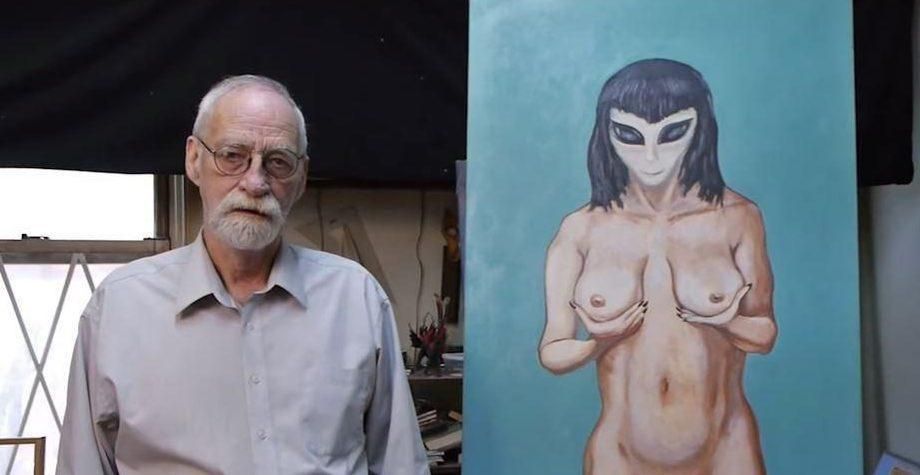 'I Lost My Virginity to a Busty Alien Called Crescent and Have Fathered Hundreds of Extra-Terrestrial Babies'
by Samantha Brick                  March 25, 2019                       (thescottishsun.co.uk)
• Six per cent of the population believe they have been abducted by aliens. Abductees often claim that they are 'taken' so that aliens can take their sperm and eggs to create a new 'hybrid' race, targeting the same families to harvest their genetic specific material.

• David Huggins, 75, was living on his parents' farm in Georgia, USA, when he says he was seduced by a big-breasted alien woman named Crescent as he was walking through the woods. Since then, Huggins claims he's had many sexual encounters with extraterrestrials and believes he has fathered hundreds of alien babies. Although he has no evidence, David paints portraits of his alien lover to remember their moments together. (pictured above) "My relationship with Crescent was warm and friendly…. She was my girlfriend, really," said Huggins (also pictured above).

• Myriame Belmyr, 68, was first abducted as a little girl, and has continued to be taken throughout her life. "I often saw dwarf-sized grey beings around my bed," she said. "They were like pixies with black almond eyes. I never knew what they were and I didn't know why they were in my room or what they did with me." "Throughout my life I'd been left with unexplained marks on my body. One time I had three coin shaped bruises on my thigh that formed a triangle, and on another occasion I had a throbbing pain in my right side close to my kidney. It was only thanks to hypnosis I realized that the pain was a result of the probes they had used inside me."

• Belmyr became the head of CeroFrance, an association created in 2014 which holds regular meet ups for those who claim to have been abducted by extra-terrestrials. "Many of us are terrified by what have happened," she continues. "Some have lost their jobs and lost their marriage. They are very disturbed by what's happened. But together we can safely talk about what has happened to us." Many members recount that they've had their ovarian eggs or sperm removed or harvested. Aliens target the same families multiple times. "We know they follow family lines. My parents have been abducted. My children in their childhood were taken too. Each time I was abducted a probe would enter my body and my ovarian eggs were removed. I was powerless to stop it. When I was in therapy I was able to discover that the aliens viewed humans as a brutal destructive and suicidal race. That we are destroying our planet and our governments are crazy. So they are creating a new race of species with a different civilization."

• "The most profound abduction happened to me when I was staying at my employer's apartment in the French Alps," says Belmyr. "It was on the sixth floor. I was in bed enjoying the view of the stars through the ceiling window. I began to doze off so I turned off the light. That's when I heard a click. The room suddenly lit up and I saw the window was open and a cable was hanging down. I couldn't move. I was paralyzed in bed. When I came round I was on a metallic table. There was a soft fabric over me and it was hard to breathe – I could hear the movement of surgical instruments and machines. Then the cable entered my body. I tried to fight it but I couldn't. Little grey aliens were all around me and there was a large insect alien too. Eventually I opened my eyes and I was back in the bedroom, it was dark and the window was closed – there was no one there, but there was a heavy atmosphere in the room… I had an awful lower abdomen pain afterwards."

• Belmyr also believes the aliens communicate with her via telepathy. "The extra-terrestrials don't want us to remember what happens to us when we are taken so they try and mask our memories," she says. "When I remembered the second time, I recalled being in bed. There was no roof on the house – instead there was a massive round circle above and I saw a red net coming for me. The red net took me back to the dome room and again they harvested my eggs. After I understood what had happened to me – I was much calmer. I wasn't going mad. It's something people don't talk about for fear of others thinking they are crazy." Belmyr says that, "As we humans age… [the aliens] try to leave us alone to live out the rest of our lives without their interference."

• Gerry Battles from Co Limerick, says he was dazzled by bright light before being abducted onto a ship by an alien with a "big cone head" and "beautiful, ginormous eyes" who communicated to him telepathically in December 2001. Garry believes he was sent back to pass on a message that in over 800 years time a giant asteroid the size of the Irish province Munster is going to obliterate our planet. "The asteroid will approach your planet from the 35th Quadrant", according to his alien abductor.

• Hilary Porter, 71, claims she was first abducted when she was just 5 years old and left her with "triangular suction marks on my stomach, blood suction marks". After subsequent abductions, Porter suffers migraines and wakes up with bruising or bloody marks on her clothes or bed sheets. She agrees with the theory aliens want to create a hybrid race. Porter believes aliens target certain human "tribes" whose genetic make-up is of more interest. "The Celtic tribes from Wales, Scotland, Ireland, Cornwall and Brittany are definitely on the list," she says. "They are trying to make alien human hybrids and it seems the genetic material of these races are more compatible."

• Skeptics rationalize abductees' experiences as everything from sleep paralysis to false memory syndrome, but there is no definitive answer to explain what abductees are experiencing. Psychologist Nicolas Dumont has spent seven years speaking to 100 'abductees' in France. He is open-minded about the alien experiences. "[Abductees] have marks on their body. They have seen things around their home. We're finding that they often report a spiritual change too: they have visions or even develop psychic powers. One woman… had a brain tumor which covered her temporal lobe in her brain like a spider's web. After an abduction, the tumor completely disappeared… We don't have a scientific explanation for this."
• According to Dr. Dumont, abductees talk about six different species of aliens. "The little grey ones are popular sightings and they tend to be the 'workers'. They have a distinct job during these abductions. [T]he tall white ones oversee what's going on. Abductees often regard them as protective as they are stronger and more paternal. The hooded aliens can be small or large. They wear a big coat with a hood and you don't see their faces. Then there are the reptilians, insects – a very tall Scandinavian-type alien, and also there are similar very tall blue people."
While alien abduction might sound unbelievable to most of us, up to six per cent of the population believe they have been abducted by alien, and recently experts have been exploring the new theory aliens do exist – but we're just 'too stupid' to handle it.
According to The Times, scientists are considering the possibility aliens are keeping their existence quiet – because we're too primitive compared to them.
Those who claim they have had encounters often claim that they are 'taken' so that aliens can take their sperm and eggs to create a new 'hybrid' race, targeting the same families to harvest their genetic specific material.
Here, The Sun Online meets three people who bizarrely claim they have the proof that aliens do exist.
'I've fathered hundreds of alien babies'
David Huggins, 75, was living on his parents' farm in Georgia, America, when he says he was seduced by a big-breasted alien woman as he was walking through the woods.
"I thought, if anything, I'd be losing [my virginity] in the backseat of a Ford—something like that. But it didn't work out that way," he says.
Since then, David claims he's had many sexual encounters with extraterrestrials and believes he has fathered hundreds of alien babies.
Although he has no evidence, David paints portraits of his alien lover to remember their moments together.
"My relationship with Crescent was warm and friendly. A little strange. What do I mean, a little? Very strange. She was my girlfriend, really," David said.
'I had probes inserted inside me'

Computer engineer Myriame Belmyr, 68, also believes aliens exist.
She says she was first abducted as a little girl, and has continued to be taken throughout her life.
"I don't remember when it started but I often saw dwarf-sized grey beings around my bed," she told The Sun Online.
"They were like pixies with black almond eyes. I never knew what they were and I didn't know why they were in my room or what they did with me."
However, the mum-of-two, who lives in the southwest of France, didn't realise what this meant until she was hypnotised in 2012.
She continues: "I recognised I had been abducted by extra-terrestrials throughout my life.
"Throughout my life I'd been left with unexplained marks on my body.
"One time I had three coin shaped bruises on my thigh that formed a triangle, and on another occasion I had a throbbing pain in my right side close to my kidney.
"It was only thanks to hypnosis I realised that the pain was a result of the probes they had used inside me."
Aliens are using us for our sperm and eggs to create a new civilisation'
After her encounters, Myriame became the head of CeroFrance, an association created in 2014 which holds regular meet ups for those who claim to have been abducted by extra-terrestrials.
"Many of us are terrified by what have happened," she continues. "Some have lost their jobs and lost their marriage. They are very disturbed by what's happened. But together we can safely talk about what has happened to us."
The members of the group have much in common: many say they have had their ovarian eggs or sperm removed or harvested, some also say they have been abducted since childhood.
According to CeroFrance members, aliens target the same families multiple times.
"Why are we taken? It's the big question," Myriame adds.
FAIR USE NOTICE: This page contains copyrighted material the use of which has not been specifically authorized by the copyright owner. ExoNews.org distributes this material for the purpose of news reporting, educational research, comment and criticism, constituting Fair Use under 17 U.S.C § 107. Please contact the Editor at ExoNews with any copyright issue.
Alien Abductees, CeroFrance, David Huggins, Dr. Nicolas Dumont, Gerry Battles, Hilary Porter, Myriame Belmyr
---
ExoNews Editor
Duke Brickhouse is a former trial lawyer and entertainment attorney who has refocused his life's work to exposing the truth of our subjugated planet and to help raise humanity's collective consciousness at this crucial moment in our planet's history, in order to break out of the dark and negative false reality that is preventing the natural development of our species, to put our planet on a path of love, light and harmony in preparation for our species' ascension to a fourth density, and to ultimately take our rightful place in the galactic community.
---