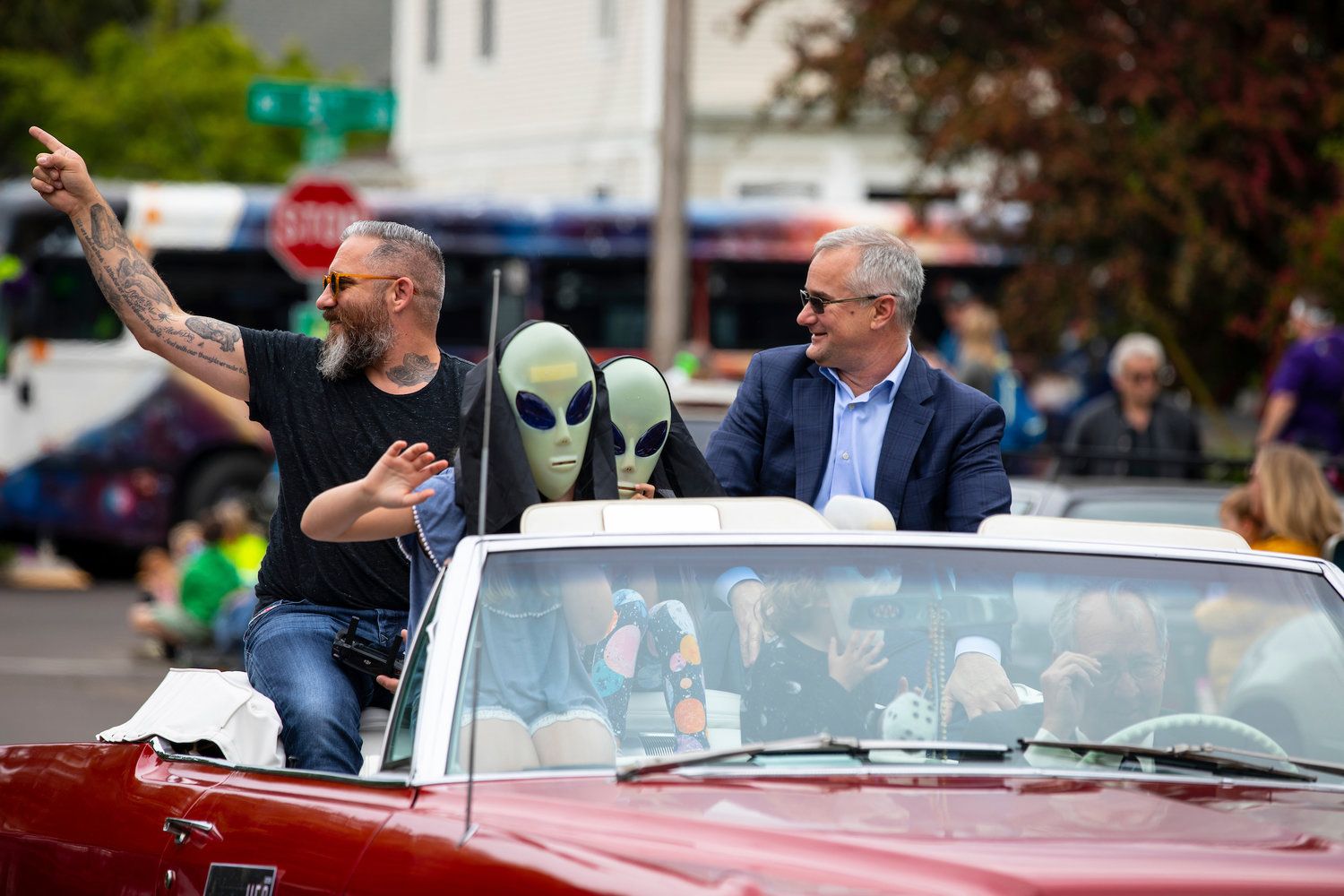 Fmr. Commander Dave Fravor Says Military Pilots Had Ongoing Encounters With UFOs
by George Knapp and Matt Adams                      May 31, 2019                     (lasvegasnow.com)
• The former Navy fighter pilot who first saw the 'Tic Tac" UFO in the 2004 incident off of the coast of San Diego, David Fravor, was a speaker at the UFO Festival in McMinnville, Oregon on May 18th.

• Fravor said that he has since spoken with many military pilots who have reported ongoing encounters with unknown craft along the East Coast, from Virginia to Florida.

• Below is an excerpt from Fravor's on-stage interview with I-Team Chief Reporter George Knapp and filmmaker Jeremy Corbell.    (above image shows Corbell and Fravor riding in the festival parade)
LAS VEGAS (KLAS) — A former Navy fighter pilot confirms that there have been dozens of recent intrusions of America by highly sophisticated, unknown crafts. Former Commander Dave Fravor, the same pilot who has a close encounter in 2004 with the so-called Tic Tac UFO off the coast of Southern California, told an audience in McMinnville Oregon, that he has since spoken with many military pilots who have reported ongoing encounters with unknown craft along the East Coast, from Virginia to Florida.
Videos of UFO incidents from 2015 were even released by the Pentagon.
Two videos of UFO incidents from 2015 were even eleased by the Pentagon. The I-Team participated in the event with Fravor. Videos of the full interview with Commander Fravor will be posted on social media in the next few days.
In the meantime, here is an excerpt from Fravor's on-stage interview with I-Team Chief Reporter George Knapp.
1:42 minute clip of pilot David Fravor speaking with George Knapp and Jeremy Corbell
at the UFO Festival in McMinnville, Oregon on May 18, 2019
5:40 minute clip of David Fravor at the McMinniville, Oregon UFO Festival (VICE News)
FAIR USE NOTICE: This page contains copyrighted material the use of which has not been specifically authorized by the copyright owner. ExoNews.org distributes this material for the purpose of news reporting, educational research, comment and criticism, constituting Fair Use under 17 U.S.C § 107. Please contact the Editor at ExoNews with any copyright issue.
David Fravor, George Knapp, I-Team, Jeremy Corbell, McMinnville Oregon, tic tac UFO
---
ExoNews Editor
Duke Brickhouse is a former trial lawyer and entertainment attorney who has refocused his life's work to exposing the truth of our subjugated planet and to help raise humanity's collective consciousness at this crucial moment in our planet's history, in order to break out of the dark and negative false reality that is preventing the natural development of our species, to put our planet on a path of love, light and harmony in preparation for our species' ascension to a fourth density, and to ultimately take our rightful place in the galactic community.
---