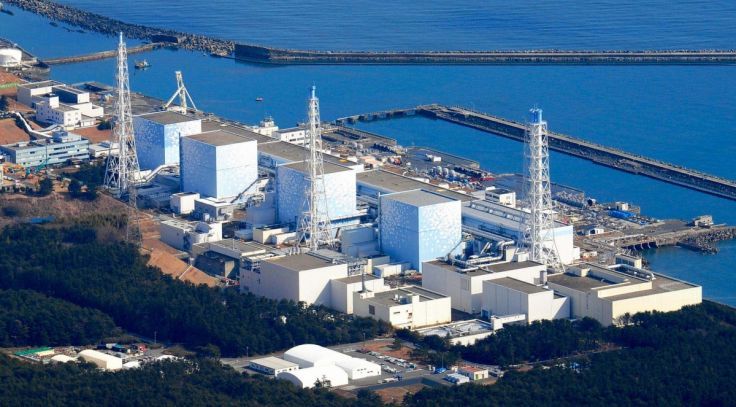 Five UFOs Spotted Above Nuclear Power Plant in Fukushima, Conspiracy Theorists Suspect Alien Visit
Article by Nirmal Narayanan                    August 24, 2019                   (ibtimes.co.in)
• On a dark night on August 20th, 2019, five glowing UFOs (or five lights on one big UFO) hovering over the Fukushima nuclear plant in Japan (pictured above) was captured on video. In the video, the five glowing lights move eerily in the sky.  (see 13:07 minute video below) 

• Conspiracy theorists strongly believe that aliens from the farthest nooks of the universe have been visiting the earth for hundreds of thousands of years to monitor human activities. Ancient cave paintings that show flying ships and alien-like creatures, supporting the fact that advanced extraterrestrials have visited the earth in the past.

• YouTubers claim that this video is an undeniable proof of an extraterrestrial presence. YouTube 'Shelly's UFO' commented that similar lights appeared above the Fukushima nuclear plant just hours before the 2011 earthquake which caused several deaths, and infrastructural damage. Says Shelly, "During the Japan 2011 earthquake I saw on live TV light orbs coming out of the water at the edge the Fukushima nuclear plant."
• YouTuber David Turner comments, "They sure are paying close attention to what we are doing around the world. Probably don't like how we polluted the Pacific Ocean after the meltdown in Japan years ago. The aliens care much more what happens to the animals and plant life on our planet, than they do about us."
Conspiracy theorists strongly believe that aliens from the farthest nooks of the universe have been visiting the earth for
hundreds of thousands of years to monitor human activities. As per these conspiracy theorists, ancient cave paintings that show flying ships and alien-like creatures point to the fact that advanced extraterrestrials had visited the earth in the past. Adding up the heat to this theory, popular conspiracy theory YouTube channel Mavixxx has uploaded a video that shows five unidentified flying objects (UFO) hovering above the Fukushima nuclear plant in Japan.
The video uploader reveals that the strange footage was shot on August 20, 2019. In the video, five UFOs with glowing lights on its body can be seen moving eerily in the skies. It is still unclear whether these five lights are from different flying ships, or these are multiple lights from a giant ship.
13:07 minute video of lights over Fukushima (MAVI 777 YouTube)
FAIR USE NOTICE: This page contains copyrighted material the use of which has not been specifically authorized by the copyright owner. ExoNews.org distributes this material for the purpose of news reporting, educational research, comment and criticism, constituting Fair Use under 17 U.S.C § 107. Please contact the Editor at ExoNews with any copyright issue.
Fukushima nuclear plant, Japan, MAVI 777
---
ExoNews Editor
Duke Brickhouse is a former trial lawyer and entertainment attorney who has refocused his life's work to exposing the truth of our subjugated planet and to help raise humanity's collective consciousness at this crucial moment in our planet's history, in order to break out of the dark and negative false reality that is preventing the natural development of our species, to put our planet on a path of love, light and harmony in preparation for our species' ascension to a fourth density, and to ultimately take our rightful place in the galactic community.
---