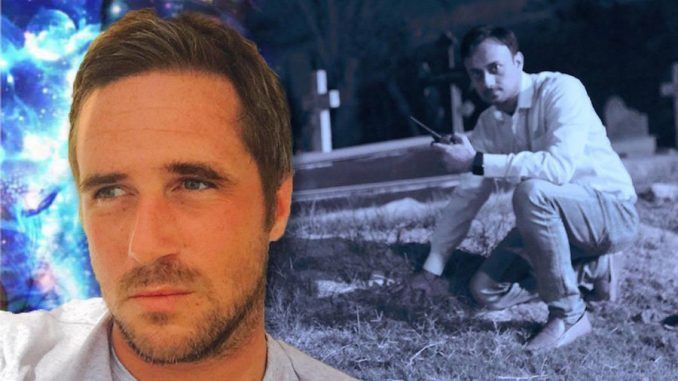 British UFO Hunter's Laptop Was 'Wiped' After Mysterious Death
by Georgia Diebelius                  August 11, 2018                    (metro.co.uk)
• Max Spiers' (pictured above) sudden death on July 16, 2016 in Warsaw, Poland is shrouded in mystery. After Spiers' body was repatriated to the UK, British doctors were unable to determine the cause of his death. Kent Police (in southeastern England) has launched a joint investigation with Polish police into the UFO/Super-Soldier conspiracy theorist's death, scheduled to begin on January 7, 2019.

• The 39-year-old Spiers had been visiting Warsaw to speak at a conference. Spiers was said to have been probing into the lives of well-known figures in politics, business and entertainment. This has prompted his mother, Vanessa Bates, to remark, "I think Max had been digging in some dark places and somebody wanted him dead." "[Max] was very fit and healthy when I said goodbye to him," says Vanessa. "Everything that we have in terms of health records before he went were that he was in great health." A message from Spiers' phone sent to his mother just before he died warned '…if anything happens to me, investigate'.

• In December 2016, a British court of inquiry heard evidence that Spiers had vomited two litres of black blood before he died. Authorities in Poland initially concluded the sudden death was due to natural causes. There were alleged procedural 'discrepancies' by Polish emergency services. And Spiers' laptop computer was returned to his family with all of the data 'wiped' or deleted. The UK court is hearing evidence on whether disciplinary proceedings should be brought against police officers in Poland, along with an analysis of Spiers' laptop.
The sudden death of Max Spiers, 39, has been shrouded in mystery after a friend discovered his body while he was on a trip to Poland to visit a conference. In December 2016, the court heard the conspiracy theorist vomited two litres of black blood before he died, but the inquest was adjourned.
The dad-of-two, had allegedly made many 'enemies' in his investigations. His inquest will now be held over four days from January 7, next year.
Authorities in Poland, where Mr Spiers was attending a conference, initially concluded the sudden death was due to natural causes. A message from his phone sent to his mother Vanessa Bates before he died warned 'your boy's in trouble, if anything happens to me, investigate'. At the pre-inquest review yesterday at the Guildhall in Sandwich, Kent, the court heard the barrister for Max's mother, Adam Taylor, call for members of the Polish emergency services to appear as witnesses. Sections from a 700-page docket of statements and evidence assembled will be translated from Polish for next year's inquest. Possible evidence over whether disciplinary proceedings were brought against police officers in Poland over Mr Spiers's death should also be heard. Analysis of a laptop and a mobile phone that belonged to the father-of-two should also be presented at the inquest, the court heard.
Mr Taylor said: 'The way in which they were returned and what was done to them is clearly one of the big mysteries. 'The family has no knowledge whatsoever of what the results of that analysis were.
'Mr Bates' laptop was wiped and, of course, it was not empty at the time of Max's death. The issue is the Sim card and what was on it. Without sight of the report the family has no answer to these questions.' There were also a 'number of discrepancies' in emergency services accounts about Max's death, the court heard. Monika Duvall, a friend who Mr Bates had reportedly been living with, was also asked to attend the inquest. Speaking afterwards, Vanessa said: 'Today felt very positive. It's just over two years now. I did not expect him to go to Poland and not come back. 'We've got hundreds of pages we are working our way through which are all in Polish.
FAIR USE NOTICE: This page contains copyrighted material the use of which has not been specifically authorized by the copyright owner. ExoNews.org distributes this material for the purpose of news reporting, educational research, comment and criticism, constituting Fair Use under 17 U.S.C § 107. Please contact the Editor at ExoNews with any copyright issue.
black blood, Kent Police, Max Spiers, Super-Soldier, Vanessa Banks, Warsaw Poland
---
ExoNews Editor
Duke Brickhouse is a former trial lawyer and entertainment attorney who has refocused his life's work to exposing the truth of our subjugated planet and to help raise humanity's collective consciousness at this crucial moment in our planet's history, in order to break out of the dark and negative false reality that is preventing the natural development of our species, to put our planet on a path of love, light and harmony in preparation for our species' ascension to a fourth density, and to ultimately take our rightful place in the galactic community.
---