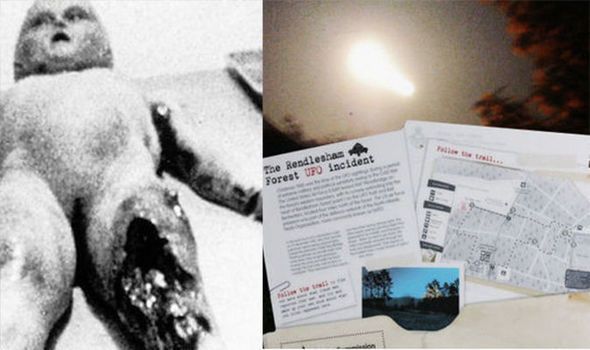 I Heard US Airmen Speak of 'Little People' After Military Base UFO Case
by Jon Austin        December 7, 2017        (express.co.uk)
• A 62-year-old Felixstowe, England man remembers hanging out at a bar where US Air Force personnel stationed in RAF Bentwaters would go in 1980. He asked not to be named. On one evening he overheard the American servicemen, whom he knew, talking about their encounter with strange "lights and little people". He says that one of the servicemen was agitated and his friends had to calm him down. Days later the Brit asked about the agitated serviceman. The friend told him that he was okay, but for some unknown reason the Air Force had relocated him back to the United States.
• The Brit didn't hear about the now infamous Rendlesham UFO event until four years later, when it was reported that a triangular-shaped UFO landed in the woods near the US military base on December 26 and 28, 1980.
• [Editor's Note] This is further confirmation that the Rendlesham Forest incident did occur, to go along with the substantial amount of circumstantial evidence that already exists.
The 62-year-old, who asked Express.co.uk not to name him, claims to have heard US Air Force (USAF) personal discussing "lights" and "little people" just days after the notorious Rendlesham UFO sightings in Suffolk in December 1980.
The Rendlesham legend, which centres around neighbouring bases RAF Woodbridge and RAF Bentwaters, near Mildenhall, Suffolk, has been dubbed Britain's Roswell, in a nod to the mystery of the UFO crash said to have taken place outside the town in New Mexico, USA, in July 1947.
The suspected alien event at Rendlesham saw three US officers based at RAF Bentwaters claim a "triangular-shaped craft" landed in neighbouring woods in the early hours of December 26, 1980, returning over two further nights.
The man, who was working in the warehouse of a newspaper and magazine company in Felixstowe at the time, says he was in the bar of The Marlborough Hotel on Felixstowe sea front between Christmas and New Year 1980, when he heard the bizarre exchange.
He said: "The sea front hotels were very popular with the USAF personnel, in particular the newly opened Flying Boat bar at the Marlborough.
"I knew a few of the USAF personnel by name, but it was just through bar talk and we had no association outside of the pub.
"I was having a drink at the bar.
"There were a number of USAF personnel in the Boat, as we called it and a small group of them stood alone in a corner of the bar.
"I looked over at them occasionally and could see they were having a serious discussion over something.
"One airman seemed to be particularly agitated.
"I edged over towards them, whether I wanted to be nosy, or just get closer to the fire I don't know, but I did overhear a few words.
"The airman that was agitated talked about lights and little people."
He said he had no idea at the time about the Rendlesham case, and did not learn about it until four years later when the News of the World ran an article about the "alien" event.
The man said: "Obviously it was a little weird, but the events of 1980 were not known generally at that time, so it meant nothing to me.
"The airman was calmed down by his pals and they got another round in.
"I asked the airman that went to the bar whether his mate was all right. He just answered he was a little upset, nothing more.
"A short while later the agitated airman let his emotions get the better of him again and he started waffling on, however I could not make out what he was saying.
"One of his mates then put an arm on him, trying to calm him down and told him to keep quiet or he would be in trouble."
He said a few days later, the airman that had come to the bar to get a round in was back in the pub.
The man said: "I asked if his mate had recovered from the last time I saw them.
"He said, 'he thought so, but he had been sent back to the States and no-one knew why'."
FAIR USE NOTICE: This page contains copyrighted material the use of which has not been specifically authorized by the copyright owner. ExoNews.org distributes this material for the purpose of news reporting, educational research, comment and criticism, constituting Fair Use under 17 U.S.C § 107. Please contact the Editor at ExoNews with any copyright issue.
RAF Bentwaters, Rendlesham Forest, US Air Force
---
ExoNews Editor
Duke Brickhouse is a former trial lawyer and entertainment attorney who has refocused his life's work to exposing the truth of our subjugated planet and to help raise humanity's collective consciousness at this crucial moment in our planet's history, in order to break out of the dark and negative false reality that is preventing the natural development of our species, to put our planet on a path of love, light and harmony in preparation for our species' ascension to a fourth density, and to ultimately take our rightful place in the galactic community.
---