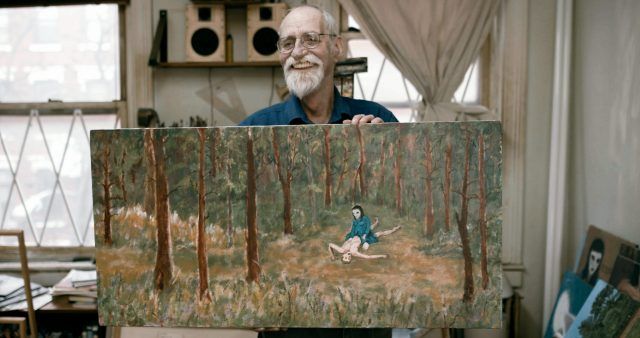 "Love & Saucers" – One Man's ET Love Story is Ready for Release
by Paul Seaburn     December 6, 2017      (mysteriousuniverse.org)
• David Huggins (74) of New Jersey first encountered extraterrestrial visitors when he was 9 years old. He met a female ET named Crescent. At the age of 17 he lost his virginity to Crescent. Thereafter, he regularly took trips on her spaceship to have sex. Together they had sixty hybrid children that were cared for on the spaceship.

• Huggins never spoke about it until the 1980's when he began to talk about it and disclose his interspecies relationship through his paintings. Over the past decade he has seen interest in his story grow by way of internet talk radio.

• He was also married to an earth human and had one human son. He is now divorced.

• Huggins has produced a video documentary on his story called Love and Saucers, released online on December 12th.
How far would you travel for love? To another city? Another country? Another continent? How about to another galaxy? At the age of 17, a now-septuagenarian named David Huggins claimed he somehow charmed an extraterrestrial named Crescent who was visiting Earth and lost his virginity to her. He says their lovemaking resulted in around 60 hybrid children and Huggins eventually told anyone and everyone – believers or not – about his love through his loving paintings of Crescent and himself. Now the world is about to learn more about this intergalactic love story as the long-awaited documentary, Love & Saucers, is released for streaming on December 12th.
Without giving too much of the tale away, Love & Saucers is the story of David Huggins' encounters with aliens, starting with the first in 1951 at age eight in Georgia, the first romantic embrace with Crescent at age 17, which led to trips to her spaceship for sex, and his life with her and the rest of these Earth visitors. Crescent and her fellow ETs cared for their hybrid children and forbade Huggins from telling anything about them to anyone. That changed in his late 40s and he reveals that the most therapeutic and loving way he could tell this story is through paintings. His unusual and often NSFW art has been displayed in galleries and published in a book.
That may have been the end of Huggins' truly out-of-this-world tale if he hadn't been heard on a radio interview in 2014 by Brad Abrahams. If that name sounds familiar, it may be because director Abrahams and his partner, producer Matt Ralston, recently started a crowdfunding campaign for Cryptozoologist, a documentary about the dedicated people who look for humanoids, monsters and other cryptid creatures. The pair has been interviewing and filming Huggins off-and-on since they met him and became convinced that he was serious and his story was worthy of a broader audience.
FAIR USE NOTICE: This page contains copyrighted material the use of which has not been specifically authorized by the copyright owner. ExoNews.org distributes this material for the purpose of news reporting, educational research, comment and criticism, constituting Fair Use under 17 U.S.C § 107. Please contact the Editor at ExoNews with any copyright issue.
---
ExoNews Editor
Duke Brickhouse is a former trial lawyer and entertainment attorney who has refocused his life's work to exposing the truth of our subjugated planet and to help raise humanity's collective consciousness at this crucial moment in our planet's history, in order to break out of the dark and negative false reality that is preventing the natural development of our species, to put our planet on a path of love, light and harmony in preparation for our species' ascension to a fourth density, and to ultimately take our rightful place in the galactic community.
---