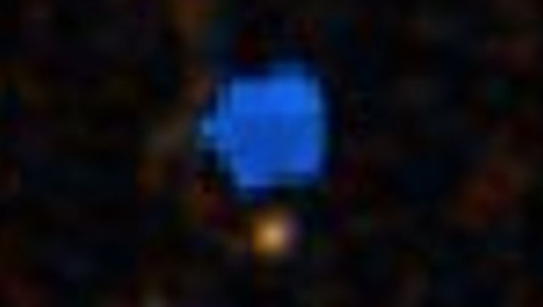 UFO Researcher Discovers Mammoth 'ET Base' Using Google Sky
by Nirmal Narayanan                     January 3, 2019                   (ibtimes.co.in)
• UFO researcher Scott C Waring claims to have discovered a pentagon-shaped extraterrestrial base on the Google star map, 'Google Sky'. The blue object is larger than the Earth, and is located at coordinates 03 57 08.63,-07 11 26.2. (see a 2:21 minute video of the 'giant blue alien base' below)

• Waring also claims that an object with this geometric shape cannot be a naturally-formed object. "This is an artificially created object of immense size. This is 100% proof that aliens not only exist in the universe but are so advanced that the size of their ships is more enormous than anyone ever thought possible," said Waring.
Popular UFO researcher Scott C Waring has claimed to have discovered an extraterrestrial base built by aliens. In a recent post shared on his website 'UFO Sightings Daily', Waring claimed that the spectacular discovery was made using Google Sky.
As per Waring, the bizarre object which is much bigger than the earth was spotted at the 03 57 08.63,-07 11 26.2 coordinates. The object seems blue in color, and it's shape is very similar to a Pentagon.
"Google Earth map is famous for many UFO and alien base discoveries over the years. However, a lesser known feature of the free map program is that it allows you to see the stars in the sky. When you search using the star map, some strange objects will be found," wrote Waring on his website.
Waring also added that the discovery of this bizarre object is a solid proof of alien existence. The UFO researcher believes that aliens living in deep space are very much advanced to create such gigantic structures in the universe for colonializing.
2:21 minute video of blue cube 'base' found in space that is larger than the Earth
FAIR USE NOTICE: This page contains copyrighted material the use of which has not been specifically authorized by the copyright owner. ExoNews.org distributes this material for the purpose of news reporting, educational research, comment and criticism, constituting Fair Use under 17 U.S.C § 107. Please contact the Editor at ExoNews with any copyright issue.
---
ExoNews Editor
Duke Brickhouse is a former trial lawyer and entertainment attorney who has refocused his life's work to exposing the truth of our subjugated planet and to help raise humanity's collective consciousness at this crucial moment in our planet's history, in order to break out of the dark and negative false reality that is preventing the natural development of our species, to put our planet on a path of love, light and harmony in preparation for our species' ascension to a fourth density, and to ultimately take our rightful place in the galactic community.
---