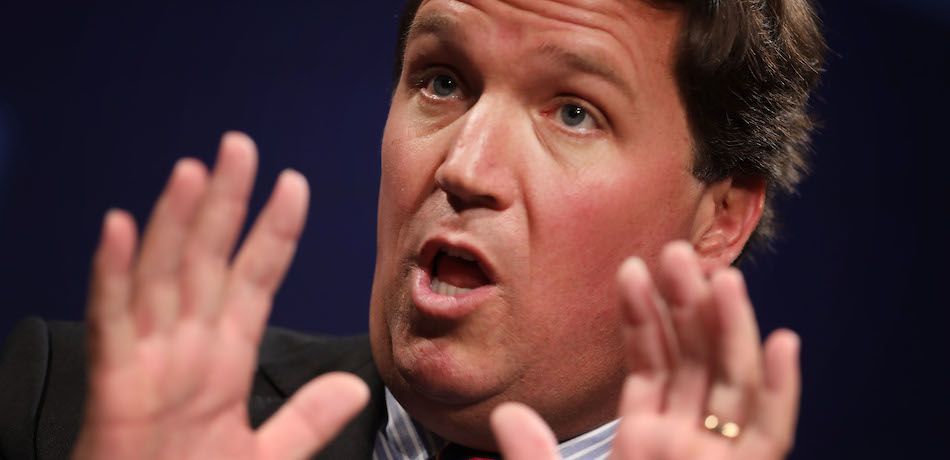 Article by Simon Green                         December 2, 2019                          (dailystar.co.uk)
• On November 22nd, Fox News host Tucker Carlson appeared on the History Channel's Ancient Aliens and was asked by Journalist Nick Pope what he knew about extraterrestrial life. Carlson replied, "There is physical evidence (of UFOs) that the US government is holding which would tell us a lot more about what these objects are."
• Carson added, "I've heard this from someone who I think is knowledgeable in the subject… someone who worked on this within the government for some years and who would know." When Carlson asked his government insider point blank whether there exists physical evidence of wreckage of UFOs that the government is hiding from the public, he said, "Yes there is." (see 2:19 minute video below)
• Carlson has sparked waves of controversies over the years on his show Tucker Carlson Tonight. After seeing the video footage of Carlson's remarks about UFOs, YouTube commenters said: "Okay, this is epic"; "This can no longer be a secret"; and "The Government was testing out weather balloons. End of Story".
Outspoken Fox News host Tucker Carlson has sensationally claimed the US government is hiding evidence of UFO wreckage from the public.
The Conservative political commentator appeared on the History Channel's Ancient Aliens on November 22 and was asked what he knew about extraterrestrial life.
Speaking to journalist Nick Pope, he said: "I've heard this from someone who I think is knowledgable in the subject.
"There is physical evidence that the US government is holding which would tell us a lot more about what these objects are.
"The person who told me is someone who worked on this within the government for some years and who would know.
"I asked point-blank: 'Is there physical evidence of these objects, these aircrafts?'
"And he said: 'Yes there is'."
2:19 minute video of Tucker Carlson talking UFOs with Nick Pope ('Ancient Aliens In 2:20' YouTube)
FAIR USE NOTICE: This page contains copyrighted material the use of which has not been specifically authorized by the copyright owner. ExoNews.org distributes this material for the purpose of news reporting, educational research, comment and criticism, constituting Fair Use under 17 U.S.C § 107. Please contact the Editor at ExoNews with any copyright issue.