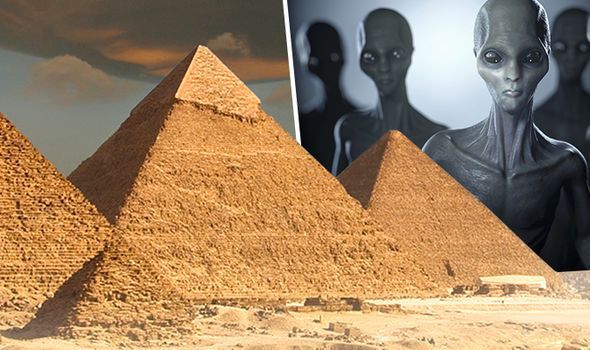 Great Pyramid's Builders 'Spread Their Knowledge Around the World'
by Sebastian Kettley                  April 15, 2019                  (express.co.uk)
• Dr. Carmen Boulter, an expert in ancient Egyptian studies who led the documentary series The Pyramid Code, says that according to a 'Dr. Sam', there are more than 80,000 pyramids peppered around the globe, and they can all be traced back through the ages to a single advanced civilization. Enthusiasts claim that these pyramids were constructed by alien, or the knowledge of how to build them was given to humans by extraterrestrials.

• "So it seems that there was some kind of a worldwide pyramid building effort over tens of thousands of years because they're not all the same style and there are some modern ones – more modern, relatively more modern," says Dr Boulter. "Most pyramids, if you go through the center of the pyramid down through the center of the Earth, you come out of a volcano."
• Pyramids are positioned around the Earth near mystical sources of power known as ley lines – the magnetic lines naturally generated by the planet on which have been built various holy sites, monuments and other significant structures. Some UFO enthusiasts believe these ley lines are some form of markings or pathways for UFOs to travel by.

• Archaeology Professor Matthew Peeples of Arizona State University says, "These ideas are not supported by scientific evidence." "The building technology is impressive, but we don't need to invoke aliens to explain it."
There are more than 80,000 pyramids peppered around the globe by some conspiracy researcher's counts. The mysterious structures appear to vary in design and purpose but can all be traced back through the ages to a single advanced civilisation. The bizarre pyramid theory was presented by Dr Carmen Boulter, an expert in ancient Egyptian studies who led the documentary series The Pyramid Code. Speaking to Coast to Coast AM radio, Dr Boulter said pyramid building knowledge was spread around the planet at a distant point in the past.
She said: "I think that the pyramid building endeavour, and now we're looking at about 80,000 pyramids on the planet by Dr Sam's count, that it would have been a world-wide effort.
"Most pyramids, if you go through the centre of the pyramid down through the centre of the Earth, you come out of a volcano.
"So it seems that there was some kind of a worldwide pyramid building effort over tens of thousands of years because they're not all the same style and there are some modern ones – more modern, relatively more modern.
"So I think we're saying we're looking for Atlantis and everything that went with it, then all the pyramids on the planet become relevant."
The pyramid expert went on to say pyramids are positioned around the Earth near mystical sources of power known as ley lines.
FAIR USE NOTICE: This page contains copyrighted material the use of which has not been specifically authorized by the copyright owner. ExoNews.org distributes this material for the purpose of news reporting, educational research, comment and criticism, constituting Fair Use under 17 U.S.C § 107. Please contact the Editor at ExoNews with any copyright issue.
Dr. Carmen Boulter, ley lines, Matthew Peeples, The Pyramid Code, worldwide pyramid building
---
ExoNews Editor
Duke Brickhouse is a former trial lawyer and entertainment attorney who has refocused his life's work to exposing the truth of our subjugated planet and to help raise humanity's collective consciousness at this crucial moment in our planet's history, in order to break out of the dark and negative false reality that is preventing the natural development of our species, to put our planet on a path of love, light and harmony in preparation for our species' ascension to a fourth density, and to ultimately take our rightful place in the galactic community.
---