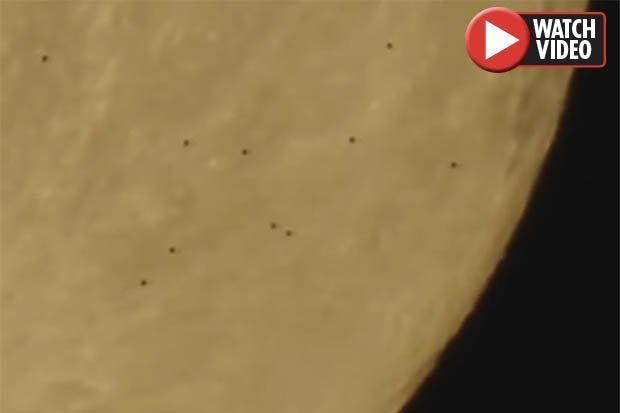 Footage Showing 'Fleet of UFOs Passing Moon' Labelled Best Evidence of the Year
by Simon Green                   May 22, 2019                    (dailystar.co.uk)
• On May 18th, Fotohota Youtube channel posted a video clip shot from Moscow, Russia of the moon with an orange haze. As the camera zooms in, a collection of black objects can be seen slowly moving across the star. At certain points the dots move towards each other before separating again. (see two videos below)

• "They are not near the moon because there is no shadow," the videographer added. "They are between the Earth and the moon, but not far from the moon." "Their sizes are not small."

• "Definitely the best evidence of the year," one YouTuber wrote. "There are loads of them nearly covering the moon and these objects are huge in size." A worried viewer added: "This isn't good."
The clip – taken from the ground in the Russian capital of Moscow – shows the moon in an orange haze.
As the cameraman zooms in, a collection of black objects can be seen slowly moving across the star.
At certain points the dots move towards each other before separating again.
The video was posted to YouTube by Fotohota on May 18.
He wrote that he couldn't believe what he was witnessing.
"They are not near the moon because there is no shadow," he added.
"They are between the Earth and the moon, but not far from the moon.
"Their sizes are not small."
1:21 minute video of UFO "flotilla" over the surface of the moon (TechVor Leaks)
2:10 video of UFO "fleet" over the surface of the moon (The Hidden Underbelly 2.0)


FAIR USE NOTICE: This page contains copyrighted material the use of which has not been specifically authorized by the copyright owner. ExoNews.org distributes this material for the purpose of news reporting, educational research, comment and criticism, constituting Fair Use under 17 U.S.C § 107. Please contact the Editor at ExoNews with any copyright issue.
Fotohota Youtube, Moscow Russia
---
ExoNews Editor
Duke Brickhouse is a former trial lawyer and entertainment attorney who has refocused his life's work to exposing the truth of our subjugated planet and to help raise humanity's collective consciousness at this crucial moment in our planet's history, in order to break out of the dark and negative false reality that is preventing the natural development of our species, to put our planet on a path of love, light and harmony in preparation for our species' ascension to a fourth density, and to ultimately take our rightful place in the galactic community.
---