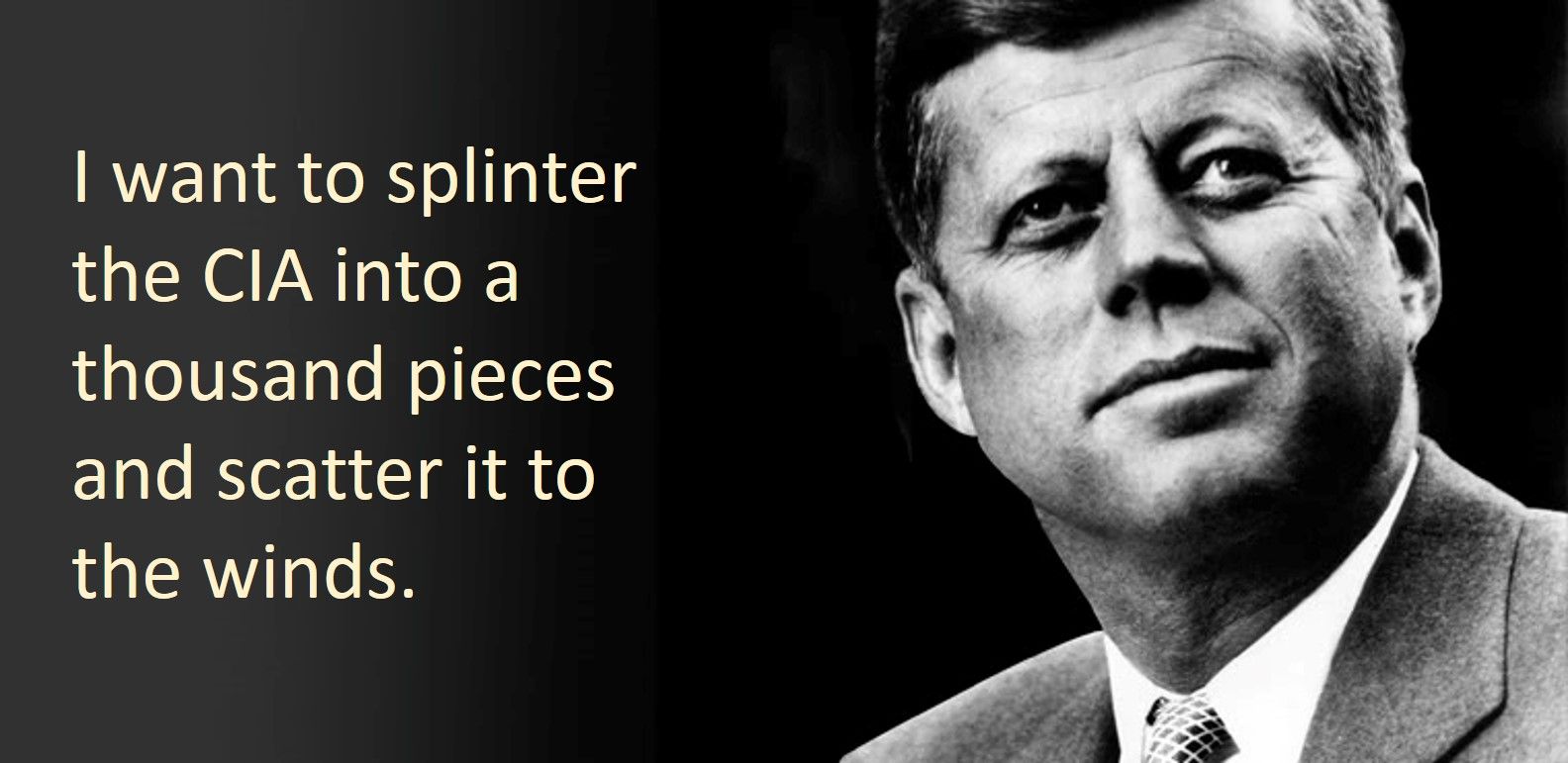 Did President Kennedy "Needle" The CIA For Information About UFOs & ETs Right Before His Death?
by Arjun Walia        October 17, 2017        (collective-evolution.com)
• While conducting research for his book, author William Lester recovered a "secret memo" from President John F. Kennedy to the head of the CIA asking for confidential documentation on UFO's dated November 12, 1963, ten day before his assassination.
• This supports a previously released memo from Kennedy to the CIA on the same topic.
• An internal email published by Wikileaks in 2012 details another memo by President Kennedy informing CIA counterintelligence chief James Angleton that he wanted to share sensitive UFO intelligence with the Russians through the director of NASA.
• [Editor's Note]  This supports Dr Michael Salla's contention that Kennedy was assassinated at the direction of MJ-12 because of his threat to publicly expose the ET presence, as detailed in Salla's book Kennedy's Last Stand.   Perhaps this month's long-awaited release of tens of thousands of documents by the National Archives pertaining to the JFK assassination will shed more light on this revelation.
According to Author and UFO researcher Dr. William Lester, the CIA released documents to him under the Freedom of Information act after he made a request while researching for his new book at the time, A Celebration of Freedom: JFK and the New Frontier. The document and story was brought forth by the Daily Mail, pertaining to a letter written by John F. Kennedy to the head of the CIA demanding to be shown highly confidential documents about UFOs just 10 days before his assassination.
According to the Daily Mail, "the secret memo is one of two letters written by JFK asking for information about the paranormal on November 12, 1963, which have been released by the CIA for the first time."
It's understandable that a Daily Mail article and a claim from a UFO researcher isn't really considered credible, but what's even more fascinating about the story is the fact that it also appears within some Wikileaks Cables.
February 27th, 2012, WikiLeaks began publishing The Global Intelligence Files; over five million emails from the Texas headquartered "global intelligence" company Stratfor. The emails date between July 2004 and late December 2011. They reveal the inner workings of a company that fronts as an intelligence publisher, but provides confidential intelligence services to large corporations, such as Bhopal's Dow Chemical Co., Lockheed Martin, Northrop Grumman, Raytheon and government agencies, including the US Department of Homeland Security, the US Marines and the US Defence Intelligence Agency. The emails show Stratfor's web of informers, pay-off structure, payment laundering techniques, and psychological methods.
From these emails, we have one that details information that documents by a gentleman named Timothy S. Cooper, who, according to many, leaked the supposed "MJ-12" documents that dealt with the cover-up of UFO/extraterrestrial phenomenon.
In the email, it states that "Soon after Kennedy became President, he began to needle the CIA for information on UFOs" and that "President Kennedy fired off a top secret memorandum to him outlining a previous discussion concerning a classification review of all CIA UFO files that could affect national security. Dated 12 November, 1963, just ten days before he would be gunned down in the streets of Dallas, Texas, Kennedy informed Angleton that he was setting things in motion to actually share sensitive CIA UFO intelligence data with the Russians through the director of NASA."
The email itself goes into more detail.
The question to ask here is why is a company like Stratfor sending emails within the company regarding this topic?
Definitely interesting to think about.
Perhaps the most interesting fact is that JFK was President right around the time a massive cover-up regarding this topic ensued. Only a couple of terms before his own, President Harry Truman went on national television stating that this topic is discussed at every single conference they have with the military. The topic of flying saucers and "other things." He stated that "there are always things like that going on".
There are even claims that President Eisenhower held a meeting with extraterrestrials. His great granddaughter Laura (Eisenhower) is one who has spoken about the incident.
Today, Presidents don't really know much. In fact, based on my research, when they do inquire they're not told much and they don't really have access nor a need to know information about UFOs and extraterrestrials. So who does?
It seems, based on my research, that presidents don't really have access to this type of information, and it's not an easy thing to inquire about.
FAIR USE NOTICE: This page contains copyrighted material the use of which has not been specifically authorized by the copyright owner. ExoNews.org distributes this material for the purpose of news reporting, educational research, comment and criticism, constituting Fair Use under 17 U.S.C § 107. Please contact the Editor at ExoNews with any copyright issue.
CIA, Dr. Michael Salla, John F Kennedy, Laura Eisenhower, MJ-12
---
ExoNews Editor
Duke Brickhouse is a former trial lawyer and entertainment attorney who has refocused his life's work to exposing the truth of our subjugated planet and to help raise humanity's collective consciousness at this crucial moment in our planet's history, in order to break out of the dark and negative false reality that is preventing the natural development of our species, to put our planet on a path of love, light and harmony in preparation for our species' ascension to a fourth density, and to ultimately take our rightful place in the galactic community.
---