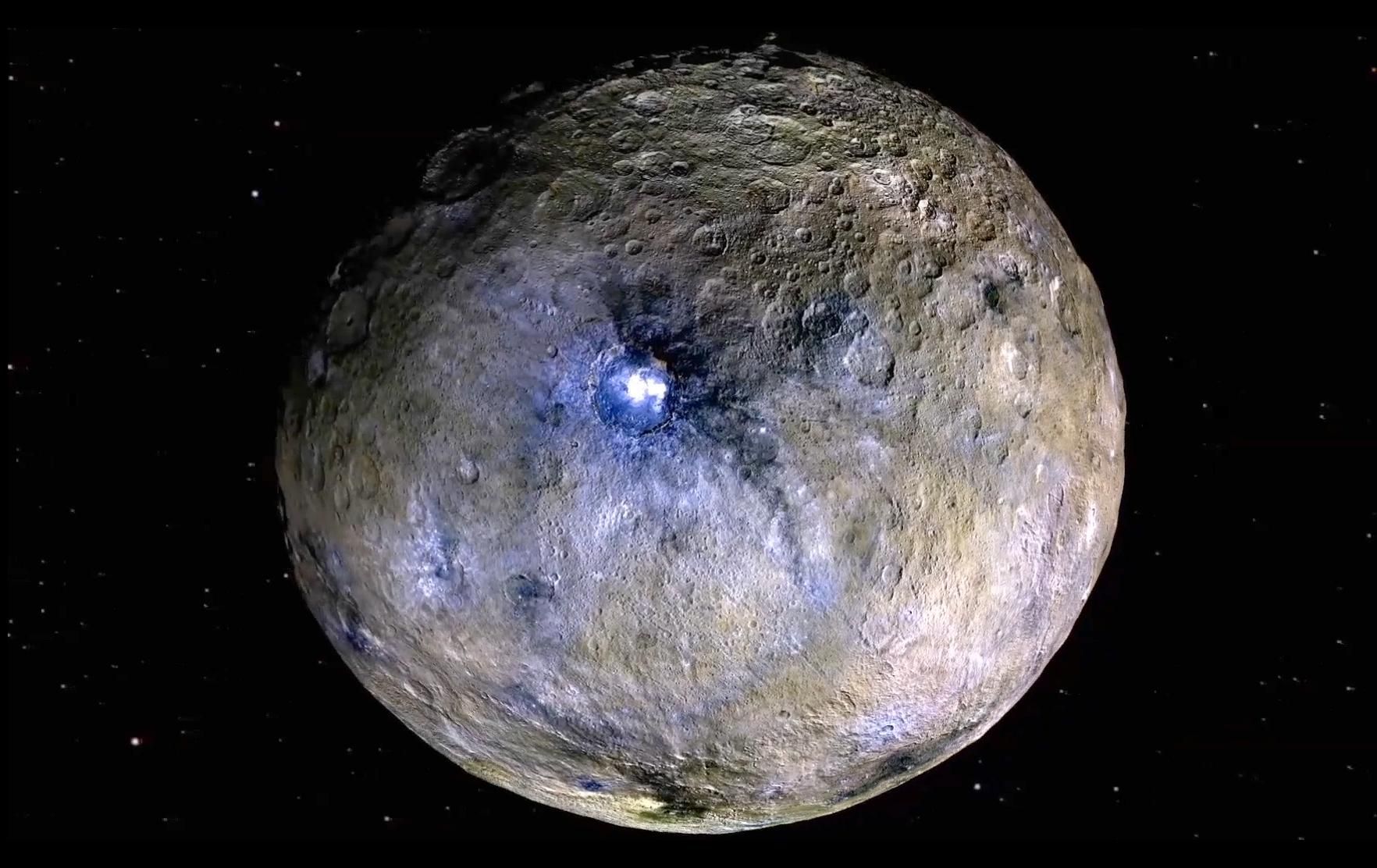 Could Artificial Intelligence Trick Us Into Believing Aliens Exist?
Article by WION Web Team                                  October 28, 2020                                 (wionews.com)
• Ceres (pictured above) sits in the asteroid belt between Mars and Jupiter, and had been under the watchful eye of scientists ever since they spotted bright lights on its surface. But NASA's Dawn mission revealed that it was just sunlight reflecting off of volcanic ice and salt emissions within a crater on Ceres' surface called the 'Occator', that was causing the bright lights. Not aliens.
• In a recent study conducted at University of Cadiz (Spain) and published in the journal Acta Astronautica, a group of people were shown images of the Occator crater. They noted an unusual square shape to its formation. The study then ran the same set of images through an Artificial Intelligence (AI) system which registered the square formation, but also recognized a triangular formation to the crater as well. When human respondents were told about the triangle, they started believing that it was there too, effectively manipulating the information.
• AI is able to detect structures that humans never could. But the study showed that the AI would mistake particular formations on Ceres as non-natural, and therefore evidence of extraterrestrial life. The lesson that the researchers took from the study was a warning of humans trusting AI too much and be fooled when it comes to discovering alien life.
• [Editor's Note]  This "study" doesn't pass the sniff test. Who would benefit most from a study that both invalidates a computer's detection of intelligent extraterrestrial formations on the asteroid Ceres, among other celestial bodies, and warns of the fallibility of artificial intelligence? "Don't believe the computer; believe what we tell you to believe." The answer is the deep state elite who want to cover up the fact that the 300 mile diameter Ceres holds large human + colony: not on its surface but within interior caverns. Spacecraft is constantly coming and going from an entrance located at the Occator crater, and the colony is actually run by the Nazi Dark Fleet, according to Tony Rodrigues who spent most of a decade as a slave worker on Ceres in a forced 20 and back program.
Researchers have a new warning. Tread carefully, this one will blow your mind. Banking too much on artificial intelligence as the future of all sentient life? Researchers believe AI could fool us into believing alien life exists.
According to the study conducted at University of Cadiz and published in the journal Acta Astronautica, specifically took into account a particular formation on the planet Ceres, and found that AI could mistake shapes as proof extraterrestrial life. If that wasn't enough, AI could also deceive humans into falling for its mistake.
Currently, AI is being employed across all industries to generate more accurate results without scope of error. But in the hunt for ET, AI is generally used to spot "technosignatures", that are indicative of alien life.
Accidental formations could be mistaken as evidence of alien life. Ceres currently sits at the asteroid belt between Mars and Jupiter, and had been under the watchful eye of scientists after they spotted bright lights on its surface.
They were disappointed to discover what was causing the bright lights. According to NASA's Dawn mission, the lights turned out to be a product of volcanic ice and salt emissions.
FAIR USE NOTICE: This page contains copyrighted material the use of which has not been specifically authorized by the copyright owner. ExoNews.org distributes this material for the purpose of news reporting, educational research, comment and criticism, constituting Fair Use under 17 U.S.C § 107. Please contact the Editor at ExoNews with any copyright issue.
---
ExoNews Editor
Duke Brickhouse is a former trial lawyer and entertainment attorney who has refocused his life's work to exposing the truth of our subjugated planet and to help raise humanity's collective consciousness at this crucial moment in our planet's history, in order to break out of the dark and negative false reality that is preventing the natural development of our species, to put our planet on a path of love, light and harmony in preparation for our species' ascension to a fourth density, and to ultimately take our rightful place in the galactic community.
---