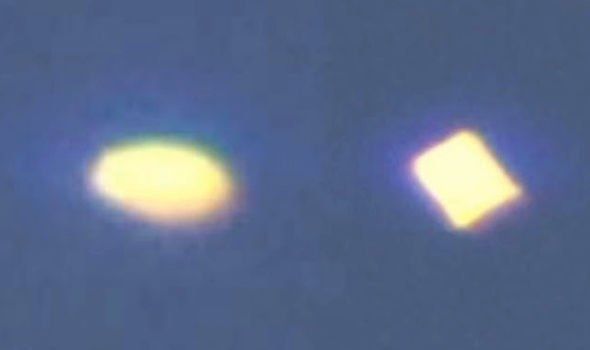 Video Shows 'Reflective and Rotating' Diamond UFO in Phoenix
by Tom Fish                    May 10, 2019                   (express.co.uk)
UFO researcher Jeff Woolwine video recoded a brightly illuminated, diamond-shaped UFO in the skies over Phoenix, AZ using his Cannon HD camera 2:37 PM. It appears to rotate as it moves.  (see 1:19 minute UFOmania video below)
[Editor's Note]    It looks a lot like the object recently captured on video hovering over a highway in Argentina (see here).
The latest shock UFO sighting has occurred over Phoenix, Arizona. The video – seen more than 28,000 times on Facebook – was uploaded by known UFO conspiracy theorist Scott Waring. And despite the amateur nature of the footage, Waring is in no doubt that it shows evidence of another alien spacecraft visiting Earth.
Waring wrote on his etdatabase.com bog: "This sighting was recorded by UFO researcher Jeff Woolwine of Phoenix.
"The video is one of the clearest I have seen in a while. said Scott Waring.
"The UFO itself is so reflective its difficult to get detail of its surface.
1:19 minute video of diamond shaped UFO over Phoenix (UFOmania YouTube channel)
FAIR USE NOTICE: This page contains copyrighted material the use of which has not been specifically authorized by the copyright owner. ExoNews.org distributes this material for the purpose of news reporting, educational research, comment and criticism, constituting Fair Use under 17 U.S.C § 107. Please contact the Editor at ExoNews with any copyright issue.
Jeff Woolwine, Phoenix AZ, Scott Waring
---
ExoNews Editor
Duke Brickhouse is a former trial lawyer and entertainment attorney who has refocused his life's work to exposing the truth of our subjugated planet and to help raise humanity's collective consciousness at this crucial moment in our planet's history, in order to break out of the dark and negative false reality that is preventing the natural development of our species, to put our planet on a path of love, light and harmony in preparation for our species' ascension to a fourth density, and to ultimately take our rightful place in the galactic community.
---