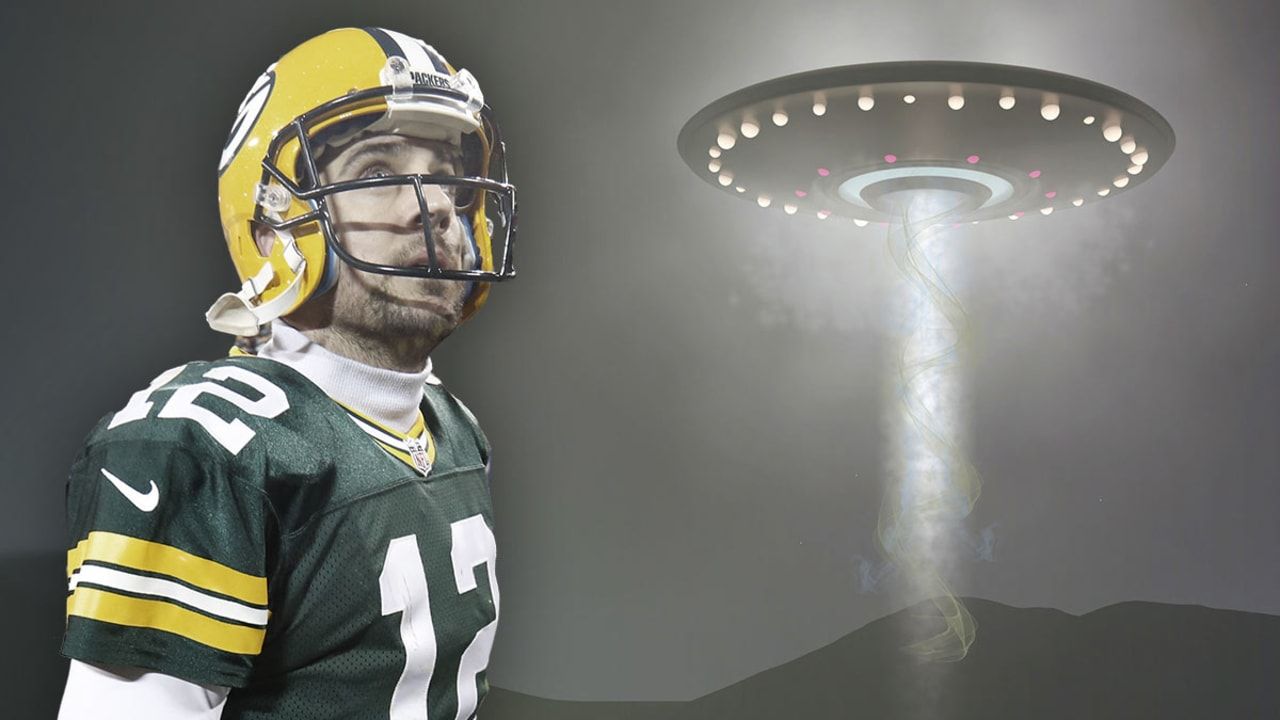 Packers' Aaron Rodgers Recounts Story of UFO Sighting in 2005
Article by Jordan J. Wilson                                 September 30, 2020                                  (heavy.com)
• On September 29th, in a guest appearance on The Pat McAfee Show (see video below), Green Bay Packers veteran quarterback Aaron Rodgers talked about a UFO he saw on a snowy night n New Jersey in 2005. The story has stuck with him throughout his NFL career.

• "I was in New Jersey with a teammate of mine, Steve Levy," and Steve's brother, began Rodgers. "[W]e saw a crazy thing in the sky that filled up most of the vantage point that we had. It was a snowy night, it was orange and moving in the clouds from left to right. And the bizarre part that was attached to it was that after it went out of sight and we were frozen looking at each other wondering what the hell just happened, about 30 seconds after that, we heard fighter jets. And you know, if you've seen a flyover or you've watched Top Gun or you've been to an air show, you know what that sounds like, the sound of a plane zipping by. It's undeniable, and there were three of them that seemed to be chasing whatever this was."

• Once Rodgers put the UFO story out there, it didn't take long for Steve Levy to back up his version of the events with the only small amendment – it was in New York, not New Jersey. "Steve has been asked after I shared this on the podcast five years ago or so, he's been asked to verify my story," said Rodgers. "[A]nd thankfully, he did."
• Levy's version goes like this: "We started hearing this weird noise and we were like, 'What the hell is that?; it's 12:30-1 at night. We popped open the front door and we heard it, but it's coming from the backyard. We go out to the backyard and before you know, within minutes we are in a daze because we are looking at something. It's reddish, yellow, orange-ish and light, and it's moving back and forth and peeking out of the clouds and going back. …It was absolutely unreal. I don't know what it was — that's why they are called unidentified flying objects." Levy also insists both he and Rodgers were "completely, completely coherent" and not under the influence of any kind, as many have asked and assumed.
• "After that, I really got into researching that," Rodgers continued, "because we had this story that we couldn't explain that wasn't in the papers the next day, that wasn't in the papers the day after that, that was never really talked about, so it was something that I definitely got into and was interested more in and did some research over the years. Had some other interesting experiences as well, but that was probably the most vivid and expansive interaction that never got talked about or explained." When McAfee pressed Rodgers for details about some of those 'other interesting experiences', the 36-year-old future Hall of Famer just smiled and told him "that's for another time, Pat."
• A 2019 Gallup poll found that 16% of Americans say they have "personally witnessed" a UFO, while 33% of US adults believe that some UFO sightings over the years have "in fact been alien spacecraft visiting Earth from other planets or galaxies."
Fifteen years later, Green Bay Packers quarterback Aaron Rodgers still wonders about what he saw in the clouds that snowy night in New Jersey.
Rodgers was asked about his UFO experience Tuesday during his weekly guest appearance on The Pat McAfee Show and recounted a story he told several years ago on a podcast with friend and comedian Pete Holmes, going into detail about the weird experience in 2005 that has stuck with him throughout his storied NFL career.
"Long before this happened 15 years ago, I told this story on the (You Made it Weird) Podcast with Pete
Holmes, a comedian friend of mine," Rodgers said. "I told a story about how I was in New Jersey with a (California) teammate of mine, Steve Levy, and Steve has been asked after I shared this on the podcast five years ago or so, he's been asked to verify my story and, thankfully, he did.
But it was him and his brother at their house in Jersey, and we saw a crazy thing in the sky that filled up most of the vantage point that we had. It was a snowy night, it was orange and moving in the clouds from left to right. And the bizarre part that was attached to it was that after it went out of sight and we were frozen looking at each other wondering what the hell just happened, about 30 seconds after that, we heard fighter jets. And you know, if you've seen a flyover or you've watched Top Gun or you've been to an air show, you know what that sounds like, the sound of a plane zipping by. It's undeniable, and there were three of them that seemed to be chasing whatever this was."
Rodgers and Levy are hardly alone when it comes to strange and inexplicable experiences with unidentified flying objects. A 2019 Gallup poll found that 16% of Americans say they have "personally witnessed" something they believed to be a UFO, while 33% of U.S. adults believe that some UFO sightings over the years have "in fact been alien spacecraft visiting Earth from other planets or galaxies."
Regardless of where Packers fans fall on the subject of UFOs, it seems they would all agree these past fifteen years have been brighter with Rodgers in Green Bay — and, you know, not abducted aboard some supposed alien spaceship.
3:59 minute video of Aaron Rodgers discussing UFOs ('The Pat McAfee Show' YouTube)
FAIR USE NOTICE: This page contains copyrighted material the use of which has not been specifically authorized by the copyright owner. ExoNews.org distributes this material for the purpose of news reporting, educational research, comment and criticism, constituting Fair Use under 17 U.S.C § 107. Please contact the Editor at ExoNews with any copyright issue.
Aaron Rodgers, Green Bay Packers, Steve Levy, The Pat McAfee Show
---
ExoNews Editor
Duke Brickhouse is a former trial lawyer and entertainment attorney who has refocused his life's work to exposing the truth of our subjugated planet and to help raise humanity's collective consciousness at this crucial moment in our planet's history, in order to break out of the dark and negative false reality that is preventing the natural development of our species, to put our planet on a path of love, light and harmony in preparation for our species' ascension to a fourth density, and to ultimately take our rightful place in the galactic community.
---