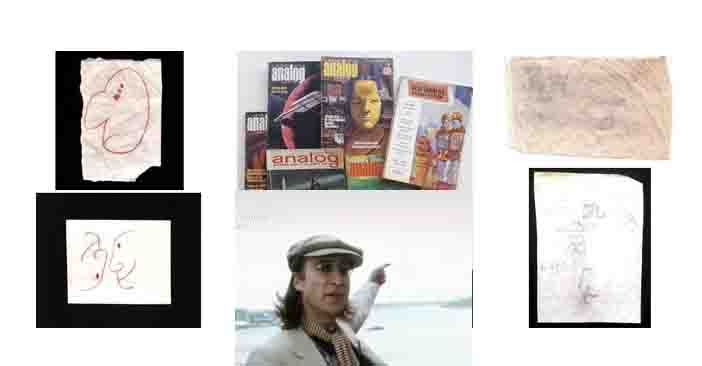 Out-of-this-World Collection of John Lennon's Drawings and Sci-Fi Magazines
February 28, 2019                     (finebooksmagazine.com)
• John Lennon's fascination with aliens and UFOs has been well documented throughout his life. As a member of The Beatles, Lennon often talked about his belief in alien life and even wrote about it. On March 30, 2019, Kruse GWS Auctions (Los Angeles) will offer an extraordinary collection of John Lennon's personal drawings and Sci-Fi magazines, long collected by an old friend who shared his passion.

• On July 6, 1957, a fellow Liverpoolian befriended Lennon when he was performing as part of the Quarrymen in Woolten Village in Liverpool. The (anonymous) young man shared a fascination with space and would strike up a conversation with John who was looking through a UFO magazine. From there on, the friendship would continue on for decades, and John and the gentleman exchanged letters, drawings, opinions, and magazines about UFOs, space and all things extraterrestrial. During this time, John Lennon would send his new friend drawings and some of his personal science fiction books and magazines, all of which was kept throughout the gentlemen's life and even after Lennon moved to the U.S. The drawings and magazines to be auctioned for the very first time are now being offered by the man's stepson who has also chronicled the story of the unlikely friendship.

• There are four drawings done in crayon and pencil (see images above and below) and date to the 1950s and early 1960s, along with the collection of personal sci-fi books and magazines. Two of the pieces being offered are in red crayon, early examples of his characteristic line drawings. One appears to be someone smoking a marijuana joint, while the back side features a character possessing an excessively large nose and sad face. The other captures two inversed smiling faces, a kind of yin and yang, staring at each other. The other two drawings are done in pencil, with a UFO flying above his wife Cynthia's head and the word "Cyn" on it and John's initials 'JL' , and John's full initials of 'JWL' (John Winston Lennon) incorporated into the illustrations. Each drawing will be accompanied by a copy of the letter received from the stepson describing the two's lifelong friendship. The drawings will be offered in museum quality glass and frames and sold individually, and the sci-fi collection will be sold in one lot. The crayon drawings measure 4.5″ x 3″ and 4″ x 3.25″ and the pencil pieces are 8.5″ x 6″ and 5.5″ x 3.5."

• Lennon's fixation on ET visits and claims of alien abduction culminated in his most infamous sighting, when he saw a UFO from his balcony fly over the East River on August 23, 1974. John and his lover May Pang (during his separation from Yoko) were living in an apartment overlooking New York's East River, when John saw what he described as a UFO. Lennon went on to describe it along with its path and May Pang has been noted as saying John screamed out the window "wait – take me with you."
Los Angeles – John Lennon's fascination with aliens and UFOs has been well documented throughout his life. As a member of one of the most famous bands of all time, The Beatles, Lennon often talked about his belief in alien life and even wrote about it. From his earlier years with wife Cynthia to his sighting in New York over the East River in 1974, the Beatles member continued to be mesmerized with life in space, even as much as to cite visitations from aliens when he was with Yoko Ono. On March 30, 2019, Kruse GWS Auctions will offer an extraordinary collection of John Lennon's personal drawings and Sci-Fi magazines, long collected by an old friend who shared his passion.
On July 6, 1957, a fellow Liverpoolian befriended Lennon when he was performing as part of the Quarrymen, the group that eventually evolved into The Beatles. The band appeared in Woolten Village in Liverpool.
The young man shared a fascination with space and would strike up a conversation with John who was looking through a UFO magazine. From there on, the friendship would continue on for decades and John and the gentleman exchanged letters, drawings, opinions, and magazines about UFOs, space and all things extraterrestrial. During this time, John Lennon would send his new friend drawings and some of his personal science fiction books and magazines, all of which was kept throughout the gentlemen's life and even after Lennon moved to the U.S. The drawings and magazines to be auctioned for the very first time are now being offered by the man's stepson who has also chronicled the story of the unlikely friendship.
There are four drawings done in crayon and pencil and date to the 1950s and early 1960s. The drawings along with the collection of personal sci-fi books and magazines represent a passion of a member of the world's most famous band – The Beatles.
FAIR USE NOTICE: This page contains copyrighted material the use of which has not been specifically authorized by the copyright owner. ExoNews.org distributes this material for the purpose of news reporting, educational research, comment and criticism, constituting Fair Use under 17 U.S.C § 107. Please contact the Editor at ExoNews with any copyright issue.
Cynthia Lennon, John Lennon, Kruse GWS Auctions, May Pang, The Beatles, Yoko Ono
---
ExoNews Editor
Duke Brickhouse is a former trial lawyer and entertainment attorney who has refocused his life's work to exposing the truth of our subjugated planet and to help raise humanity's collective consciousness at this crucial moment in our planet's history, in order to break out of the dark and negative false reality that is preventing the natural development of our species, to put our planet on a path of love, light and harmony in preparation for our species' ascension to a fourth density, and to ultimately take our rightful place in the galactic community.
---