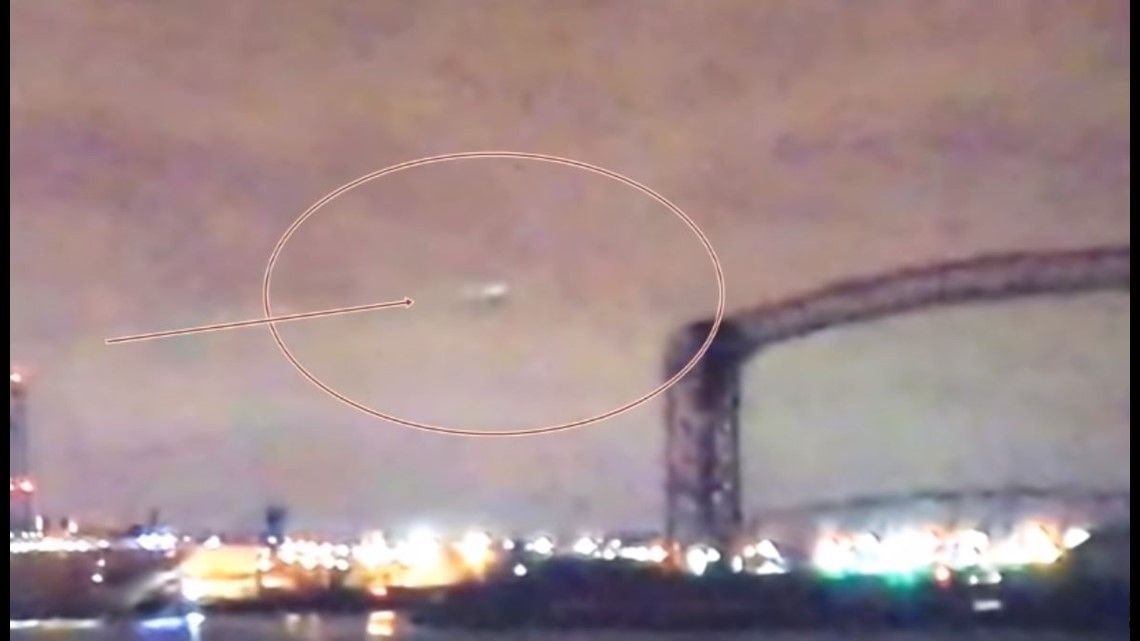 On the Record American News Happened to Notice a UFO
by paradox                   February 23, 2019                     (micetimes.asia)
• On February 21st, Channel 3 NBC News in Cleveland, Ohio was broadcasting live when a UFO swept over the morning city in the background image of the broadcast. A bright, ball-shaped UFO flew up leaving behind a long trail in the sky and a few bewildered newspeople. The TV station received hundreds of calls from concerned viewers who noticed the incident. (see below an 18-second video clip of the WKYC News broadcast in real time, and a 2:02 minute enhanced video of the UFO)
A lot of viewers of the American Cleveland, Ohio, February 21, noticed something strange while watching TV channel "Channel 3 NBC".
Live seemed to be an unidentified flying object, is rapidly swept over the morning city. Bright ball-shaped UFO flew up, leaving behind a long trail in the sky. Many people in front of the television proved to be very surprised by such a strange detail.
As you might guess, among the citizens and Internet users have viewed the videos below, immediately began to spread the theory about aliens visiting Cleveland.
Ufologists and curious people simple assume that the aircraft of the representatives of the extraterrestrials left Earth and accidentally got on camera of the TV crew. In this case, we have before us a real sensation, isn't it? Indeed, in this case, it is difficult to blame the operator in rigging or fake.
18 second video clip of original WKYC News Cleveland with UFO
2:02 minute enhanced video of WKYC News Cleveland with UFO
FAIR USE NOTICE: This page contains copyrighted material the use of which has not been specifically authorized by the copyright owner. ExoNews.org distributes this material for the purpose of news reporting, educational research, comment and criticism, constituting Fair Use under 17 U.S.C § 107. Please contact the Editor at ExoNews with any copyright issue.
Cleveland Ohio, WKYC Channel 3 NBC News
---
ExoNews Editor
Duke Brickhouse is a former trial lawyer and entertainment attorney who has refocused his life's work to exposing the truth of our subjugated planet and to help raise humanity's collective consciousness at this crucial moment in our planet's history, in order to break out of the dark and negative false reality that is preventing the natural development of our species, to put our planet on a path of love, light and harmony in preparation for our species' ascension to a fourth density, and to ultimately take our rightful place in the galactic community.
---