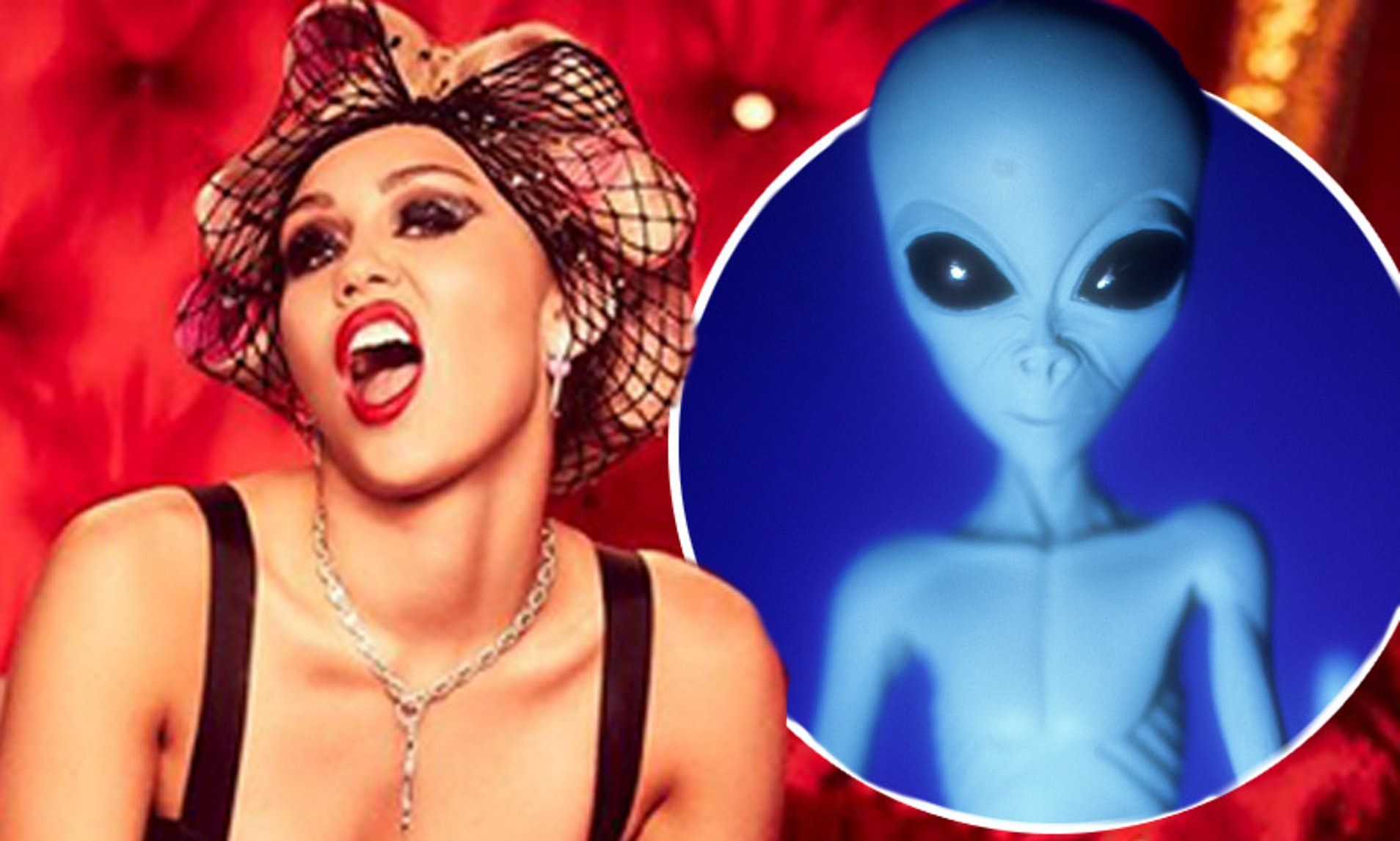 Miley Cyrus 'Chased Down' by a UFO
Article by Cole Delbyck                                  October 10, 2020                                   (huffingtonpost.com.au)
• Pop singer Miley Cyrus has said that believing humans are the only beings in the entire universe is a "form of narcissism." In a conversation with Rick Owens for Interview magazine on October 5th, the Cyrus recalled once seeing a strange craft following her car in Southern California. "I was driving through San Bernardino with my friend, and I got chased down by some sort of UFO," said Cyrus. "I'm pretty sure about what I saw, but I'd also bought weed wax from a guy in a van in front of a taco shop, so it could have been the weed wax."
• "[T]he best way to describe it is a flying snowplow. It had this big plow in the front of it and was glowing yellow. I did see it flying, and my friend saw it, too." Cyrus said that perhaps the most unsettling part of the encounter was locking eyes with the being piloting the UFO. "I didn't feel threatened at all, actually, but I did see a being sitting in the front of the flying object. It looked at me and we made eye contact, and I think that's what really shook me, looking into the eyes of something that I couldn't quite wrap my head around."
• Cyrus noted that a "couple of other cars" witnessed the event, too – more than enough evidence that what she "saw was real." "I was shaken for, like, five days. It fucked me up," she added. "I couldn't really look at the sky the same. I thought they might come back."
• Aliens seem to be preoccupied with Disney Channel alums as of late. Demi Lovato also recently shared that she'd made contact with the great beyond while visiting Joshua Tree with Dr. Steven Greer. (see ExoArticle here)
If extraterrestrial beings were ever to make contact, they could certainly do a lot worse when it comes to earthlings than Miley Cyrus.
The pop star revealed that she once had a close encounter of the peak Miley kind after being "chased down" by a UFO while traveling through Southern California with a friend. Or, you know, maybe it was the "weed wax" she admittedly bought from a "guy in a van" beforehand.
In a conversation with designer Rick Owens for Interview magazine published on Monday, Cyrus recalled the experience in vivid detail.
"I was driving through San Bernardino with my friend, and I got chased down by some sort of UFO. I'm pretty sure about what I saw, but I'd also bought weed wax from a guy in a van in front of a taco shop, so it could have been the weed wax," she explained. "But the best way to describe it is a flying snowplow. It had this big plow in the front of it and was glowing yellow. I did see it flying, and my friend saw it, too."
Cyrus said that perhaps the most unsettling part of the encounter was locking eyes with the being piloting the UFO.
"I didn't feel threatened at all, actually, but I did see a being sitting in the front of the flying object. It looked at me and we made eye contact, and I think that's what really shook me, looking into the eyes of something that I couldn't quite wrap my head around," she said.
The "Midnight Sky" singer went on to add that a "couple of other cars" witnessed the event, too, which, in her mind, is more than enough evidence that what she "saw was real."
"I was shaken for, like, five days. It fucked me up," she added. "I couldn't really look at the sky the same. I thought they might come back."
3:32 minute video clips of celebrities who believe in aliens ('Page Six' YouTube)
FAIR USE NOTICE: This page contains copyrighted material the use of which has not been specifically authorized by the copyright owner. ExoNews.org distributes this material for the purpose of news reporting, educational research, comment and criticism, constituting Fair Use under 17 U.S.C § 107. Please contact the Editor at ExoNews with any copyright issue.
Demi Lovato, flying snowplow, Miley Cyrus, Rick Owens, Southern California
---
ExoNews Editor
Duke Brickhouse is a former trial lawyer and entertainment attorney who has refocused his life's work to exposing the truth of our subjugated planet and to help raise humanity's collective consciousness at this crucial moment in our planet's history, in order to break out of the dark and negative false reality that is preventing the natural development of our species, to put our planet on a path of love, light and harmony in preparation for our species' ascension to a fourth density, and to ultimately take our rightful place in the galactic community.
---