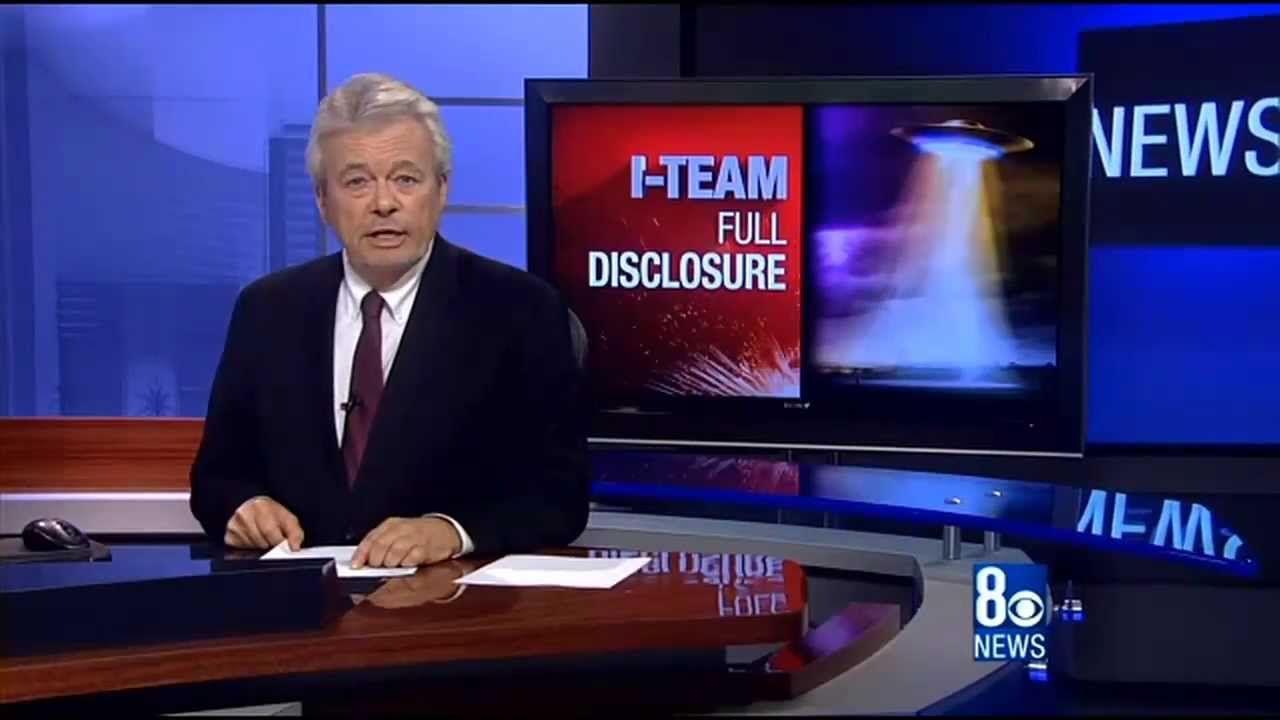 I-Team Obtains Some Key Documents Related to Pentagon UFO Study
by George Knapp and Matt Adams              July 25, 2018               (lasvegasnow.com)
• Since the December 2017 NY Times article releasing U.S. military video of the "Tic-Tac UFO", and subsequent UFO videos, thousands of Freedom of Information Act requests have been filed by UFO researchers. So far, the Pentagon hasn't complied with any of the requests for more information. According to Luis Elizondo, the man who ran the military's secret UFO study for years, says that there are as many as two dozen more unreleased videos still in the Pentagon vaults. The Las Vegas KLAS-TV "I-Team" has managed to obtain key documents related to the UFO inquiry.
• Former Senate Majority Leader, Nevada Senator Harry Reid instigated the Pentagon study back in 2007. Since his role was revealed last year, he's had calls from many other lawmakers in Congress. Reid believes there have likely been classified Congressional briefings involving military eyewitnesses to similar UFOs. Reid wants the military UFO program to continue and its findings made public.  (See 2009 letter from Reid to the Deputy Secretary of Defense asking for more personnel to increase productivity in the Advanced Aerospace Threat and Identification Program.)
• As the chief scientist for Bigelow Aerospace Advanced Space Studies, a government-sponsored research project, physicist Hal Puthoff made the first public presentation about the UFO study. In a newly released document, research subjects are listed including warp drive, invisibility, metamaterials from crash sites, worm holes, antigravity, and how to track hypersonic vehicles.
• "You've got these advanced aerospace vehicles flying around, that we don't know where they come from, what the intent is, possibly off-world even," said Dr. Puthoff. Puthoff says he doesn't know if more UFO videos will be released, but says there is big news coming about the ones already made public.
LAS VEGAS – Those secret UFO files at the Pentagon are still secret, but not for a lack of trying.
Thousands of researchers have filed requests via the Freedom of Information Act, hoping to force the military to unleash documents or videos generated during the secret study. The main contractor for the Pentagon was a Las Vegas company.
So far, the Pentagon hasn't complied with any of the requests for more information. But now, the I-Team has obtained key documents related to the UFO inquiry.
The Pentagon's release last December of a 2004 encounter between pilots from the USS Nimitz and a mystery machine dubbed the Tic Tac UFO generated huge headlines and demands for more releases.
Two more followed. The Gimbal video from 2015 and another nicknamed Go Fast. As many as two dozen more videos are still in the Pentagon vaults, according to the man who ran the military's secret UFO study for years.
During his time running the AATIP program, Elizondo set into motion the release of these and other videos. He doesn't know if the spigot has been turned off now that he is longer there. Since October, he's been working with To the Stars Academy to help change the perception of the UFO issue, particularly in Washington. And without revealing too much, Elizondo hints that progress is being made.
"It's about changing the paradigm in which our government can finally take this issue seriously without worrying about their political survival, right, allowing Congress to have a conversation in open or closed session saying, all right guys, gals, what do we do about this?"
FAIR USE NOTICE: This page contains copyrighted material the use of which has not been specifically authorized by the copyright owner. ExoNews.org distributes this material for the purpose of news reporting, educational research, comment and criticism, constituting Fair Use under 17 U.S.C § 107. Please contact the Editor at ExoNews with any copyright issue.
Bigelow Aerospace Advanced Space Studies, George Knapp, Hal Puthoff, KLAS-TV "I-Team", Luis Elizondo, NY Times, Senator Harry Reid, the Pentagon, tic tac UFO
---
ExoNews Editor
Duke Brickhouse is a former trial lawyer and entertainment attorney who has refocused his life's work to exposing the truth of our subjugated planet and to help raise humanity's collective consciousness at this crucial moment in our planet's history, in order to break out of the dark and negative false reality that is preventing the natural development of our species, to put our planet on a path of love, light and harmony in preparation for our species' ascension to a fourth density, and to ultimately take our rightful place in the galactic community.
---