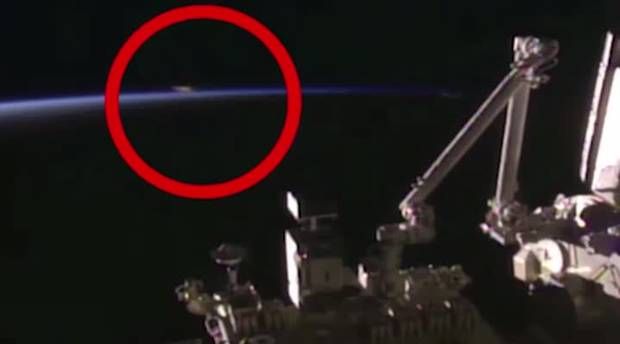 NASA Space Video Shows UFO Hovering Over Earth, '100% Proof' Of Aliens
by Inigo Monzon                     June 27, 2019                     (ibtimes.com)
• On June 25th, A UFO hovering above Earth was spotted through the live feed footage of NASA's International Space Station. Scott Waring of ET Data Base spotted the UFO while watching the live feed, and noted that the ISS suddenly switched cameras to presumably focus on an object hovering in the distance.

• The UFO was visible for a couple of seconds before fading into the background. Through editing software, Waring was able to zoom in on the image to reveal the UFO's classic disk shape, with distinct humps in the upper and lower portions. It also had a strange aura its body, likely an optical effect caused by the craft's propulsion system. (see 9:54 minute video below)
A UFO hovering above Earth was spotted through the live feed footage of NASA's International Space Station (ISS). According to a UFO expert, the footage is definitive proof of the existence of extraterrestrial life.
Scott Waring of ET Data Base spotted the UFO while watching the live feed of the ISS. As he was watching, Waring noted that the ISS suddenly switched cameras to presumably focus on an object hovering in the distance.
Based on the video that Waring shared, the UFO was visible for a couple of seconds before mysteriously fading into the background. Through editing software, he was able to zoom in on the image to reveal the UFO's distinct shape. According to Waring, it closely resembled the classic image of disk-shaped UFOs that have distinct humps in their upper and lower portions.
Aside from the shape of the object, another aspect that caught Waring's attention was the strange aura that it displayed around its body. He speculated that it could be traces of the strange craft's propulsion system.
9:54 minute video of Scott Waring describing a UFO near the ISS on June 25th (ET DATA BASE)
FAIR USE NOTICE: This page contains copyrighted material the use of which has not been specifically authorized by the copyright owner. ExoNews.org distributes this material for the purpose of news reporting, educational research, comment and criticism, constituting Fair Use under 17 U.S.C § 107. Please contact the Editor at ExoNews with any copyright issue.
NASA's International Space Station, Scott Waring
---
ExoNews Editor
Duke Brickhouse is a former trial lawyer and entertainment attorney who has refocused his life's work to exposing the truth of our subjugated planet and to help raise humanity's collective consciousness at this crucial moment in our planet's history, in order to break out of the dark and negative false reality that is preventing the natural development of our species, to put our planet on a path of love, light and harmony in preparation for our species' ascension to a fourth density, and to ultimately take our rightful place in the galactic community.
---