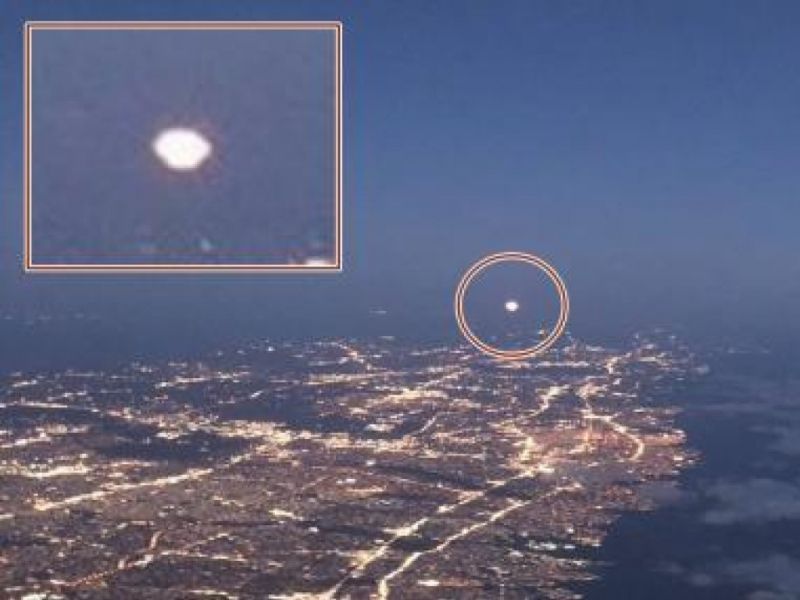 A Passenger Plane Filmed Huge UFO Over New York
by magictr                         November 29, 2018                          (sivpost.com)
• On November 23, 2018, a passenger in a commercial plane video recorded an orange glowing UFO over the state of New York. A copy of the recording was provided to MUFON (the Mutual UFO Network).  (see 2:02 minute video below)
The staff of Mufon has received the materials sent to witness events from the United States. The passenger of the plane captured on camera the flight of UFOs over New York, and was scared impressive dimensions of the object.
The author of the story published the video online, noting that for the first time faced with such a spectacle. Unusual alien spacecraft had the shape of a flying saucer, and was not going to hide from the eyes of people watching his maneuvers in the sky.
While researchers check information to find out the intentions of extraterrestrial visitors. The early inhabitants of the city were also afraid of the appearance UFO, which resembled a huge metal butterfly.
2:02 minute video of UFO over New York state 
FAIR USE NOTICE: This page contains copyrighted material the use of which has not been specifically authorized by the copyright owner. ExoNews.org distributes this material for the purpose of news reporting, educational research, comment and criticism, constituting Fair Use under 17 U.S.C § 107. Please contact the Editor at ExoNews with any copyright issue.
---
ExoNews Editor
Duke Brickhouse is a former trial lawyer and entertainment attorney who has refocused his life's work to exposing the truth of our subjugated planet and to help raise humanity's collective consciousness at this crucial moment in our planet's history, in order to break out of the dark and negative false reality that is preventing the natural development of our species, to put our planet on a path of love, light and harmony in preparation for our species' ascension to a fourth density, and to ultimately take our rightful place in the galactic community.
---