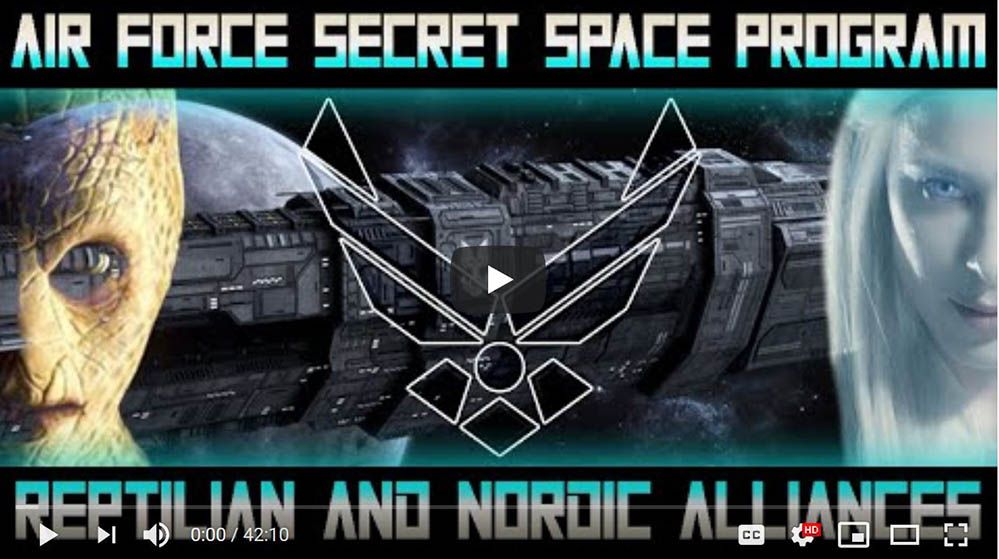 Dr. Michael Salla has presented a valuable Big Picture overview and history of the Secret Space Program currently manifesting itself in both President Trump's Space Force and, collaterally, with the Hillary/Podesta To The Stars Academy soft disclosure efforts that have accelerated in recent months.
https://exonews.org/air-force-secret-space-program-reptilian-and-nordic-alliances/
Salla makes clear that these current revelations are part of the long history of this phenomena as William Bramley (The Gods of Eden), Jim Marrs (Alien Agenda) and many other excellent researchers have described.
Salla continues to lead the way in this controversial field which has seen the unofficial taboo disappear thanks to a variety of factors.  Those include the Clintons involvement with the Rockefeller Initiative; the work towards Disclosure of Dr. Steven Greer; Paradigm Research Group leader Stephen Bassett's relentless campaign to end the Truth Embargo; the excellent research of Richard Dolan; the seminal work in Exopolitics of Alfred Webre in the late 1970's; the New York Times publishing front page articles on the topic; Dark Journalist Daniel Liszt's in depth investigations; and the willingness of the military to share some of its secrets.
These individuals often disagree or even clash, something to be expected under the circumstances. But each new day brings fresh revelations that appear to corroborate the possibility that we have been visited by alien craft even if most of what is seen in our skies is merely our advanced technology on display….possibly reversed engineered….but still of the Earth.
An excellent example of that occurred last night on the Jeff Rense Show when Dr. Bruce Cornish talked about a little known crash retrieval event in Wales in which meta material was recovered.  Scientists evaluating the debris think its strange patterns and composition may allow for Newtonian physics to be changed in such a way that gravity is suspended (bent) to enhance propulsion without crushing the spaceship's occupants, thus allowing for interstellar travel.
http://aerialanomalies.com/2019/06/28/the-welsh-roswell-a-1984-ufo-crash-and-mod-recovery-operation/
Richard C. Hoagland is predicting that the special number of 19.5 related to his theory of hyper-dimensional physics may lead to a stunning announcement at yesterday's mid-point of the 19th year of the 21st century, 7/1/19 (19.5)!
https://www.groundzeromedia.org/6-24-19-lifting-the-mask-of-mars-in-space-no-one-can-hear-you-deny-w-richard-c-hoagland/
In his interview, Salla brings us up to date on the competition between the US Air Force and Navy and their parallel programs that are likely to converge within the new Space Force.
It remains to be seen whether any of what we are now learning is overt disinformation; a limited hang-out/soft disclosure effort to distract from the missing Pentagon trillions or some other nefarious plan possibly connected to establishing a One World Government.
What Salla, Dolan, Bassett, Greer, Hoagland and others have done is augment a serious conversation about a crucial subject as well as help lift the veil of secrecy that has come to dominate modern life.  This is a valuable contribution that hopefully will lead to a positive transformation of our world and a far better future for us all.
Rich Scheck
July 2, 2019