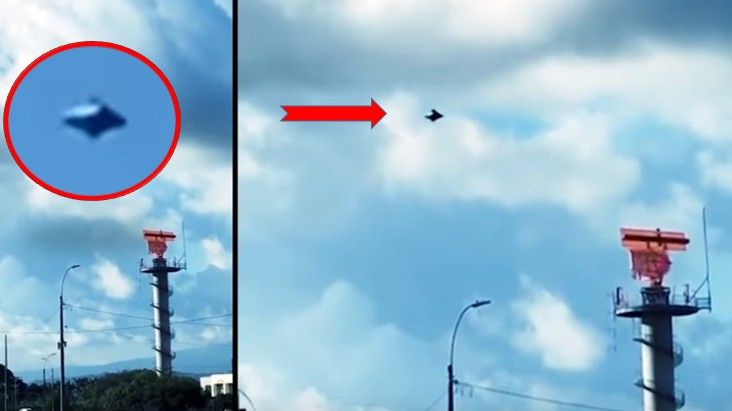 Article By Rico                               December 18, 2019                               (qcostarica.com)
• On December 17th, a remarkable UFO was captured on video on Tuesday afternoon near the Juan Santamaría International Airport near San Jose, the capital of Costa Rica. (see 44 second raw UFO video, and 1:21 minute 'analysis' of the video below)
• The Costa Rican Civil Aviation authority says that it is not a UFO, but a drone. The airport is restricted airspace, however, and would require a permit to fly a drone there. Drone expert Warren Campos says that while drones cannot fly near airports, a homemade drone could do so.
• Another drone expert, Geovanny Montero ruled out that it was a drone. He thinks it is a square hot air balloon. Ufologist Óscar Sierra says that from a certain angle you can see metal, ruling out that it may be a hot air balloon.
• Others think it is obvious that it is some type of spaceship. Marco Vinicio Gonzalez said, "It doesn't remind me of any other UFO I've seen in a photo or video, that's why it's so strange."
• The Juan Santamaría International Airport's Air Surveillance Service claim that they saw nothing, and did not detect anything.
An Unidentified Flying Object (UFO) – Objeto Volador No Identificado (OVNI), in Spanish – captured on video on Tuesday afternoon near the Juan Santamaría International Airport (SJO) or San Jose airport, has caused a stir in social networks.
So far there have been all kinds of theories about what was flying near the airport.
Some followers of UFOs (ufologists) believe that it could be a ship or a kind of "canepla"(cameras directed remotely by spacecraft), but Aviación Civil (Civil Aviation) confirmed it was NOT a UFO.
Civil Aviation insists it was a drone flying in the area of the airport, without the respective permits.
"It doesn't remind me of any other UFO I've seen in a photo or video, that's why it's so strange," Marco Vinicio Gonzalez, ufologist, told La Teja.
The airport is a restricted airspace.
"To fly a drone near an airport, it is necessary to have a permit that must be authorized by the Directorate General of Civil Aviation that considers the area of operation of the drone and if it will interfere with the altitudes and trajectories of the air traffic control procedures," says Luis Miranda, head of Unidad de Administración at Civil Aviation.
44 second video of UFO over Costa Rica ('Alonso MC' YouTube)
1:21 minute video, analysis of UFO over Costa Rica ('GetOnThisPlanet' YouTube)
FAIR USE NOTICE: This page contains copyrighted material the use of which has not been specifically authorized by the copyright owner. ExoNews.org distributes this material for the purpose of news reporting, educational research, comment and criticism, constituting Fair Use under 17 U.S.C § 107. Please contact the Editor at ExoNews with any copyright issue.