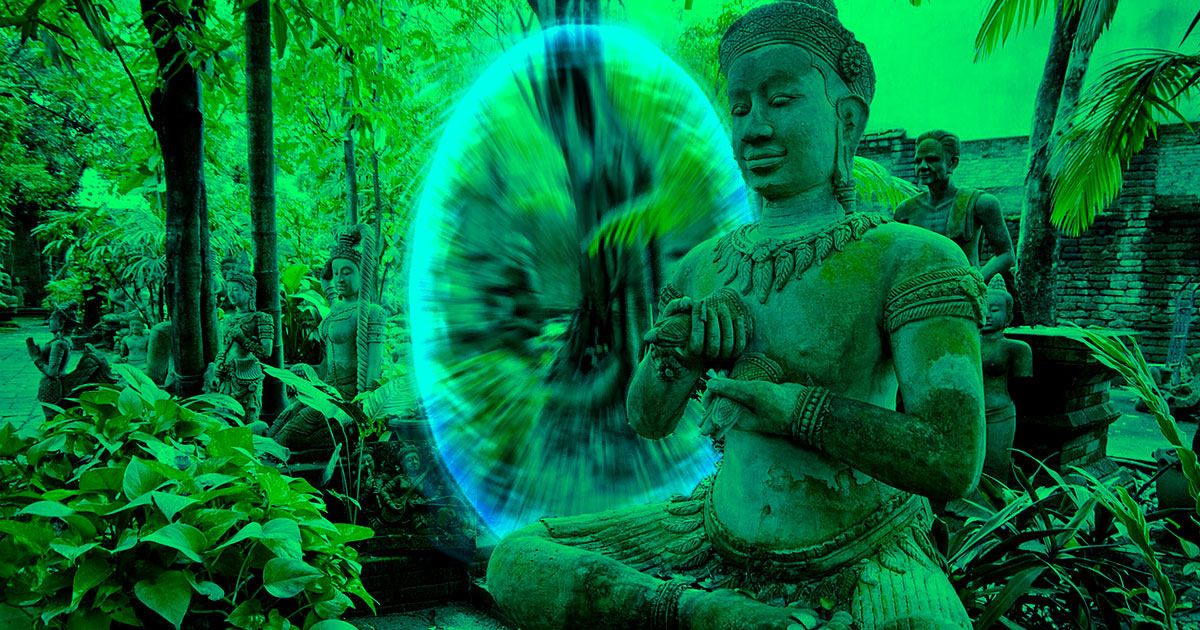 Meet the Thai UFO Group Convinced That Aliens Will Save Us From Armageddon
Listen to "E123 10-12-19 Meet The Thai UFO Group Convinced That Aliens Will Save Us From Armageddon" on Spreaker.
Article by Jamie Fullerton                   October 1, 2019                       (vice.com)
• Ajarn Wassana Chuensumnaun, 47, is the founder of the "UFO Kaokala Group" based in Nakhon Sawan city, Thailand. Wassana and her sister Somjit Raepeth, 60, have been communicating with aliens from Pluto and a planet named Lokukatapakadikong since 1998. They have dedicated their lives to their channeling communication with these benevolent extraterrestrials who will pass along information that will save mankind from annihilation. Today, the core Kaokala Group is comprised of about fifty members of all ages. They are very organized and have attracted thousands of followers online through social media.

• In 1998, the sisters' father received alien contact while meditating. So the women began to meditate along with their father, and the "wave" of communication passed over to them as well. As Wassana says, "[I]t was like a phone line being switched. I felt a kind of 'motivational energy' pushing me." Once this ET hotline was established, the conversation turned to an imminent nuclear apocalypse and World War III. The sisters learned that the ETs wanted to provide humankind with technology to survive this, before forging a "new generation" of humans. This inspired the duo to build a community of believers to help get the message out.

• Wassana says that the aliens chose Thailand as their contact point because the country had so many Buddhists who meditate regularly, which is the gateway to communicating with the ETs. According to the sisters, the Lokukatapakadikong aliens are super-intelligent, large-headed, humanoid greys. They don't have defined sexes and they eat only energy capsules "because they have small mouths." The ETs from Pluto, however, are not in solid form. They are more like a gas. They wear synthetic suits to enable them to walk on Earth.

• The UFO Kaokala Group – the full title is "Kaokala Coordination for Disasters Warning Group" – took its name from the nearby Khao Kala mountain where a portal to another dimension exists, according to the ETs. For the past six years members have been meeting by the Buddhist statues on the mountain peak to camp, meditate and spot UFOs at the mountain precipice covered by lush forest.

• The Khao Kala mountain, with its jagged rock formations and fluttering butterflies, was recently the scene of high drama. In mid-August, police and Forestry Department officials raided the peak saying that the Kaokala Group was impinging on protected forest area by building bathroom and storage buildings near the Buddhist statues and illegally camping there. The group is braced for a fine of up to 150,000 baht ($4,900). Some Thais have used the group's social media channels to accuse them of insulting Buddhism by linking it with wacky claims about aliens.

• The Kaokala members have been forced to regroup. But they are adamant that they will survive the setback. After all, the fate of the human species depends on it. The weekend after the raid, the group was traipsing back up the mountain. At the mountain peak, the group assembled near images of spaceships etched into a stone slab, and a number of small black pyramid models they'd placed there. Wassana cleaned up the detritus that was left around the raided area.

• The sisters say that they aren't worried by the raid. The Kaokala Group's spirit is still strong. The group is not reliant on one location—portal or not. The Kaokala weekend trips will continue. They also plan to continue meditating until the aliens instruct them as to how to tool up and survive Armageddon. Says Wassana, "They'll visit us… before the nuclear disaster, during the disaster, after the disaster and for a restoration period. When it will begin, we don't know."
At her home in central Thailand's Nakhon Sawan city, Ajarn Wassana Chuensumnaun, founder of UFO Kaokala group, educated me about the aliens she claimed to regularly chat with.
A battle for wall space between Buddhist memorabilia and framed drawings of extraterrestrials piloting elaborate spacecraft raged in the front room. A human-sized "classic grey" alien model stood in the lobby, the cardboard creature's silver boots being sporadically nuzzled by a tortoiseshell cat. About 10 Kaokala members wearing swirly galaxy design shirts overloaded sofas, nodding as Wassana discussed her 21-year relationship with beings from beyond.
There was much detail to digest, such as how the aliens don't have defined sexes, and eat just energy capsules "because they have small mouths." I didn't see a hint of a wink or nod among the group members present, whose ages range from their 20s to 60s. The 50 or so people comprising the core Kaokala group, plus thousands following them online, take aliens seriously. This is because rather than destroying us, Independence Day-style, the Kaokala group believes they're planning to save us from annihilation.
Wassana, 47, dedicates her life to listening to her ET pals and awaiting their plans to save mankind, but recently the conversation was rudely interrupted. Last August the sacred rural location the Kaokala group used to channel the aliens' messages was raided by local authorities.


The Kaokala members were forced to regroup, but were keen to take me to the scene of the raid to show me that they'll survive the setback. After all, the fate of our species depends on it. "I want to inform the public that aliens will be here for people on Earth," said Wassana, under the black-eyed gaze of a painting of two grey aliens.
Wassana and her sister Somjit Raepeth, 60, claimed to have been communicating with aliens from Pluto and a planet named Lokukatapakadikong since 1998. According to them, aliens from Lokukatapakadikong are your standard humanoid large-headed greys: super-intelligent The X Files sorts. Those from Pluto aren't in solid form: they're more like gas.
Twenty-one years ago, out of the blue the sisters' father claimed to have received alien contact whilst meditating. Initially skeptical, they tried meditating alongside him. "My father received the wave and it passed to me—it was like a phone line being switched," Wassana said. "I felt a kind of 'motivational energy' pushing me."
Once this ET hotline was established, conversation focused on a forthcoming World War III and nuclear apocalypse. The sisters heard how ETs wanted to speak to humans so they could one day provide them with technology to survive this, before forging a "new generation" of humans. This inspired the duo to build a community of believers to help get the message out.
Despite the unlikeliness of their yarn, their straight-faced sincerity proved convincing. After gaining traction by word of mouth in Nakhon Sawan, Kaokala expanded its online presence and held public meet-ups, earning nationwide attention through the media.
FAIR USE NOTICE: This page contains copyrighted material the use of which has not been specifically authorized by the copyright owner. ExoNews.org distributes this material for the purpose of news reporting, educational research, comment and criticism, constituting Fair Use under 17 U.S.C § 107. Please contact the Editor at ExoNews with any copyright issue.
Ajarn Wassana Chuensumnaun, Armageddon, Kaokala Coordination for Disasters Warning Group, Khao Kala mountain, Lokukatapakadikong, Nakhon Sawan city Thailand, Pluto, podcast, Somjit Raepeth, UFO Kaokala Group
---
ExoNews Editor
Duke Brickhouse is a former trial lawyer and entertainment attorney who has refocused his life's work to exposing the truth of our subjugated planet and to help raise humanity's collective consciousness at this crucial moment in our planet's history, in order to break out of the dark and negative false reality that is preventing the natural development of our species, to put our planet on a path of love, light and harmony in preparation for our species' ascension to a fourth density, and to ultimately take our rightful place in the galactic community.
---