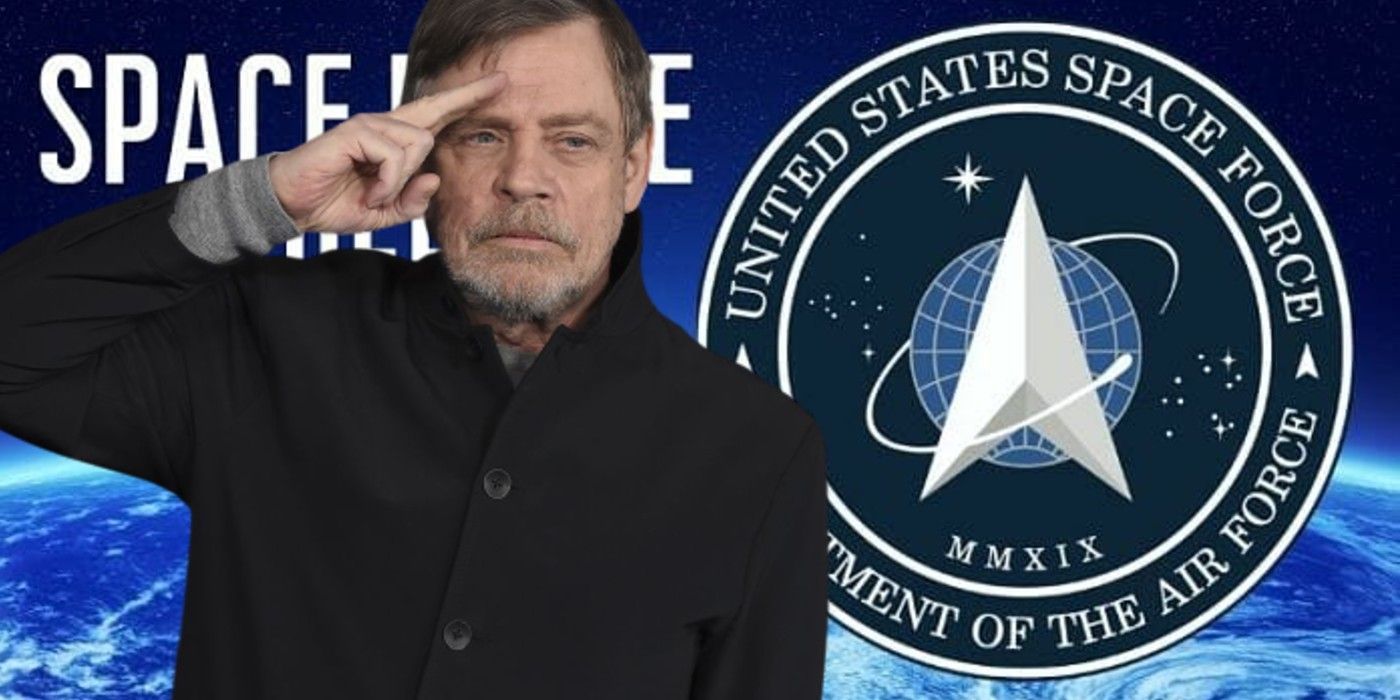 Mark Hamill and James Gunn Band Together to 'Sue' Space Force
Article by Rebekah Barton                                        December 26, 2020                                    (insidethemagic.net)
• On December 18th at a White house event, Vice President Mike Pence announced that Space Force personnel would be called 'Guardians'. The military branch already uses a symbol that looks a lot like the Star Trek logo. This caused an immediate backlash from Hollywood heavyweights such as James Gunn, the director of Marvel's Guardians of the Galaxy franchise. Gunn posted on Twitter: "Can we sue this dork?"
• Another Hollywood hero, Mark Hamill (Star Wars' Luke Skywalker… pictured above) replied to Gunn's tweet: "So they grab the "Guardians" from your movies, they use the "Force" from our movies… then they have the gall to just steal their logo from "Star Trek"? Let's file a 3-way joint lawsuit & really nail these larcenous bastards! #MayTheDorksBeWithYou"
• Hamill's response was clearly tongue-in-cheek, but the ironic nature of the situation is apparent: the logo really does look like Star Trek's, the moniker obviously aligns with the Marvel movies Gunn directs, and the entire operation is being referred to as a "Force" — not 'the Force', but the point stands. The US Space Force responded with another tweet: "The opportunity to name a force is a momentous responsibility. Guardians is a name with a long history in space operations, tracing back to the original command motto of Air Force Space Command in 1983, 'Guardians of the High Frontier'."
• Hamill and Gunn are both very active on social media and their followers were quick to respond to their tweets about the US Space Force's new name. Ian McAdam tweeted: "Would love to see a Disney versus American government lawyer battle." MightyMary007 posted: "Disney is highly litigious from what I understand, so you're already well-positioned to do so." But most fans are still dumbstruck by Hamill's incredible cameo in The Mandalorian Season 2 finale in which Hamill reprised his role as Luke Skywalker to rescue Grogu (ie: 'baby Yoda') with the help of de-aging CGI technology.
• No matter what your thoughts are about the United States Space Force 'Guardians' title, the social media exchange between two of fandom's most famous names is hilarious. As of yet, Spock has not weighed in on the situation — we'll keep you posted. Guardians of the Galaxy Vol. 3 is currently in the works for 2023.
If you've ever wanted to see a Star Wars and Marvel Cinematic Universe crossover, look no further than…
Twitter?
You read that right. Two of the respective Walt Disney Company franchises' big guns — Mark Hamill and James Gunn — have taken to social media for an unlikely (and hilarious) reason.
When current United States Vice President Mike Pence announced that the uniformed members of the U.S. Space Force will be referred to as Guardians — with a symbol that looks very much like the Star Trek logo — Gunn almost immediately posted, "Can we sue this dork?," obviously referring to the fact that the name "Guardians" clearly resembles Marvel's Guardians of the Galaxy franchise.
Hamill wasted no time replying to Gunn's Tweet, writing back: "So they grab the "Guardians" from your
movies, they use the "Force" from our movies… then they have the gall to just steal their logo from "Star Trek"? Let's file a 3-way joint lawsuit & really nail these larcenous bastards! #MayTheDorksBeWithYou"
Hamill's response was clearly tongue-in-cheek, but the ironic nature of the situation is certainly apparent: the logo really does look like Star Trek's, the name obviously aligns with the Marvel movies Gunn directs — Guardians of the Galaxy Vol. 3 is currently in the works, likely for 2023 — and the entire operation is being referred to as a "force" — not the Force, but the point stands.
The U.S. Space Force's official Tweet about their unintentionally amusing moniker reads:
The opportunity to name a force is a momentous responsibility. Guardians is a name with a long history in space operations, tracing back to the original command motto of Air Force Space Command in 1983, "Guardians of the High Frontier."
FAIR USE NOTICE: This page contains copyrighted material the use of which has not been specifically authorized by the copyright owner. ExoNews.org distributes this material for the purpose of news reporting, educational research, comment and criticism, constituting Fair Use under 17 U.S.C § 107. Please contact the Editor at ExoNews with any copyright issue.
'Guardians', Air Force Space Command, Disney, Guardians of the Galaxy, James Gunn, Mark Hamill, Marvel movies, Mike Pence, space force, Star Trek, Star Wars
---
ExoNews Editor
Duke Brickhouse is a former trial lawyer and entertainment attorney who has refocused his life's work to exposing the truth of our subjugated planet and to help raise humanity's collective consciousness at this crucial moment in our planet's history, in order to break out of the dark and negative false reality that is preventing the natural development of our species, to put our planet on a path of love, light and harmony in preparation for our species' ascension to a fourth density, and to ultimately take our rightful place in the galactic community.
---