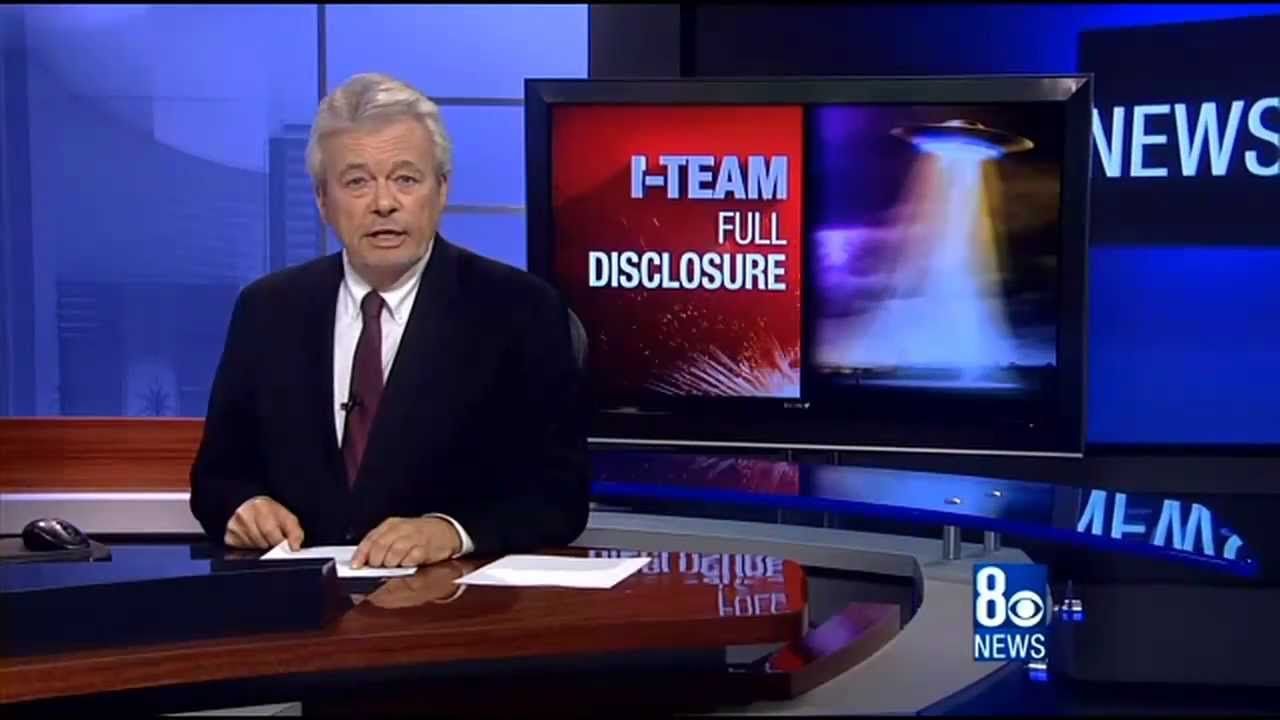 I-Team: Documents Prove Secret UFO Study Based in Nevada
by George Knapp                  May 04, 2018                 (lasvegasnow.com)
• George Knapp and his "I-Team" of UFO investigators (pictured above) have released the first documents pertaining to the Pentagon UFO research program, the 'Advanced Aerospace Threat Identification Program', run by Luis Elizondo and reported in December by the New York Times. (see links to documents below). The NYT article was accompanies by to declassified military videos of UFO's, one dubbed the 'tic-tac' UFO seen by Navy pilots over the Pacific off of San Diego in 2004.
• Former Senate Majority Leader Harry Reid of Nevada created and funded the program which lasted from 2008 to 2012. The top-secret government contract was awarded to Bigelow Aerospace. Elizondo confirms that Reid did not unlawfully funnel the contract to his old friend, Robert Bigelow. Rather, Bigelow had spent years and millions of dollars on his own scientific study of UFOs and related topics, and had hired a team of 46 scientists and investigators, along with dozens of other support personnel, at his Utah facility. Therefore, Bigelow was considered the most qualified to conduct a pentagon program to study breakthrough aircraft/ spacecraft propulsion technologies.
• Elizondo oversaw the study from the Pentagon, and focused on military encounters with unknown aircraft. He kept a low profile relying on an informal network of colleagues to investigate cases that came in. Said Elizondo, "It is a confederated approach, so you had folks in the Navy, in DIA, in pockets here and there. We worked collectively."
• There was pushback at the Pentagon. Some worried the study would become an embarrassment if the word got out. Others opposed it on religious grounds.
• Bigelow Aerospace's study produced volumes of highly technical scientific reports including projections about warp drives and anti-gravity propulsion. "These studies are so loaded with information," Sen. Reid said. "One thing we learned is over the decades a lot of things happen there's no explanation for. Well there are now."
• Also see below a 1:39 minute video of Luis Elizondo explaining the decision of the Department of Defense to release the UFO videos.
LAS VEGAS – UFO investigators are hoping to obtain a treasure trove of Pentagon documents that were generated by a once-secret military study of flying saucers and other weird aircraft.
The government confirms there was a UFO program. It supposedly ended in 2012, but the Pentagon has not yet released any reports or files.
The I-Team gives the first look at documents which prove the UFO study was real and was based in southern Nevada.
Last October, former intelligence officer Luis Elizondo revealed he'd been in charge of a secret Pentagon project that studied UFOs. The story picked up steam two months later when the New York Times reported the name of the program AATIP or Advanced Aerospace Threat Identification Program. At the same time, two once-classified videos were released.
One of them a 2004 encounter between warplanes from the USS Nimitz carrier group and a vastly superior UFO dubbed the Tic Tac.
"I received communication from a man who worked for one of the defense agencies, a PHD in physics and math. He said 'I know everything about rockets but I don't know what these things are,'" said Sen. Harry Reid.
Senate Majority Leader Harry Reid started a dialogue with a senior scientist working for the Defense Intelligence Agency. Alarmed that no one was paying attention to dramatic intrusions by unknown aircraft, Reid and colleagues secured funding for an ongoing study, but it wasn't called AATIP. The original acronym was AAWSAP or Advanced Aerospace Weapon System Applications Program.
In Aug. 2008, DIA posted a solicitation for bids. Weeks later, the contract was awarded to Bigelow Aerospace, the initial amount was $10 million. It required Bigelow to provide a facility that qualified for top secret work. Harry Reid did not influence the selection process.
READ: Warp Drive, Dark Energy, and the Manipulation of Extra Dimensions
READ: Advanced Space Propulsion Based on Vacuum Engineering
READ: Statement from a senior manager of BAASS
FAIR USE NOTICE: This page contains copyrighted material the use of which has not been specifically authorized by the copyright owner. ExoNews.org distributes this material for the purpose of news reporting, educational research, comment and criticism, constituting Fair Use under 17 U.S.C § 107. Please contact the Editor at ExoNews with any copyright issue.
Bigelow Aerospace, George Knapp, Harry Reid, Luis Elizondo, Pentagon UFO Program, Robert Bigelow, tic tac UFO
---
ExoNews Editor
Duke Brickhouse is a former trial lawyer and entertainment attorney who has refocused his life's work to exposing the truth of our subjugated planet and to help raise humanity's collective consciousness at this crucial moment in our planet's history, in order to break out of the dark and negative false reality that is preventing the natural development of our species, to put our planet on a path of love, light and harmony in preparation for our species' ascension to a fourth density, and to ultimately take our rightful place in the galactic community.
---