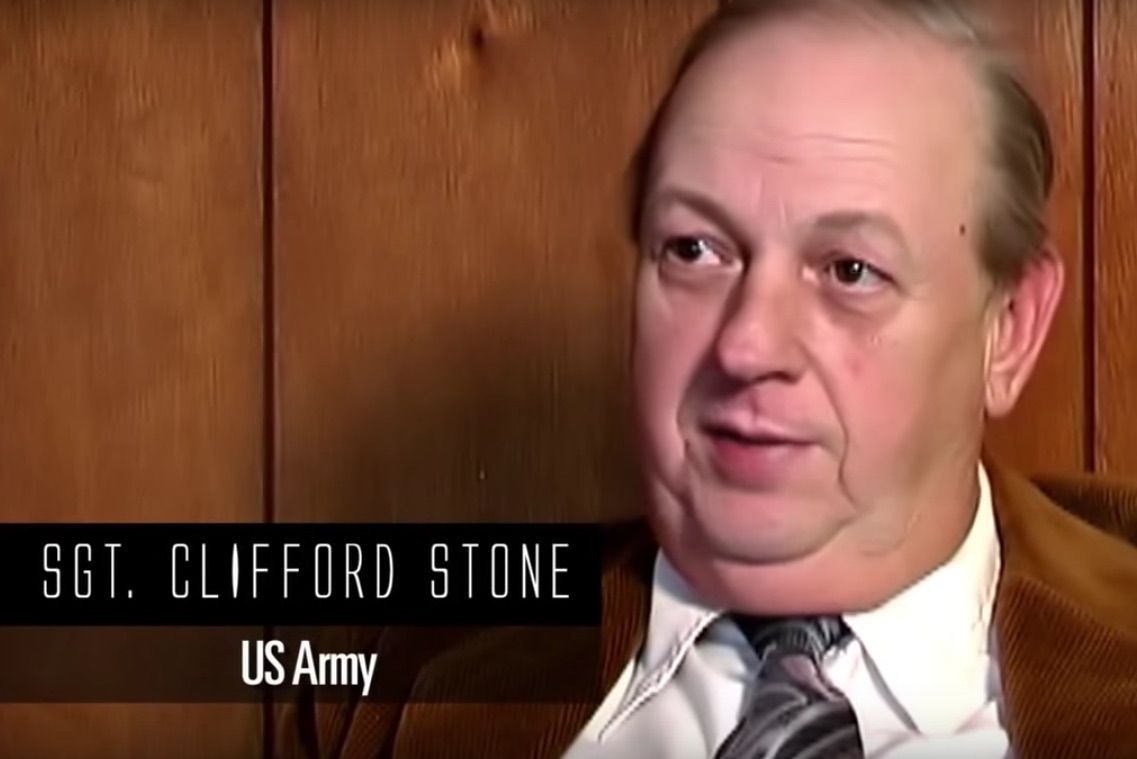 Former US Soldier Claims He Buried Metal From Alien Craft That Crash-Landed in 1973
May 13, 2019                (brinkwire.com)
• In 1973, US Army Sergeant Clifford Stone (pictured above) was tasked with the retrieval of crashed extraterrestrial craft. During this time he cataloged 57 different species of aliens. Some, he stated, looked very much like human beings that could walk among us and wouldn't be noticed.
• While serving in this capacity with the Army, Stone says that one time he took a piece of metal from the site of a crashed alien spaceship, stuck it in his boot, took it home and buried it on his property in New Mexico. In the video clip below, Stone says, "Yes I have it and wouldn't dare to keep it in the house." "I had it here to show some people where I kept it…and then somebody actually came here and tried to take it. I almost shot somebody that day." Stone added, "I can't replace this. You don't go to the store and buy this, and I took a big chance when I went ahead and got it." (see 10:13 minute video below)

• Blake Cousins of ThirdPhaseofMoon YouTube channel, who telephone interviewed Stone, said his conversation with the former sergeant "could change history as we know it".
A former US Air Force (Army) sergeant has claimed that he buried metal from a recovered alien aircraft and catalogued 57 species of extraterrestrials while in service.
Sergeant Clifford Stone claimed that in 1973, he was involved in the retrieval of a crashed extraterrestrial craft.
He claims that he hid a small piece of the craft's metal exterior in his boot and buried it near his home in New Mexico, US, after leaving the US (Army) in 1989.
The man also bizarrely claims that prior to his departure, he had catalogued 57 different species of aliens.
Some, he states, looked very much like human beings that could walk among us and wouldn't be noticed.
YouTube conspiracist Blake Cousins – of thirdphaseofmoon – has since uploaded a video of a conversation he had with the former US Army soldier.
10:13 minute video on Sgt Clifford Stone's alien artifact
(Blake Cousins 'thirdphaseofmoon' YouTube)

FAIR USE NOTICE: This page contains copyrighted material the use of which has not been specifically authorized by the copyright owner. ExoNews.org distributes this material for the purpose of news reporting, educational research, comment and criticism, constituting Fair Use under 17 U.S.C § 107. Please contact the Editor at ExoNews with any copyright issue.
alien artifact, Blake Cousins, Clifford Stone, New Mexico, US Army
---
ExoNews Editor
Duke Brickhouse is a former trial lawyer and entertainment attorney who has refocused his life's work to exposing the truth of our subjugated planet and to help raise humanity's collective consciousness at this crucial moment in our planet's history, in order to break out of the dark and negative false reality that is preventing the natural development of our species, to put our planet on a path of love, light and harmony in preparation for our species' ascension to a fourth density, and to ultimately take our rightful place in the galactic community.
---