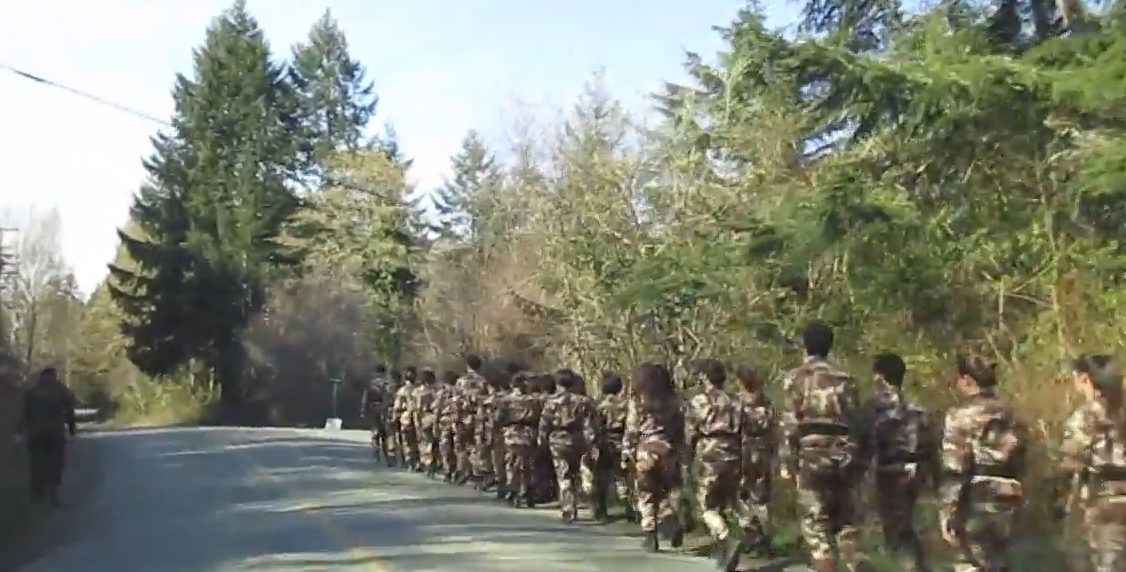 China Amassing "Tens-of-Thousands" of Troops in Canada
Article by Hal Turner                                     October 9, 2020                             (theblogginghounds.com)
• In late 2019, Canada and China signed a treaty that allows the People's Liberation Army of China to station Chinese troops in Canada, beginning in 2020. It has long been rumored that China has been massing troops in southern Mexico. But the rumors that Chinese troops had set up bases in Canada was pretty much laughed off until video emerged of Chinese troops marching along a road in Salt Spring Island, near Vancouver, British Columbia. (see 35 second video below)
• What are Chinese troops doing on the US border in British Columbia, Canada? According to a January 15, 2020 Canadian Independent Press Review report: "Under the terms of the Foreign Investment Protection Act (FIPA), a bi-lateral treaty ratified with China by the Trudeau government in 2019, Chinese security forces can be stationed on Canadian soil to protect vital Chinese investments, without the knowledge or consent of local authorities."
• Why would Prime Minister Justin Trudeau enter such a treaty? Does Canada not have its own military to "protect vital Chinese investments?" Or was Trudeau paid off by China to betray the United States like this?
• According to British Columbia locals, PLA troops are troops being stationed in Stanley Park in Vancouver pending the construction of a permanent base. Stanley Park is now off limits to Canadians, as enforced by Vancouver police. One Canadian citizen is quoted as saying: "You got 'em (PLA Troops) all over the coast, man, based outta Prince Rupert. A bunch of their military intel people work outta their consulate in town (Vancouver) and they can airlift the assault troops here in an hour, is what I been told."
• Hal Turner of the Hal Turner Radio Show notes that there was a news story a few weeks ago about how the U.S. military is redeploying F-22's and F-35 jets to Alaska. An ABC News story in March noted that President Trump had authorized the activation of a million U.S. military reservists. Were these counter-moves to prepare the U.S. for a Chinese invasion from Western Canada?
• Over the summer, the U.S. west coast has seen ferocious wildfires that have burned millions acres and destroyed tens-of-thousands of American homes, (fires that seemed to stop at the Canadian border). Were these fires orchestrated to chase the population away from the U.S. West Coast? Dutchsinse.com stumbled upon 'environmental videos' from US satellites that picked up literal "beams" in the near-infra-red spectrum being fired into the wildfires. (see article here) When these 'directed energy weapon' beams hit, the fires would immediately spread and grow in intensity. People on the ground have also taken pictures of these energy beams coming from the sky to create or spread wildfires.
• Secretary of Defense Mark Esper has revealed that China and Russia have "weaponized space". In an address to an Air Force conference, Esper said that China and Russia are employing "asymmetric capabilities", stating that they have "weaponized space" with "directed energy weapons." An image of a car taken at the site of a wildfire shows how the wheels on the car had actually melted. How can burning wood melt steel? It can't. The burn temperature doesn't get hot enough. But a directed energy weapon could do it.
• China knows that American citizens are armed to the teeth under the Second Amendment. Is their strategy to decrease the American population on the West Coast so they won't be facing so many of those armed citizens? Are they softening-up the West Coast for invasion? Are the Chinese bringing in military equipment such as tanks, armored personnel carriers, self-propelled artillery, helicopters and planes as well?
• [Editor's Note]  It would seem implausible that the Chinese military could amass the number of troops it would take to stage a US invasion from British Columbia without the US being aware of it and ready. But Dr. Michael Salla suggests another purpose for the Chinese being stationed in Canada: "It is more likely that Chinese troops are being pre-positioned for some kind of false flag event that devastates U.S. infrastructure, such as an asteroid impact or an EMP attack, where they stream over the border for 'humanitarian assistance', rather than an outright invasion." These troops could be a vanguard to enter the U.S. under the guise of humanitarian assistance, be in a position to incapacitate key communications centers and power grids, and then open the door to the main Chinese ground invasion.
As the deep state has already infiltrated the hard-line Chinese government and military, what measures are the Alliance white hats taking to counter this move? Defeating the deep state, converting the world's financial system, and replacing the corrupted communist PRC with a Gesara Republic under President Xi would certainly do the job.
Under a Treaty signed in late 2019 with Canada, the People's Liberation Army of China has been quietly massing military troops in Canada since the beginning of 2020 and those troops are believed to be readying for an actual military invasion of the United States.
While it has long been rumored that China began massing troops and armor in southern Mexico for a similar invasion goal, word of such troops appearing in Canada only began this year. Those rumors were pretty much laughed off until video emerged this week of Chinese troops on a back road of Salt Spring Island, near Vancouver, British Columbia. Here is that 35 second video:
Once actual proof emerged of Chinese troops in Canada, we started digging into where they were in relation to US soil and how such a thing could be given that Canada was _supposed_ to be a U.S. ally?
It turns out that the globalist/Commie Prime Minister of Canada, Justin Trudeau, signed a Treaty with
China in late 2019. In January, 2020, the Canadian Independent Press Review reported it as follows: 'Under the terms of the Foreign Investment Protection Act (FIPA), a bi-lateral treaty ratified with China by the Trudeau government in 2019, Chinese security forces can be stationed on Canadian soil to protect vital Chinese investments, without the knowledge or consent of local authorities.' – Canadian Independent Press Review, January 15, 2020
One has to ask why Prime Minister Trudeau would sign such a treaty? Does Canada not have its own military to "protect vital Chinese investments?" Does Canada not trust its own Royal Canadian Mounted Police? Are Canada's Provincial Police forces somehow inadequate? Or did Prime Minister Trudeau somehow find that allowing China to mass troops in his country might be beneficial to HIMSELF? Did Trudeau get a massive payoff from China to betray the United States like this? What other explanation could there be?
According to locals in British Columbia, PLA troops are troops being stationed in Stanley Park (almost an entire island of a park) in Vancouver, as temporary housing until they are assigned something permanent.
Oh, and get this . . .Canadians say THEY CANNOT GO INTO THAT PARK because it is taken over by China's People's Liberation Army! Anyone trying to enter the park is stopped by Vancouver police and refused entry unless they are PLA troops!
One Canadian tells me "You got 'em (PLA Troops) all over the coast, man, based outta Prince Rupert. A bunch of their military intel people work outta their consulate in town (Vancouver) and they can airlift the assault troops here in an hour, is what I been told."
That same source went on to say "That's how that fucking traitor Trudeau's arranged it with Beijing, man. The west coast is theirs. They're gonna be the ones managing the curfews and all the other shit that's gonna follow.
35 second video of Chinese military on Salt Spring Island, Canada ('BananaJSSI' YouTube)
FAIR USE NOTICE: This page contains copyrighted material the use of which has not been specifically authorized by the copyright owner. ExoNews.org distributes this material for the purpose of news reporting, educational research, comment and criticism, constituting Fair Use under 17 U.S.C § 107. Please contact the Editor at ExoNews with any copyright issue.
Alaska, British Columbia, directed energy weapon, Dutchsinse.com, Foreign Investment Protection Act, Hal Turner Radio Show, Justin Trudeau, Mark Esper, Mexico, People's Liberation Army of China, Salt Spring Island, Stanley Park Vancouver
---
ExoNews Editor
Duke Brickhouse is a former trial lawyer and entertainment attorney who has refocused his life's work to exposing the truth of our subjugated planet and to help raise humanity's collective consciousness at this crucial moment in our planet's history, in order to break out of the dark and negative false reality that is preventing the natural development of our species, to put our planet on a path of love, light and harmony in preparation for our species' ascension to a fourth density, and to ultimately take our rightful place in the galactic community.
---