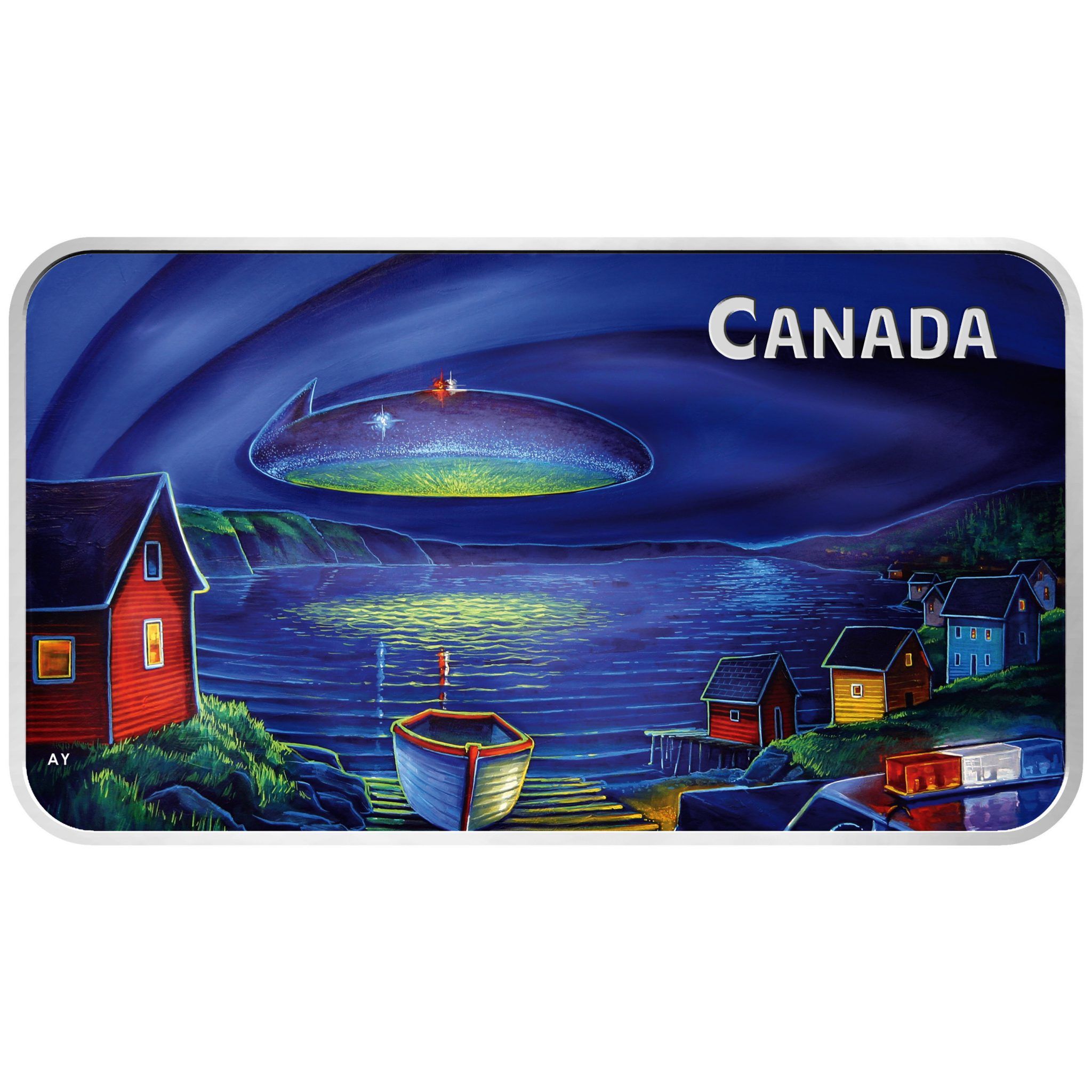 UFO Sighting Involved a Royal Canadian Mounted Police Officer
Article by Elizabeth Keith                                  October 10, 2020                                      (narcity.com)
• A historic UFO incident in Clarenville, Newfoundland, Canada in 1978 is still so popular that the Canadian Mint has recently made a $130 glow-in-the-dark coin to commemorate it. The 5,000 coins in the limited edition are 90% sold out.
• Responding to a call on this evening in 1978, Royal Canadian Mounted Police officer Constable James Blackwood went to the location and saw "something" hovering about 100 feet in the air over some water between Clarenville shoreline and Random Island. Blackwood turned on the lights on his police car and the floating object responded by flashing its own lights. It hovered there for two hours.
• The Clarenville UFO event isn't Canada's only suspicious sighting. In 1967, a man reported seeing some glowing objects in the sky at Falcon Lake, Manitoba. Then a 35-foot craft landed nearby. The man got close enough to touch it before it took off again. In the weeks after the sighting, he became sick with very suspicious symptoms that doctors could not diagnose. That same year, in St. Paul, Alberta, they built the first-ever UFO landing pad in the world.
It's a bird, it's a plane, its a weird disc floating in the sky? It may sound straight out of a sci-fi film but something just like that happened in Canada.
The Clarenville alien sighting from 1978 is one of the country's biggest mysteries. It's so wild that the Mint even made a glow-in-the-dark commemorative coin about it.
What happened in Clarenville?
One night, back in 1978 an RCMP officer named Constable James Blackwood responded to a call in Clarenville, Newfoundland where witness had noticed something weird in the sky.
According to an interview with a local paper called The Packet, Blackwood saw something hovering about 100 feet above the water between Clarenville and Random Island. He says its was there for two hours.
He reportedly turned on the lights on his police car and the floating object responded by flashing its own lights.
It later left without a trace and still remains a mystery.
What does the glow-in-the-dark coin look like?
It's spooky season and potential UFO sightings are undoubtedly spooky and Canada's official coin creators seem to be aware of that too.
To mark the weird event in history, the Canadian Mint just launched a commemorative coin depicting the saucer hovering over the Newfoundland town.
The square shape is unique enough on it's own but this coin also glows in the dark.
The mint only made 5,000 of the money-pieces, which sell for a whopping $129.95 each and they are already 90% sold out.
FAIR USE NOTICE: This page contains copyrighted material the use of which has not been specifically authorized by the copyright owner. ExoNews.org distributes this material for the purpose of news reporting, educational research, comment and criticism, constituting Fair Use under 17 U.S.C § 107. Please contact the Editor at ExoNews with any copyright issue.
Clarenville Newfoundland, Constable James Blackwood, Falcon Lake Manitoba, Random Island, Royal Canadian Mounted Police, St. Paul Alberta
---
ExoNews Editor
Duke Brickhouse is a former trial lawyer and entertainment attorney who has refocused his life's work to exposing the truth of our subjugated planet and to help raise humanity's collective consciousness at this crucial moment in our planet's history, in order to break out of the dark and negative false reality that is preventing the natural development of our species, to put our planet on a path of love, light and harmony in preparation for our species' ascension to a fourth density, and to ultimately take our rightful place in the galactic community.
---